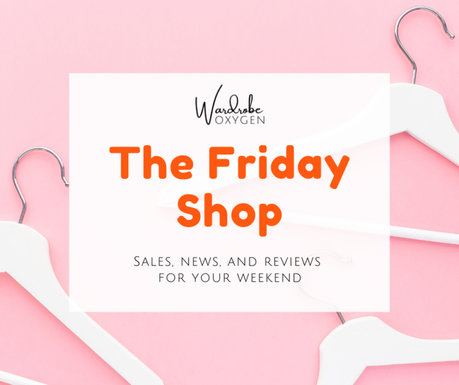 Friday Shop is a little light today because this week... it has been hard to focus with all that is going on. And when I have focused, it has been on posts like yesterday's review of joggers (another pair arrived in the mail today so there will be a part 2 of this jogger journey). But stay tuned, I've been working on content and I've already started a draft for next Friday's Shop post!
Sale Alert
Nécessaire: Save 10% off with WARDROBE10
Nécessaire is a brand I have fallen in love with the past few months. This body care line is made from clean, effective, and high-quality ingredients and free of parabens, phthalates, sulfates, silicones, petro-chemicals, synthetic fragrances, and synthetic dyes. They also use 85% post-consumer waste boxes and 100% recyclable paper for boxes and shippers and only work with FSC-certified vendors.
I love Nécessaire's body wash which is hydrating without being greasy and smells soooo good (I'm partial to the Sandalwood, and for those who don't like fragrance they have an unscented version). Their Body Lotion is phenomenal; it hydrates so well without greasiness and absolutely no smell. I recently got a chance to try out their Deodorant (not bad, love the packaging, pretty effective for a non-conventional deodorant, will have a better review in the future), and their Hand Cream. I am seriously into their hand cream, dare I say it's better than Aveda Hand Relief? It makes my skin feel silky, feels like I have a protective layer like Neutrogena and other hand creams like that, but it's not oily.
Anyway, Nécessaire is offering Wardrobe Oxygen readers 10% off through Sunday only with promo code WARDROBE10. They're offering this to celebrate the launch of their Body Routine Set, which has a full-size body wash, body cream, body serum, and hand cream for $80, which is $35 cheaper than buying individually. And then WARDROBE10 gets you an additional 10% off. You can choose which scent, if one at all, that you desire in the kid. However, the 10% off discount is off everything at Nécessaire, no need to buy the Body Routine Set to get the deal.
J. Crew: 30% off Full-price Styles and Extra 50% off Sale with EPIC
Though I've spent many years disappointed with J. Crew, in the past couple of seasons I've found some super cute items that are also well made. A few things that caught my eye: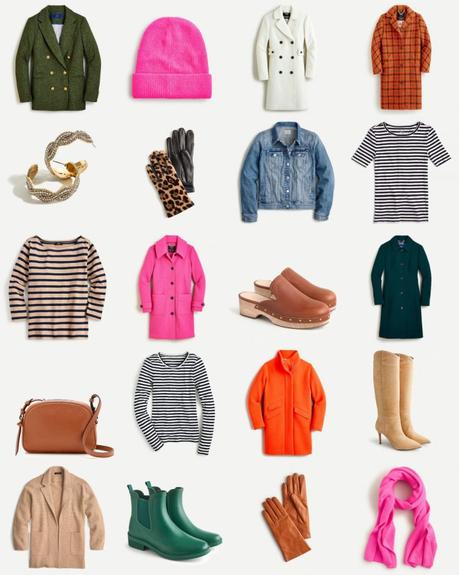 Coats, coats, coats! Now is a GREAT time to get a coat to wear now and next fall. I love this ivory one, this plaid one, this pink one, this dark green one, and this orange one. All of these coats come in other colors as well.
Get your winter accessories for less. Leopard and leather gloves, soft beanie and matching scarf (and matching gloves), leather gloves
I like J. Crew's footwear and especially like these clogs (check out the leopard option), these boots, and these rainboots perfect for having at the door for heading out into the yard or to the corner store.
Stripes! I have this boatneck, I've owned this heavier-weight striped tee, and this one is great for those who find boatnecks too wide.
I own this tweed blazer (see it in this post), this sweater was one of Wardrobe Oxygen's bestsellers last year, these earrings are gorgeous, this bag is the type everyone needs, and this denim jacket is classic perfection from shape to wash.
LOFT: Up to 60% off Everything with AHHH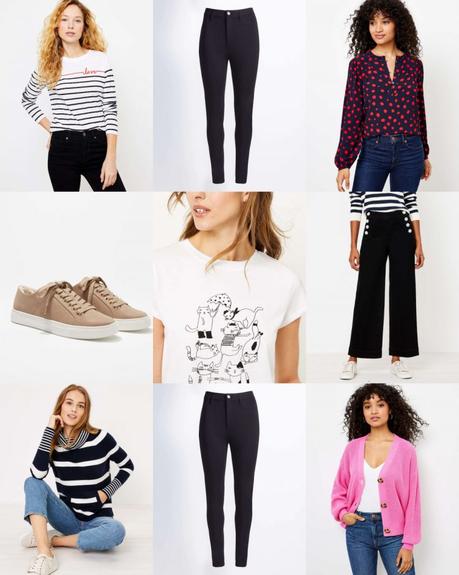 Valentine's themed Breton (available in petite and plus) | Ponte leggings in two colors and petite, tall, and plus sizes | an update to the Zoom blouse (available in petite and plus) | faux fur-lined sneakers | cat-themed graphic tee | sailor jeans available in petite and tall (expect this trend to be everywhere this spring) | pocket striped sweater | leggings that don't look like leggings (they also come in petite, tall, curvy, and plus) | the perfect throw on cardigan in a variety of colors
LOFT is hit or miss for me, but this sale is worth a check as everything is up to 60% off with 50% off fresh picks, 60% off sale, and 30% off Lou & Grey with promo code AHHH.
Soma Semi-Annual Sale
If you're like me, you're realizing that those bras and undies you've worn all 'demic are starting to look worse for wear. That bra may be uncomfortable not because it's a bra but because it's past its prime. Time to go intimates shopping, and there's no better sale than Soma's!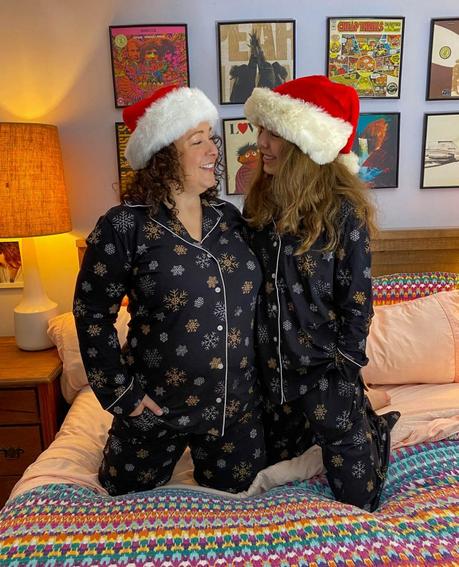 These pajamas are part of the Soma sale!
Here is the link for the top
,
here is the link for the pants
.
Bras and sleep start at $14.99, undies are if you buy five or more pairs they're 70% off, and apparel starts at $17.99. Oh, and take an extra 25% off already marked down sale merch!
The sleep section is where it's at for some amazing deals. Thing is, you can't guarantee you'll get a matching pajama set. No worries, grab some of their Cool Nights pants and wear with a favorite tee or cami! Or grab one of their tees and pajama tops to wear with a solid bottom. Seriously, scope out the prices and on the left you can filter to just see what is available in your size.
As for bras and undies, my picks:
Limited stock, so shop fast before your size or selection is sold out!