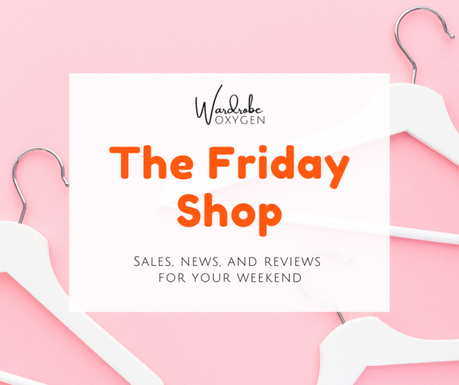 Retail News
Bed Bath & Beyond plans to scale back coupons to boost profitability. (CNBC)
Nordstrom covered insurance for furloughed workers. Now they're expecting them to pay it back. (Business Insider)
The spectacular growth in interest from investors in environmental, social and corporate governance (ESG) shows no signs of slowing down. But making sense of all the benchmarks is a tough call. (Vogue Business)
Fashion brand Tanya Taylor has partnered with Pantone for a collection of t-shirts for adults (up to size 3X) and kids (XS-XL) and they're pretty cute!
Equilibria Q&A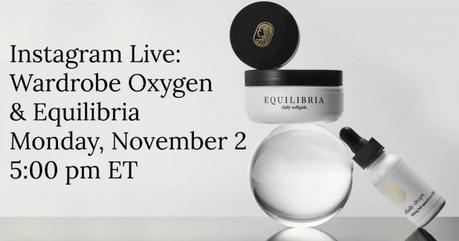 I mentioned last week that due to all the questions you have asked about CBD and in particular, Equilibria CBD after my review, I am hosting an Instagram Live with one of their Dosage Specialists. I am not qualified to answer, but Hayley from Equilibria is. If you have questions you'd like to remain anonymous, feel free to leave them as a comment here (you can always use a fake name and fake email address to comment) or you can email them to me and I promise to not use your name during the event.
The Instagram Live will be Monday, November 2, 2020, at 5 pm ET. To attend, simply log into your Instagram app or visit Instagram on your desktop at the time; you will see a fancy circle around the icon photo for my bio; tap that and it will bring you to the Live session! During the session you can ask questions, make comments, tap the heart icon if you like something, and see others who have joined. I look forward to you joining and answering all of your CBD questions!
Sale Alert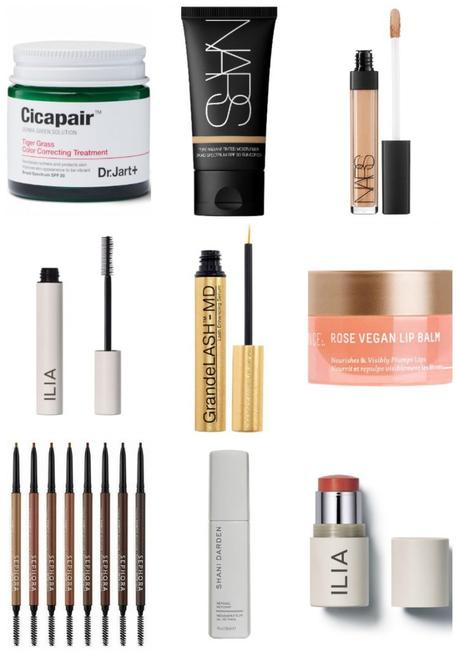 what I'm considering from the Sephora sale that started today
The Sephora Holiday Savings Event begins today! Here are all the deets on this sale:
Rouge members receive first access with 20% off all products with code HOLIDAYFUN today through 11/4
VIB members will receive 15% off beginning 11/3
Insiders will receive 10% off beginning 11/5
The sale ends for all on 11/9 and it's smart to shop as early as possible as things do sell out!
If you're not yet a member of Sephora's free Beauty Insider program it's not too late to join and take advantage of the Insider sale starting the 5th.
I am Rouge, thanks to buying so many people holiday gifts from Sephora, so I already have my cart ready for my purchase. Items I am thinking of getting:
Dr. Jart Cicapair - Now that I am wearing less makeup, I am back to using Cicapair. This stuff is amazing, it has SPF 30, it doesn't add color but evens skintone and sort of blurs the skin, and works alone or under foundation. I think it improves my skin too!
Shani Darden Retinol Reform - I've used a lot of retinol over the years, and this is quite effective. I did have irritation the first time I tried and as with most new-to-me skincare I got a zit on my jaw from it, but it has been worth it for the renewal properties and how now I get results without redness.
Biossance Squalane+ Rose Vegan Lip Balm - I bought this set of Biossance minis this summer and fell in love with both products. The oil is lovely, but not really necessary. But the lip balm? This stuff is awesome. I was using Laneige Lip Mask and it wasn't doing it for me. My daughter loved the lip mask at first but then also found it not good. We're both now in love with this lip balm and I plan to get her a jar as a Christmas gift.
Sephora Retractable Brow Pencil - I have used fancy and expensive brow pencils and on a whim, I ordered this one in taupe... and it's just as good as the fancy ones. While my brows are brown, I find the taupe looks more natural and a brow expert told me once that whether you are going gray or covering your gray, it's smart to switch from brown to taupe pencil to give a softer natural effect.
NARS Radiant Creamy Concealer Mini - This is the concealer I use, but since I use it less often than I did a year ago, I get the mini. It then doesn't dry up or get weird, I don't feel like I waste it. I wear the color Madeline.
GrandeLASH Serum - This stuff works for me. I bought it during the last Sephora sale and was blown away by the results after a few weeks. And unlike other brands where it seems to stop working even before you run out of the tube, it remained effective.
NARS Pure Radiant Tinted Moisturizer - I don't wear foundation anymore, just this which does enough, doesn't clog my pores, don't look heavy, not too shiny. Right now I'm wearing the color Terra Neuve.
ILIA Multi-Stick Cheek & Lip - I had a similar product from a brand that isn't clean beauty and also I don't love their ethics now that I have dug in; this looks like a great alternative. I find that cream-based cheek color looks better on me as my skin gets older and also looks more natural when not wearing a full face.
ILIA Mascara - My sister is my beauty guru and she is obsessed with this mascara. I've been using Thrive Causemetics and love it but her raves have made me tempted to try this alternative. I like that they have a mini size to try before committing to a full-sized tube.
ShoeMall has 30% off orders of $30 or more with promo code SMMNSTR. If you are not familiar with ShoeMall it's a giant shoe online store in the concept of Zappos with great brand names. Free shipping, 60 days for returns and while returns are $6.95 with their label, they're pretty easy.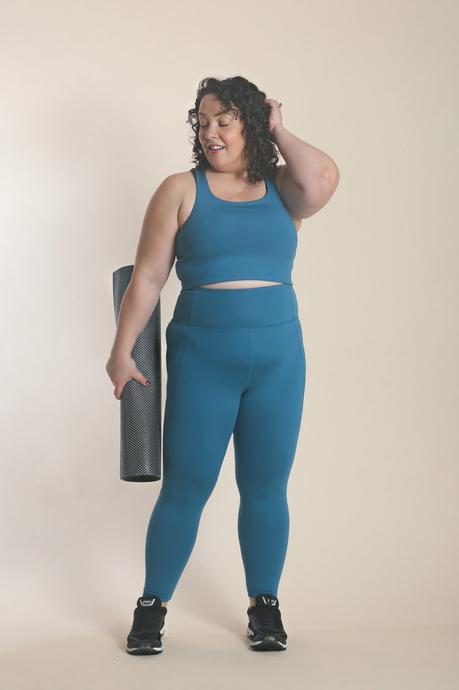 Wearing the Girlfriend Collective
Paloma Bra
and
High-Rise Leggings
Girlfriend Collective, which is one of the most size-inclusive activewear and athleisure brands that is also ethical, sustainable, and all-around awesome, has a sale through the 1st with 20% off absolutely everything plus free shipping. You can see me in Girlfriend Collective at this link. Colors sell out fast; if you don't see your favorite sign up for their emails so you're notified when the color/size combo you desire is back in stock.
Lands' End has up to 60% off your order and free shipping on orders over $100 through 11/4. I wish I knew this when I placed my last order, I would have waited!
I got my kid which is a great fit (and honestly if you wear an XS or even S in women's you should check out because the price is awesome). I also got this bandana for Oscar so he could match our family with the holiday pajamas I already bought for us. I got this hat for me and love it for fit and softness, got this hat for my daughter and she loves it, and I got this scarf in highlighter yellow for me thinking it would be pretty with my pink coat as well as my black parka. I also got some sale socks but they're sold out now so I can't link to them. And I got these snow pants for me in Large Petite, mentioned before but it's worth repeating with this sale.
What I Bought and What I Thought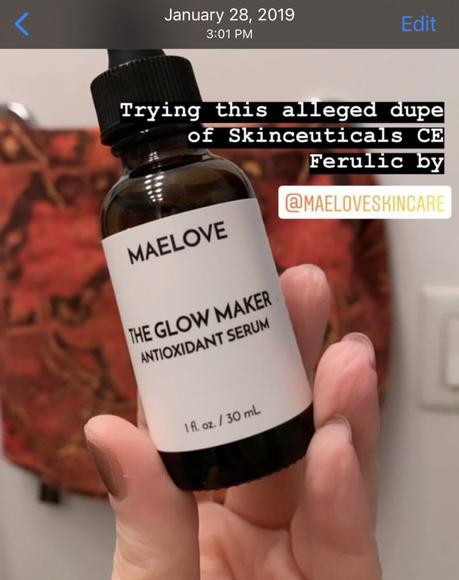 I did this screenshot on my birthday, I didn't even realize that until I uploaded it! If you recognize this as your IG Story slide, let me know!
Back in January, I did this screenshot of some Instagram Story from someone I follow who I respect as a skincare expert without being a beauty influencer. It was a screenshot to remind me to try Maelove when my Kiehl's Vitamin C ran out.
And then I forgot about this screenshot. And then Maelove reached out and asked if I'd like to try their products and it reminded me of this screenshot so I said yes.
One of the products I asked for was Glow Maker. And I have to say I really like it! It's drastically different from Kiehl's; it's a serum/liquid and Kiehl's is a thick opaque product. I don't find it irritating, in fact thanks to the hyaluronic acid I find it hydrating. It's not gritty like Kiehl's and it's also not oily so I can wear it during the day with a bare face or under makeup no problem.
While I started the 'demic with a 500-step skincare routine, by this point I want things simpler and I like how this sort of ties three products together. All this and the bottle is less than $30, has free shipping and returns, and a 100-day guarantee.
I am also using The Hydrator, their hyaluronic acid which seems to work the same as other brands I've tried, and their Zinc SPF30 which applies easily and I find equal to the pricier SPF I was using before. Have any of you used Maelove? Thoughts?
A few updates on pieces I mentioned either here or on Instagram Stories but haven't reviewed:
L.L. Bean Fleece: I mentioned I ordered this fleece in Storm Teal, then I mentioned this fleece in Monday's post. And yeah, it's awesome. Sure, companies like Lands' End and Old Navy sell cheaper fleeces and they're fine, but this thing is luxe and fits well and washes well and is oh so cozy without being too bulky and it's fab. I got it in XL regular so it is roomy enough for layers underneath.
M.M. LaFleur: I hope to have my post on them next week but I got this sweater which I've raved about in Monday's post and this work from home capsule wardrobe, but this week I also got these pants in 12 and this top in XL. The pants are snug, but not in an unwearable way, and they do stretch out with a bit of wear. They're a side zip and a bit of an odd length on my 5'3″ self but I think the length that looks good with ankle booties that slide under the hem. The top fits great, and looks good tucked in or left out. I'll have them in an upcoming outfit post, but wanted to report now that my entire M.M.LaFleur experience has been positive.
Slippers: I'll be honest, my feet can get funky. No pair of slippers will last more than one winter so I won't pay a lot for them, but I want them to still look nice and feel good. For this winter, I got these slippers from Bearpaw. I have a few friends who are influencers for this brand and off camera they still rave about the brand so I felt good trying them. And they are comfy and fit great and look expensive.
Peloton Boutique Buys: Every time someone uses my referral code when they buy a new Peloton, they get $100 in accessories and I get $100 credit to use in the Peloton Boutique. Things in the boutique sell out super fast, especially in larger sizes but I was on the Peloton Reddit when someone mentioned a new merch drop in Germany which meant it would soon be in the US. I was able to get in there when the drop happened and I got these leggings in Large, the matching sports bra in XL (no longer on the site), and two of these Yeti tumblers. The leggings are super soft and stretchy but opaque; they're a bit long for me but any full-length legging is. The bra is a serious joke and hardly can cover one of my boobs; even over a black sports bra I'm either having both boobs pop out of the neckline or the bra has 1/4 of my sports bra peeking out at the bottom. I plan to sell it on Poshmark. The Yeti tumblers... I now get the Yeti hype. I haven't owned any Yeti products before and have been perfectly happy with my several years old Hydroflask with the chipped paint. But this tumbler will keep my coffee or tea warm all day as I work, it's easy to machine wash, fits nice in the hand, and has a great lid.
I know I raved about my PopSocket and I still love them, but with cleaning my phone case more regularly my PopSocket stopped adhering reliably. So I got a case with a PopSocket built-in by Otterbox. It takes some getting used to; I had my old case for so long (and even had the same case on my previous generation iPhone) but the case is well-made, the PopSocket in the right place and it's not going anywhere, and my phone feels more secure in a higher-quality case made for protection.
I have had this BlueTooth smartphone remote for years; my friend Jen told me about it and it has been so great. I have tried others before and since but this one is so darn reliable and so small it fits in my wallet's change purse. Well, I accidentally left mine at the Airbnb we rented last month so I bought a new one. It's less than $10 and one of the best purchases I've made; sure I take a lot of photos and videos as a blogger, but it has been great for my daughter to make videos for her class, and it's wonderful on vacations to get a family photo with everyone in it and not having to keep hitting the selfie timer and hope for the best. Christmas is coming and this is a fantastic idea for a stocking stuffer or small but mighty gift for any tween, teen, college kid, or most anyone who loves taking photos! While I linked to a turquoise one above, the brand makes them in a variety of colors and it comes with a tiny yet effective phone tripod.