Nokrek National Park is a thin slice of forest perched on a ridge with Garo villages on all sides, with an area of less than 50 sq. km. To make matters worse, experimental orange, cashew and rubber plantations pockmark the forest at the edges. Legend has it that Nokrek is the home of the
Mande Burung
 or the 'Big foot', with even a few sightings reported by the locals! Were these sightings of the rare Red Panda, recorded from unbelievably low altitudes? We'll never know, but a Red Panda was indeed shot in the area in the 1960s. Anyway, with all these disturbances at the edge, it must be quite inconvenient for the 'Mande Burung'. But
Rohit
, my Garo friend Bensen and I were here to not to see the 'Big foot' but to see the 'Big beak', the Great Indian Hornbill, since we had heard about its recent sightings here.
The village Daborikgre atop a hill is beautiful and just as we reached, the mist cleared giving the scene a dramatic effect.

We were to walk into the Park along an established trek route to a watchtower about two hours walk away. As soon as we entered the beautiful forest from the village, we saw a Himalayan Marten. Often in north-east India, the marten is only a dash of orange in the green of a forest, but this one wasn't in any hurry. The marten scurried away only after noticing us and even stopped awhile at some distance. We walked in further and the forest got darker with thick canopy. And then we heard the gibbons call or rather sing.
For any person who enjoys time in a forest, hearing and seeing a gibbon family in the early morning is an amazing experience. We saw the dark-coloured male and the grey-brown-coloured female and perhaps there was a baby in the family since the male gibbon seemed a bit jumpy. Swiftly dashing across the canopy, the family retreated sufficiently far and then the male gibbon looked at us again just to be sure his family is safe and far enough. With my binoculars, I had a clear view of the gibbon peeking from behind a branch; the dark canopy looking at me with white eyebrows! Instances like these make walking in a north-east Indian forest a thrilling experience.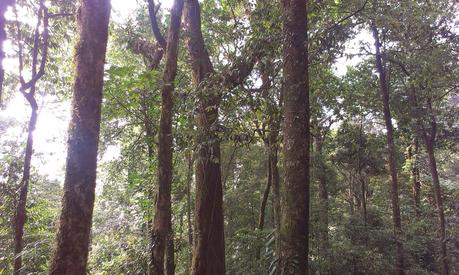 The gibbon is peeking at me from faraway in the forest canopy here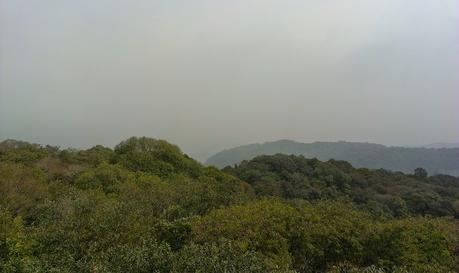 Not wanting to disturb the family further, we walked on ahead and soon heard a group of Capped Langurs. We could not see them but it was good to know they were around too. From the watchtower we had a beautiful 180 degree view of the Garo hills but the mist in the valley had not cleared completely. But through the mist I imagined that at one point the Nokrek National Park must have been contiguous with Siju Wildlife Sanctuary and Balpakram National Park further South-east and animals such as the hornbills, elephants, gibbons, stump-tailed macaques and perhaps even tigers must have moved across the entire landscape. We did not see the Great Hornbill during our three hours in the park but we did hear the high-pitched cackle of the
Oriental Pied Hornbil
l on our way back(link: ). Inspite of being a tiny remnant of what must have been a vast stretch of evergreen forests, Nokrek is still beautiful and is teeming with wildlife, for now.'