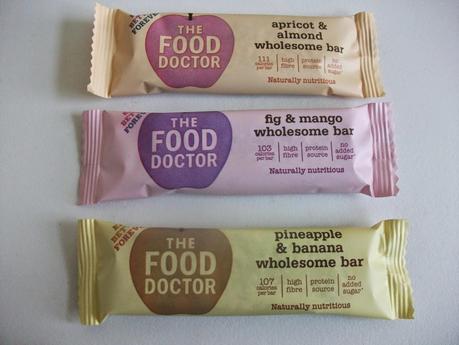 Many thanks to the people from The Food Doctor for sending me some stuff from their healthy food range to review recently. They sent porridge as well as some snack bars, and me being a snackaholic I went for the snack bars over the "proper food" first!
The bars are based on fruit, cereal and seeds and only contain naturally occuring sugars. In practice this means fructooligosacharides (say what?!). These are supposed to be healthier than sugar and the bars certainly tasted a lot less sugary than a chocolate bar.
Pineapple & Banana Wholesome Bar: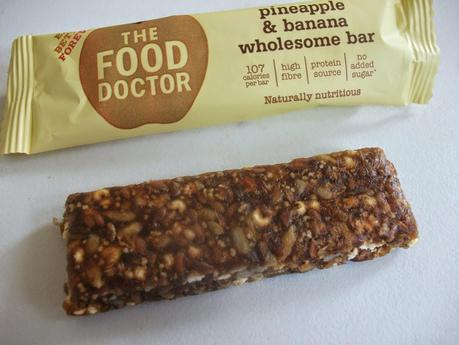 This bar contains a mixture of pineapple, banana, linseeds, sunflower seeds, rice protein, papaya, amaranth and millet seeds. There's 8.4g fruit sugar and 107 calories per 35g bar.
I enjoyed the taste of this bar and it gave me a nice energy boost, but I wasn't keen on the bitty texture from the seeds. Still I reminded myself that it's full of healthy stuff! I think a bit of coconut might have improved the flavor and went nicely with the pineapple and banana to give it a tropical feel.
Fig & Mango Wholesome bar: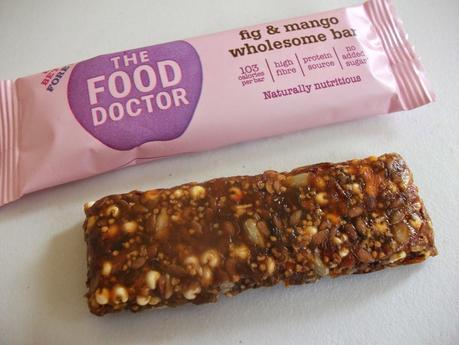 This bar contains 103 Calories and 5.9g fruit sugar and is made of the same ingredients as the previous bar but with figs and mango as the fruit. The bar was very nice but the flavor was less fruity than the pineapple variety. It did give me a nice energy boost though.

Apricot & Almond Wholesome bar: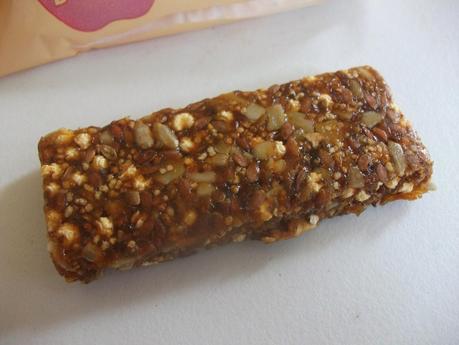 This bar was rather nice indeed. The apricots lended a nice fruitiness to the more satisfying almonds, making the bar pleasantly sweet and densely nutty. The bar contains 111 Calories and 4.7g fruit sugar.
Overall
While the flavours could do with a little improvement, I thought these Food Doctor Wholesome Bars were pretty good as far as healthy snacks go. They're high in protein (over 3g per bar) and fiber (around 3g per bar) and the sugar in them is natural, so it's hard to complain. I've tried other "healthy" cereal bars before that are loaded with sugar and made me high as a kite but these seemed more balancing on my blood sugar. I also like the fact they don't contain wheat or gluten, although they're made in a factory that handles gluten so aren't suitable for coeliacs unfortunately. I do think they've missed a trick by not making a coconut based variety...now that would really get my attention!


RATING: 7.5 out of 10. 


You can purchase The Food Doctor snacks from their website HERE or from Holland & Barrett stores.
*Products sent for an honest review and all opinions expressed are my own.