A new column featuring on the folks who make it their life to spread the word on good music.  Today, Mark Taylor of MetalTalk.net.  Check em out at MetalTalk.net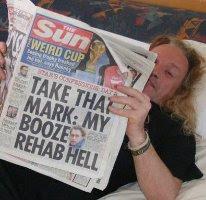 Start at the beginning, how did you get started with this crazy idea of writing about music? 
By complete chance. I was at a Warrior Soul gig in London 2009 and my friend and photographer Noel Buckley asked me on the night if I fancied reviewing the gig for the GRTR! Website as they didn't have any reviewers there...And that was that, I haven't stopped since.
We're all the product of our musical past. What's your musical history? 
Would've loved to have been a singer but even the rubber duck in my bath covers it's ears when i sing. I play a good kazoo though.
First album you ever bought? That was Motorhead 'No Sleep 'til Hammersmith' in the week it was released in 1981. It went straight in at Number 1 spot in the UK.
First musical epiphany moment? Seeing The Sweet on Top Of The Pops on TV when I was about 5 years old. I was destined to have long hair and no taste in fashion.
First album that terrified the hell out of you? 
Mercyful Fate 'Melissa' album from 1983... I swear the Devil was speaking to me through the speakers after 'Satan's Fall' HaHa.
What's the last album to grab you by the throat and insist you listen?
Not an album as such but an E.P by a London band called Pink Cigar. This band have the cockiness and swagger of a real rock 'n roll band. There's nothing fake about them at all and the guitarist comes out with some great original hooks. They're most probably won't get anywhere in the music business because they refuse to suck anyone's c##k I think that's what I like about them so much.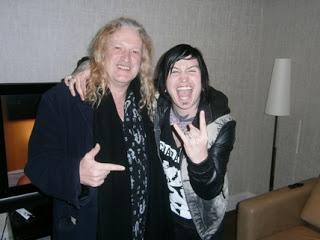 What do you see happening in the music scene today, good and bad? 
Contrary to what many think, it's very healthy. Sure the money's not there like it use to be, but you can almost see live music any night of the week and modern technology has made it possible for more new music to be heard. However the scene can become overloaded . The bad side of today's music scene is that too many bands and people in general don't wish to offend anyone in these political correctness times. Too many bands sing about saving the whale etc... Not enough bands sing about shagging and having a good time anymore. No one has mastered the art of the innuendo lyric like Bon Scott did.
With so many music sites, what's your unique take on the music and writing? 
I can only do what I can physically fit in. Going to four to five gigs a week, sometime seven, takes up a lot of my time and energy, especially when I have to get up at 5.30am for my non musical related day job. It's a labor of love and one that I enjoy. It's a hobby really and gives me a fantastic social life. I don't take the writing side too seriously, I like to write in a style that everyone from all aspects of life can understand and I like to add a little dash of humor here and there even if that means I'm given the impression that I'm writing as a complete drunk at the bar. It's a view not many honest people can relate to.
Illegal free downloads on your site. Yes or no, and why?
Well we were all guilty of home cassette taping back in the 70-80's but with downloading it's more easily accessible . When I was a teenager I brought the album before even hearing the music, but you still played the album to death. Bands have to earn their crust, you don't walk into McDonalds and get given free burgers do you? I'm sure stricter laws can be put in place... I honestly don't know really... I'm too old school. I still haven't downloaded anything at all myself. I like my music to be physical and played through my booming speakers in my front room and be taken to another world.
What's been your all time greatest "Find"? That band you "discovered" before anyone else and started the word spreading? 
Hmmm.... I remember getting really into Guns 'N Roses right from the start. I use to play them at my disco back in 87 after being given an advanced copy of the single 'It's So Easy' and the hells Angels fucking hated it, but were all asking for them a year later . I saw them play at Hammersmith in late '87 and it was half empty and tickets were only £6.50. I walked away that night telling my friends that Guns 'N Roses will be the next Rolling Stones, and they would've been if they had mentally kept it together.
If you could write a 1,000 word essay on one song, which one would it be, and why? What makes that song so important?
Deep Purple 'Highway Star' That song has everything from the screams of Ian Gillan, grinding Hammond work from Jon Lord , the meticulous way Ritchie Blackmore bends every note and the powerhorse drumming of Ian Paice not forgetting the solid bass of Roger Glover. 'Highway Star' is the heaviest song ever written or performed live. Absolutely stunning and breathtaking .
Give us three bands that we need to keep our eyes out for. 
Pink Cigar I've already mentioned, The Temperance Movement are making waves here in the UK, got a very 70's Humble Pie sound going on and Saint Jude fronted by the delicious Lynne Jackaman will break the US with their Black Crowes country style rock when their debut finally see's the light of day.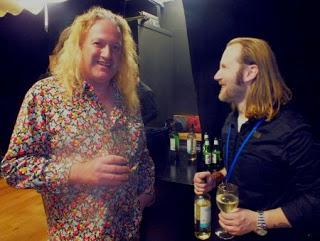 Tell us about your personal music collection. Vinyl? CD? What's your prized possession?
I prefer vinyl, but have grown accustomed to CD's over the years. I've had to downsize a few times because of space. I've sold all my singles and I don't regret it at all. A lot of my old NWOBHM singles are now in the hands of young rock fans and that is only possible if older fans like myself find good homes for them. Currently I have about 800 albums on vinyl and over a thousand CD's.  I have Black Sabbath's 'Master Of Reality' on the Vertigo label in a embossed box complete with the original poster, bit I'm very proud of the signed photographs I have of Iron Maiden, Deep Purple, Aerosmith, Peter Green, Angus Young. There are many artists I have. But I only like signatures if I have met them myself.
What makes it all worthwhile for you? 
Hearing nice compliments from people who I don't know who have read one of my articles. Also I still get excited when I get to interview someone from my youth. I could be speaking to one of the biggest stars of today and it doesn't mean anything to me, but anytime I speak to bands like Girlschool, Tygers Of Pan Tang, Saxon and I can't believe it is happening. To think I had posters on my walls of those bands over thirty years ago and now they even know my first name is amazing.
How would your life be different if you weren't writing about music? 
I would get to spend more time talking to 'er indoors and watching garbage on the TV.
Ever been threatened by a band or a ravenous fan?
Amazingly, no not yet and I'm not always exactly Mr Nice when I put pen to paper. I'm sure it will happen one day.
In the end, what would you like to have accomplished, or be remembered for?
It's not really about me to be honest. It's about the musicians who have taken the time and effort to do what they do. Whether I like the music or not, it's all still entertainment in one shape or form . If they didn't, I couldn't .. Thanks to them, I have a platform.
Many people may not realize the hours you devote to what you do for little or no pay. Is there a day job? If so, how do you find the balance?
 I'm a postman by trade, which means going to work with a hangover most days. Balance, I don't, I run on adrenaline . The writing gets done as long as I don't get invited out, however , I get a lot of invites and I find it rude to refuse
What's next? Any new projects? 
I just see what tomorrow brings, everyday is a celebration just to be alive and life is good.
Finally, other than the music, what's your other burning passion? 
Travel. I love seeing the world and that's even better when I can slip in a gig somewhere. Over the years I've been lucky to have seen Tom Petty in Florida, attend Rock In Rio in Brazil, Deep Purple in Malaysia, The Scorpions in Thailand and countless European Festivals, there's been many.