The first East Midlands Flower Show was recently held at Newstead Abbey in Nottinghamshire.  I had decided that I wanted to go.  Luckily a friend won two tickets which was fate ensuring that we went along.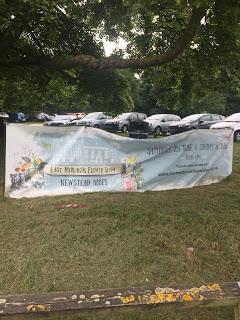 Newstead Abbey is owned by Nottingham City Council and is the ancestral home of the Lords Byron, of which the poet Lord George Gordon Byron is probably the best known and probably the most notorious.  Byron lived a short but very full life and we should not forget that he was the father of Ada Lovelace.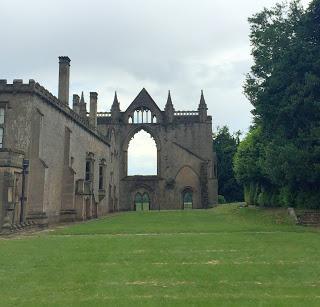 The show was not large, but one has to bear in mind it is the first one and every show has to start somewhere.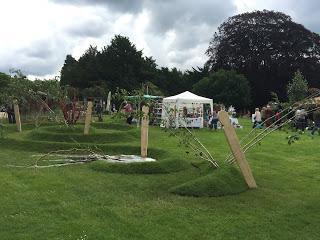 There were some small garden displays, such as this interesting earthwork,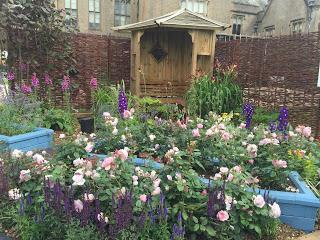 and this garden called Legacy and designed by Andy Tudbury.  The scent from the roses was rather wonderful.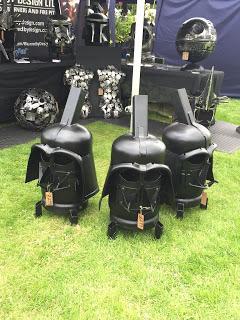 I also got rather distracted by these stoves by Burned by Design.
After wandering around the stalls and tents we decided we should brave the impending rain and explore the gardens.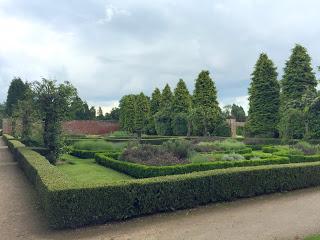 There are some formal box edged gardens, that were looking really good.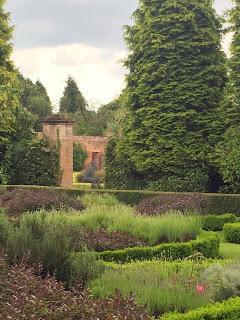 We loved this view, if you look through the gateway you can see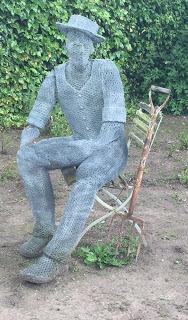 this fantastic sculpture.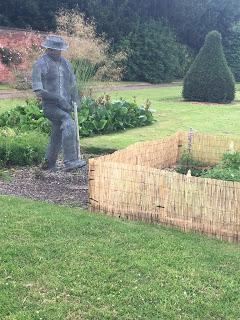 There were  other wire gardeners in this area, I thought they looked rather good.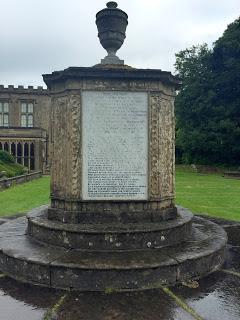 We stopped to read the epitaph to Boatswain, a newfoundland dog who died in 1808 and was the subject of a poem by Lord Byron.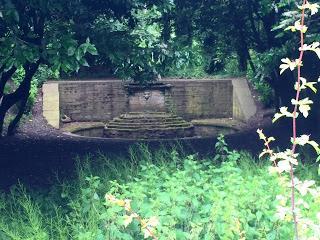 When we glimpsed over a wall we saw this rather fine water feature, that sadly lacked water, but we loved how the trees shaded over it to make dark and light.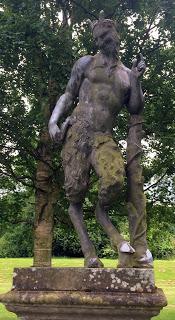 There is this rather fine statue of Pan,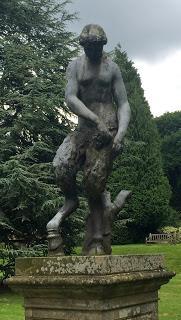 and Mrs Pan.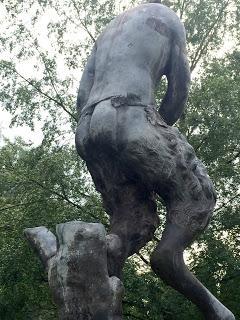 Mrs Pan has had a wardrobe malfunction or is wearing the equivalent of a faun thong.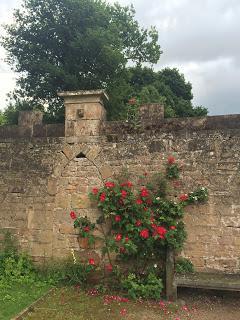 There were lots of beautiful roses doing what roses do best when presented with a nice bit of wall.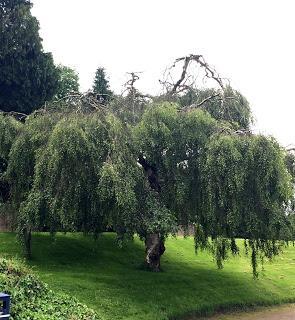 This is probably the oldest weeping birch I have seen.  I am not sure I like the way the bear branch tops looks like large skeletal hands.  This tree launched a conversation about the first Poltergeist film and the bit where the tree comes through the window.  This moved onto talking about the toy clown where we agreed that clowns, generally and specifically, are frightening.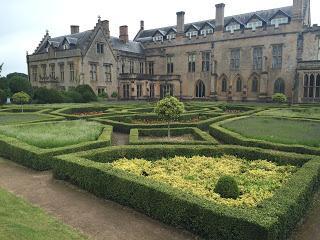 This is the Spanish Garden. We mused on why it was Spanish.  Apparently it was designed by Geraldine Webb in 1896.  The well head in the center is Spanish and the area was originally the burial ground of the abbey.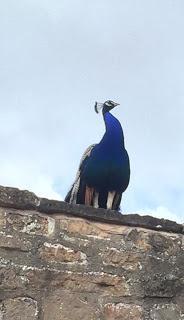 As we walked around the garden we were aware of the sound of the peacocks calling to each other.
Back to the show....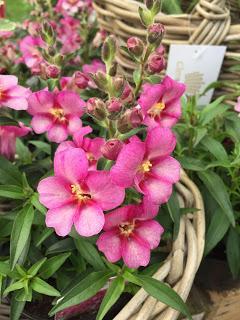 There was a difference of opinion about this plant.  It is in my opinion rather pretty, it is also however, an antirrhinum.  This led to a difference of opinion, it was deemed by my trusty sidekick as an unworthy plant to carry the name antirrhinum as it lacked the snap required of a snapdragon.  Now, I agree it lacks snap, but does it make it any less pretty?  If it had been called a Pinkyplonky flower then maybe it would have passed muster.  Anyhoo, I'm still saying it is pretty even if it is a rubbish dragon.
Further on we found this fine fellow....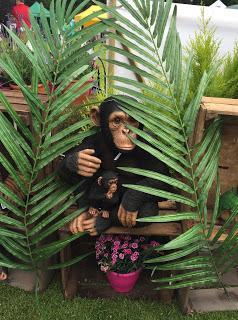 I think he would look great peeping out of an exotic border.  Trusty sidekick at this point slapped me hard(verbally I hasten to add) and I walked on without buying.  It is useful to have someone to prevent the excesses of my whim at times.
and the verdict on the day/Show?  We had a really nice day, I enjoyed wandering around the show to the backdrop of the music of the brass band.  I also had a great time exploring the gardens.  The show does need more nurseries to take part but I fully appreciate that this was the first year.  I also wondered if it might be competing a bit too much with other shows taking place this same weekend?  Distance matters and so they would not necessarily impinge on many people traveling to the East Midlands Show, but they will be able to draw some nurseries that might have otherwise taken part.  I am a very loyal East Midlander, I grew up here and cannot imagine leaving the area so I am very keen for this show to be successful.  I am looking forward to seeing how it develops next year.