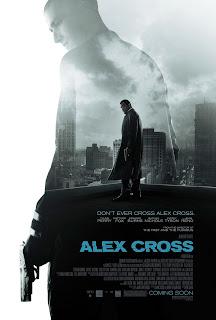 Oh wow, what a clever tagline. 
The Lowdown: Holy shit, Tyler Perry is NOT playing Madea for once! Too bad that's where the variety ends. Alex Cross is an astoundingly inept action-thriller based on material that deserves better. Barely passable if you're zoned out in front of your TV at 3 a.m. Otherwise, please don't waste your time.
1. The Plot:
The film begins abruptly with Detective Alex Cross (a horribly miscast Tyler Perry) and his two sidekicks, Thomas (Edward Burns) and Monica (Rachel Nichols), showing off their criminal-catching skills by chasing some random guy through an abandoned warehouse setting. After this pointless scene, the real plot begins. A wealthy young woman is found tortured and murdered in her home, and Alex Cross and friends are on the case. The murderer leaves charcoal etchings by his victims, and is dubbed Picasso. Picasso (a scene-stealing Matthew Fox) is a total sadist, relishing each kill. However, his motive is unknown.
After some incredibly easy sleuthing, Alex Cross determines that the next victim is a businessman who works at a company headed by Leon Mercier (Jean Reno). We learn that this company has started a fund to rebuild Detroit. On a side note, this is also the first time we are told that Detroit is the setting for this film. Anyways, Cross, Thomas, and Monica are able to stop Picasso from killing the businessman, but figure that his primary target is Mercier. Picasso doesn't take defeat so well, so his next move is turning the tables on Cross and his team. What begins is a supposed battle of wits between the two parties that dissolves into a typical revenge plot. Characters begin to act unrealistically, motives become unclear, all logic crumbles, and the film completely falls apart.
2. The Characters:
   Alex Cross is based on the suspense novels by James Patterson. Indeed, this film isn't the first time that Alex Cross has been on the silver screen. Kiss the Girls (1997) and Along Came a Spider (2001) featured Morgan Freeman as Alex Cross, and were excellent suspense-thrillers that were likely more faithful to the source material. Morgan Freeman lent Alex Cross a contemplative nature, and his character relied largely on his wits. Freeman was probably ideal casting for this character.
   That said, Tyler Perry was probably the worst casting choice ever for the character of Alex Cross. Tyler Perry has never been a particularly gifted actor (see: any film with "Madea" in the title); his flat delivery and lack of facial expression exemplify this in every scene he is in. He almost seems like a robot in many of his scenes. In fact, the only way to distinguish him from a robot is because he looks like a human being. No convincing emotions emanate from his character, and when he tries to emote, the result is often hilarious. It is not a good sign when the main character of the film is incredibly uninteresting.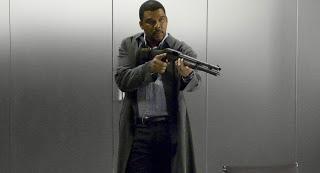 I have a shotgun! That, like, makes me badass, right?
Perry's characterization of Alex Cross also lacks the intelligence and thoughtfulness that made the Morgan Freeman interpretation of Alex Cross so interesting. Here, Alex Cross is made into an action hero, chasing the bad guy and engaging in violent chases, fistfights, and shootouts. All of this is wrong because it dilutes the character, turning him from a potentially interesting one into a dull archetype.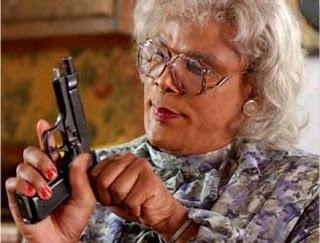 Case in point. 
Perry's co-stars don't fare much better. Edward Burns (Saving Private Ryan) and Rachel Nichols (Star Trek) are bland and forgettable as Cross' two sidekicks. They spend most of their time following Cross around and posing questions with obvious answers. Carmen Ejogo (Away We Go) plays Maria Cross, Alex's wife. She shows a wider range of emotion than most of the characters, but doesn't convince as much because the screenplay is so weak and clichéd. John C. McGinley (Scrubs, Se7en) is the typical self-righteous, attention-hogging police captain who exists only to disregard every bit of information that Cross has, even though Cross has been on the right track from minute one.
The only riveting character in the entire film is Picasso, played by Matthew Fox (Vantage Point). Fox steals every scene he is in by sweatily overacting his part as the vicious, psychopathic, sadomasochistic Picasso. In fact, he overacts so much that his character becomes almost truly frightening. This provides an extreme contrast between his character and every other character, because it is clear that Fox is the only actor in the film not phoning his or her performance in.
3. Sleuthing:
In Kiss the Girls and Along Came a Spider, when Morgan Freeman dug around for clues and information, we felt engaged in a good old-fashioned mystery. Each new clue unlocked part of the mystery, but also opened up more questions. Nothing was ever simple or in plain sight, which left the audience to speculate a bit on how all the pieces would fall together. Then when everything did fall into place, enough tension had built up for a satisfying conclusion.
This is not the case with Alex Cross. The genius writers apparently decided that the film should have absolutely no mystery or suspense. Alex Cross does not do any sleuthing in this film. Instead, he seems to magically be able to tell exactly what happened at the crime scene the instant he looks at it. There is no intrigue or foreshadowing. Cross just knows how all the puzzle pieces fit. There is a scene where Cross is examining Picasso's drawing, and he just begins folding the Picasso drawing in a special manner, which reveals the initials of Picasso's next target. HOW DID HE KNOW TO DO THAT? Were the writers really this lazy?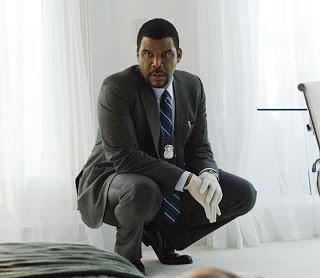 See? I can do crime-solving things too!
It's not like it would have been difficult to show the logic behind the revelation. Here, let me fix this entire scene right now. First, have a montage scene where Cross and his team are dutifully sifting through all the crime scene evidence like in an episode of CSI. Have Cross check the Picasso drawing, look puzzled, and put it aside in a casual manner. This gives the impression that nothing is out of the ordinary. Then show more clips of examining the rest of the evidence. End this scene with Cross and his team stumped by the clues.
Naturally, the characters will then begin discussing the killer and his mentality, which will lead to a discussion about motive. Thus begins a discussion of the victim, and after looking at her background, it is revealed that she was CFO of a major company in the city. The team looks up the company, and we receive some information about the company and its higher-ups. The team makes the decision to speak with the executives since they would have known the victim.
Cross then opens an envelope on his desk and pulls out a folded letter. Then he has a revelation when he notices the name of one of the executives. He has seen the initials before, or something that resembled them. Cross begins sifting through the evidence again and finds the Picasso drawing. He examines the drawing closer and notices strange markings on the sides of the paper. He thinks back to the folded letter and begins folding the Picasso drawing in various ways. Then he sees the businessman's initials on the Picasso drawing when he finds the right folding conformation. Cross then deduces that the killer's next target is said businessman, and the team rushes out of the police station to stop the killer. End scene.
See? That wasn't hard at all. Not much more would need to be added to the film, and it would have been so much more intriguing and effective. We as the audience would be guessing along with Cross and his team and we would be as shocked during the revelation as the characters.
The Bottom Line: Alex Cross is feeble and lifeless instead of being pulse-pounding and dynamic. Thrillers are supposed to thrill. However, the action is tame and lame even by PG-13 standards, and the plot is as derivative as they come. Really, the only thing "thrilling" about Alex Cross is the villain, who is so much more interesting that he almost seems detached from the film. The rest of the cast fades right into the background, including the character of Alex Cross because Tyler Perry is horribly miscast. The man's acting is a total cringefest, eliciting more laughs and groans than anything else. Alas, the film's biggest problem lies in its insipid, lazy screenplay, which removes all elements of mystery and instead makes Alex Cross a dispensary for revelatory exposition. The bottom line is that Alex Cross is an embarrassing, incoherent mess. Avoid it.
Alex Cross
is property of QED International, Block/Hanson, and Emmett/Furla Films. This review was written by me.
Like the review? Post a comment.
Like us on Facebook: http://www.facebook.com/filmaholicreviews
Follow us on Twitter: https://twitter.com/FilmaholicRvews
Copyright
© Filmaholic Reviews, 2013