The Fifth Annual Oldtone Roots Music Festival 2019
OVER 30 BANDS ON 3 STAGES • CONTRA SQUARE CAJUN & SWING DANCE TENT • WORKSHOPS • INSTRUMENT & BAND CONTESTS • FARM-TO-TABLE FOOD & DRINK • ARTS & CRAFTS • CHILDREN'S ACTIVITIES • ROUND THE CLOCK PICKIN' & SINGIN'
S
eptember 5-8, 2019 
Cool Whisper Farm, 1011 County Rt 21, North Hillsdale, NY, 12529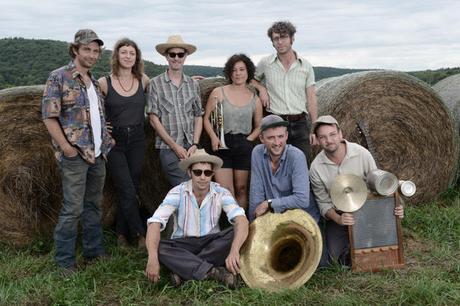 The 5th Annual Oldtone Roots Music Festival: Preserving American Music
Musicians and Festival Attendees Dedicated to Preservation through Participation
September 5-8, 2019
1011 Co. Rd 21, Hillsdale, NY 12529
Website
Email
HILLSDALE, NY. The Oldtone Roots Music Festival features
three stages with traditional music performances, dances, workshops, contests, and children's activities.
The founders' goal is to preserve American roots music and dance with an intimate and interactive festival that includes opportunities to engage with main stage artists in workshop settings. Jamming in the campground late into the night is encouraged. In the evenings festival goers and artists dance under a tent that perches over a spectacular view of the rolling upstate NY farm valley of Matt and Lisa Schober's Cool Whisper Farm. It is not unusual to find main stage performers dancing in the dance tent or jamming late into the night in the camping areas. Caleb Klauder of the Foghorn String Band has this to say about Oldtone 19: "I'm going to the Oldtone Roots Music festival because their hearts are in the music and the music there has soul."
The festival is unique amongst Roots music festivals for its popularity with the artists themselves as well as the attendees, who can often be heard talking about the "Oldtone vibe".  Well known cajun Artist Jesse Lege (Bayou Brew) stated; "If I had to pick one best festival, and I have traveled to many, near and far....Oldtone is the biggest, most relaxed, friendliest little festival you'll ever spend a weekend at... like having it in your own backyard." 
The festival has a core of returning popular Oldtone veteran artists: the
Foghorn String Band
, Tuba Skinny, the
Down Hill Strugglers
,
Jesse Lege & the Bayou Brew
,
Run Mountain
,
Tamar Korn
,
Travis Stuart
, and the
Russet Trio
, all who have performed since 2016. This year the line up also includes well known bands and artists and exciting new acts:
Alice Gerrard & the Piedmont Melody Makers
,
Roochie Toochie & the Ragtime Shepherd Kings
, Bruce Molsky and
Allison de Groot
,
Jerron Paxton
,
The Alex Leach Band
,
Sinner Friends
, and more. The full line up and schedule can be found on the
Oldtone Roots Music Festival
Website. 
Oldtone is known for its family friendly atmosphere with puppet shows and interactive entertainment for children. Local food and craft vendors add to the village feel of the four day long weekend festival, and this year, local craft beers from
Big Elm
,
Chatham Brewery
,
S&S Farm Brewery
, and
Svendale
will be a highlight as well as local hard cider, and wine from
Millbrook Winery
. 
Tickets
Facebook
Instagram
Photo from Oldtone Festival 2018 by Juris Mardwig