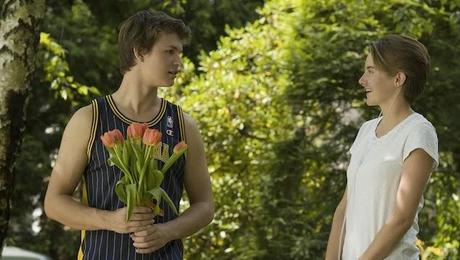 The Fault in Our Stars (2014) is the latest among a barrage of YA lit adaptations, now rivaling superhero flicks as blockbuster fodder. Fortunately it's a good one: Josh Boone's charming teen weepie packs an emotional wallop that should resonate outside its target audience.
Teenaged Hazel Grace Lancaster (Shailene Woodley) suffers from thyroid and lung cancer. Reluctantly joining a support group, she's smitten with cancer survivor Augustus (Ansel Elgort). The two strike up a not-quite-romance, Hazel enchanted by Gus's insouciance but afraid to commit. Until an improbable trip to Amsterdam, where their relationship blossoms into love. Not long afterwards, tragic developments spoil their newfound affection.
Based on John Green's best-seller, The Fault in Our Stars makes an appealing teen romance. Hazel's condition renders her unable to enjoy an ordinary life; her parents (Laura Dern and Sam Trammel) are understanding and supportive, but Hazel can't move past an unpleasant childhood experience. Boone and screenwriters Scott Neustadter and Michael H. Webber carefully develop Gus. If he's a free spirit, chomping unlit cigarettes and egging cars, Gus's own pain and loss (physical and emotional) is palpable. They make a nice pair, giving Fault a solid dramatic heart.
Fault has a classic melodrama structure, mixing the leads' budding relationship with third act tragedy. Like all teen movies, we get outsiders bonding over arch quips, a world where egging someone's car makes you a free spirit rather than a hooligan. Still, every beat feels authentic: Boone and his cast invest us so thoroughly in the characters and emotions that even the cliched elements work. Fault ably juggles character development and emotions; it even manages the trick of being tragic and uplifting at once.
Admittedly, Fault has some ill-judged segments. Sweet as it is, the Amsterdam section feels contrived: in-story, it's justified as Hazel and Gus meeting their favorite author (Willem Dafoe), but given what we learn it's a thin rationale. And the movie drags on 15 minutes too long, especially with one character making a belated (and superfluous) reappearance. But whatever its dalliances and digressions, Fault earns its sentiment, down to a heart-rending epitaph.
Shailene Woodley (The Descendants) gives a knockout performance. She gives Hazel a mixture of sardonic detachment and awkwardness that doesn't compromise her lovability. Between this and Divergent, this summer should make Woodley a star. Ansel Elgort matches her with effortless charm and affability. Laura Dern stands out among the adult cast, mixing sweetness and exasperation. Willem Dafoe seems bizarrely out of place while dad Sam Trammell is just bland.
The Fault in Our Stars is the best teen movie since The Perks of Being a Wallflower. Admittedly Green's story holds few surprises, but I'm always up for a well-crafted tearjerker.
PS: This movie is set in Indianapolis but filmed in Pittsburgh, the modern mecca for coming of age movies. Seriously, in the past five years alone we've had Adventureland, The Mysteries of Pittsburgh and The Perks of Being a Wallflower, alongside others I've probably missed. I can't puzzle out why filmmakers/novelists choose the Burgh as their setting for teens/twentysomethings eager to escape a miserable existence. Are the writers all from Cleveland?