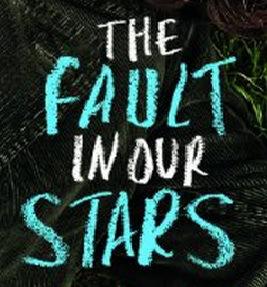 Director: Josh Boone
Writer: Scott Neustadter, Michael H. Weber (Screenplay) John Green (Book)
Starring: Shailene Woodley, Ansel Elgort, Nat Wolff, Laura Dern, Sam Trammell, Willem Dafoe, Lotte Verbeek
Plot: Hazel (Woodley) is a long term suffering cancer victim in her late teens she knows she doesn't have long left, she isolates herself from the world. Her parents Frannie (Dern) and Michael (Trammell) force her to go to a support group to meet other people. Hazel struggles through the sessions until one time Gus (Elgort) a survivor of cancer but there to support his friend Isaac (Wolff). Gus uses his bright look on life to talk Hazel into hanging out and the more they do, sparks start to fly. With limited time the young lovers know it will be short but they plan to make it everything their dreams are made off.
Verdict: Emotional Drama
Story: We already know this is going to be a story that ends in tragedy; we just have to see how it ends up there. What starts out being just about a young girl who dreams of being swept off her feet but instead has given up ever having a true memory for life. We see how once someone has survived cancer they have gained a desire to live life for every day, making sure everyone who walks into their life does too however long they have left. What starts being a very clichéd romantic side to the story takes a refreshing change once the first twist in the story happens. Even though the story is based on a sad truth that will make you cry, you will end up feeling happy once the story is over because the two young lovers had something most people will never have. (9/10)
Actor Reviews
Shailene Woodley: Hazel the lonely cancer sufferer who spends her time read and wondering how and why her life has ended up this way. Once she meets Gus she opens up and spends all her time with him, enjoying her life for once. Shailene is brilliant in the role she makes her character have a regular girl look showing that the situation could very well happen to anyone. (9/10)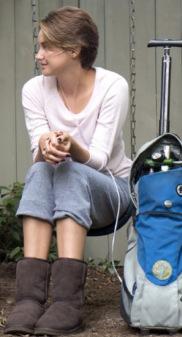 Ansel Elgort: Gus who survivor who supports others who have been suffering with a charisma that has no bounds. He takes an instant shine for Hazel Grace as he calls her and does everything in his power to make her enjoy her life. Great performance from Ansel playing the motivation for Hazel, creating a flair that I have rarely seen in the teenage lover stories. (9/10)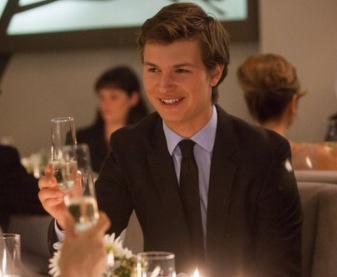 Nat Wolff: Isaac Gus' friend that is in the support group who has been suffering with a cancer that will leave him blind. Nat plays a brilliant support role showing the mental states people can go through while suffering. (8/10)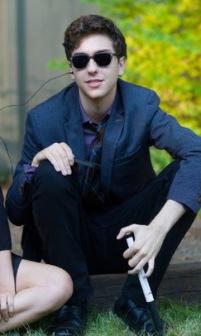 Laura Dern: Frannie Hazel's mom who is going through the knowledge that she will lose her daughter, but remains strong throughout. Good performance in a difficult position for a parent to be in. (8/10)
Sam Trammell: Michael Hazel's dad much like Frannie he is trying to stay strong for his daughter through her suffering. Good supporting role as concerned parent who knows he will lose his daughter.(8/10)
Willem Dafoe: Van Houten an author of a book that Hazel treats like a religion, but once she meets him he turns out to be a drunken disappointment. Great support performance showing that everyone will deal with the disease differently. (8/10)
Director Review: Josh Boone – Great direction to put this tragic love story together. (9/10)
Drama: With nearly every emotion felt by the characters we see some great levels of drama as the story unfolds. (9/10)
Romance: Great romantic tale that has ups and downs but will end up being something many people will never experience. (10/10)
Chemistry: The chemistry between Gus and Hazel is brilliant throughout. (9/10)
Settings: Each setting is good showing everything the people are going through well. (8/10)
Suggestion: I think this would be great film for a date night, mainly because a lot of guys wouldn't admit an interest in seeing this, but they will be willing too. (Date Night)
Best Part: Hazel and Gus' chemistry.
Worst Part: It is about 10 minutes too long.
Funniest Scene: Isaac going blind egging with Hazel and Gus.
Favourite Quote: Hazel 'But, Gus, my love, I cannot tell you how thankful I am for our little infinity. I wouldn't trade it for the world. You gave me a forever within the numbered days, and I'm grateful.'
Believability: People are suffering through this but the love story seems too much of a fantasy. (5/10)
Chances of Tears: It would be hard to find someone who didn't get a few in their eyes. (10/10)
Chances of Sequel: No
Post Credits Scene: No
Similar Too: A Walk To Remember
Oscar Chances: No, but could get talked about being a surprise inclusion.
Box Office: $120 Million (So Far)
Budget: $12 Million
Runtime: 2 Hours 5 Minutes
Tagline: One Sick Love Story.
Overall: Brilliant Moving Love Story
Rating