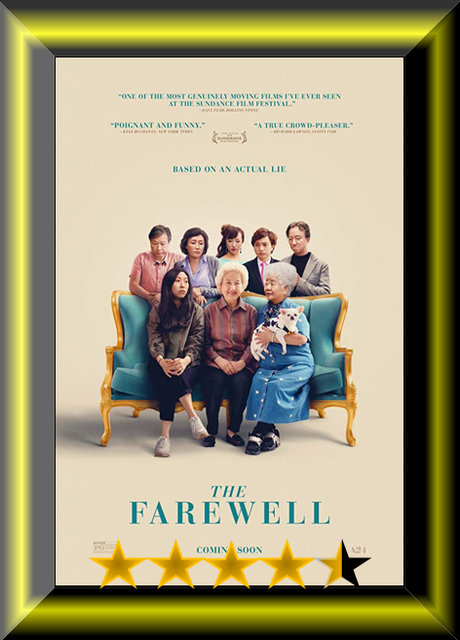 Director: Lulu Wang
Writer: Lulu Wang (Screenplay)
Starring: Shuzhen Zhao, Awkwafina, X Mayo, Hong Lu, Hong Lin, Tzi Ma, Diana Lin
Plot: A Chinese family discovers their grandmother has only a short while left to live and decide to keep her in the dark, scheduling a wedding to gather before she dies.

Tagline – Based on an Actual Lie
Runtime: 1 Hour 40 Minutes
There may be spoilers in the rest of the review
Verdict: Beautiful
Story: The Farewell starts as we see Billi (Awkwafina) living in New York city close to her parents Haiyan (Ma) and Lu Jian (Lin), Billi is close to her Nai Nai (Zhao) back in China, always son the phone with her despite the 12 hour time difference. When Billi learns something isn't right at home with her parents, she learns the truth, that Nai Nai is going to be dying soon, but the family isn't going to tell her as it is part of the culture not to let somebody know they are dying.
The family has arranged a big wedding for one of Billi's cousins with this being a chance for Nai Nai to have a gather of family before she goes, while Billie starts to become conflicted with how the cultural style is being handled.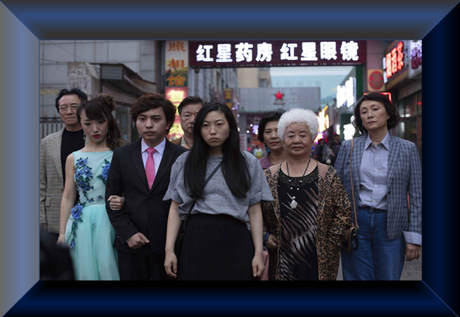 Thoughts on The Farewell
Characters – Billi is the young woman that is struggling with her life in America, she is close to her family, with her parents in New York with her and her grandmother back in China, where she speaks to often despite the time difference. She learns that her Nai Nai is sick and wants to talk about it, only to learn about the culture, that didn't even want to invite her along to a surprise wedding to celebrate Nai Nai's life. Billi shows us how conflicted she is with wanting to follow the cultural beliefs, with the ideas of getting to spend time in happiness with Nai Nai. She does learn from each family member just what these moments will mean to Nai Nai too. Nai Nai is the kind grandmother, who has cancer and is going to die, she doesn't know this because the family and doctors choice not to tell her to give her a final few months of happiness, she knows everything her family is up to in their lives and is delighted to see everybody back together for the wedding. We do meet the whole family with Billi's parents needing to explain the cultural importance of the situation, the young couple getting married and how many of the family have left for America, while not spending time with the family back in China.
Performances – We do have two true star performances here with Shuzhen Zhao being the dying woman that is filled with delight, even though you do see in her performance that she knows the truth. Awkwafina is wonderful too, we see how she is conflicted through the film wanting to break down, but never letting it happen. When it comes to the supporting cast everybody is strong through the film.
Story – The story here follows a Chinese family that comes together for a wedding, which is being used as a cover up for the family to come together to spend time with a dying relative, one they don't want to tell the news too. This story does show a cultural idea that puts a person's happiness over giving them bad news, showing that family will come together for the important moment in life to just have a good time and celebrate life, for what will be the last time. It does show the confliction that one person will feel and will once again show that family will be there for you, even if you are struggling in life.
Comedy – The comedy in this film is shown with just how Nai Nai gets to have a good couple of weeks with her family, when she isn't around, we get the more serious moments, but we focus on the happy moments.
Settings – The film is set in China for the most part, we get to see the homes, the important locations and the wedding which is the key part of the happiness for the family.

Scene of the Movie – The Wedding.
That Moment That Annoyed Me – I am going to be picky here, certain subtitles are difficult to read with the background color being too similar to the font.
Final Thoughts –This is a beautiful movie that puts the spotlight on a cultural difference that you might not know about in real life, but one that is one that is so delightful and heart breaking to see unfold.
Overall: Wonderful Watch.