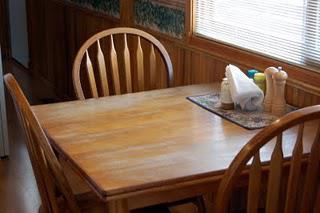 I think I get about a .05 out of 10 for The Family Dinner concept. I was just emailed this story that talked about it's importance. It says sitting down with the family each night for dinner promotes healthy eating habits and healthy behavior. I believe it. Now if all of you could just get used to seeing the news at 3:00p.m., I could get home and cook a meal each night. My dilemma is a little different than most. The point is, on the nights you can have a family dinner, do so. Your family will see benefits!
Here's the story from the U of I:
Eating meals with family may be the best recipe for promoting healthy eating behaviors and body weights in children and adolescents, according to a new study by researchers at the University of Illinois.
Children who eat five or more shared meals with family members per week are 25 percent less likely to develop nutritional health issues, and have healthier dietary and eating patterns, including higher consumption of fruits and vegetables and decreased consumption of unhealthy foods, the study indicated. Just three or more shared meals with family each week reduces the likelihood that children will have eating disorders or be overweight and increases the chances that they will maintain weights in the normal range.
-NewsAnchorMom Jen
Skin Dimensions, SB products are manufactured with Pharmaceutical-Grade ingredients. Products are not just "Feel Good Products," as they contain unique and innovative ingredients in concentrations that can assist you in the achievement of your own personal skincare objectives. Our products contain higher percentages of Glycolic, Vitamin A, C, E, Co-Q10, green tea, than what you can usually purchase over the counter.