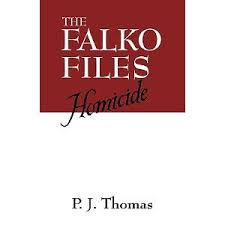 The Falko Files by P.J. Thomas is a 2009 copyright, published by Outskirts Press. I received a copy of this book from the author in exchange for an honest review.
This book begins with Mike Falko joining the homicide division. Mike outlines his first case to his last case. The book is written as though we are reading a case file, but with dialog. It's very unique. We follow along as Mike and his first partner, Joe solve some really big cases. Then changes happen and Mike finds himself doing epic battles with Internal Affairs.
The author does a fantastic job of highlighting the politics of the police force and the issues they face that are more to do with those running for office and avoiding bad publicity than it does with solving crimes and doing the right thing.
Mike pulls no punches and couldn't care less about political correctness. He calls 'em like he sees 'em.
This detective story has a hardboiled flavor. Mike's life on and off the job is filled with irony. The book is a quick read, easy to settle into and hard to put down. I would recommend this book to all those detective novel lovers out there. The book is more like procedural than mystery, although there is a hard to crack case that Mike finally solves, but the mystery is a real kicker. So, mystery lovers would also enjoy this one.
Overall this one is an A.