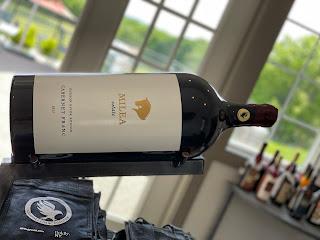 Do you ever wonder what is behind a bottle of wine? You have the label and the wine, but how about the face?
Last month I attended the Hudson Valley Cabernet Franc Coalition Cabernet Franc tasting hosted at Milea Winery. The Hudson Valley Cabernet Franc Coalition was founded in 2016 by a group of Hudson Valley winery owners, grape growers, winemakers and industry supporters committed to establishing Cabernet Franc as the signature grape of the Hudson Valley.
At the event were the seven Legacy members showcasing their Cabernet Franc along with their winemakers.
Benmarl Winery
Fjord Vineyards
Quartz Rock Vineyard (Formerly Glorie Farm Winery)
Milea Estate Vineyard
Millbrook Vineyards & Winery
Robibero Winery
Whitecliff Vineyard
What you need to know about Hudson Valley Cabernet Franc:
Cabernet Franc is the parent to Cabernet Sauvignon and Merlot
Cabernet Franc is a very winter-hardy red vinifera grape and grows well in the Hudson Valley
Cabernet Franc wines grown and produced in the Hudson Valley are well rounded with low tannins and bring flavors of berries, cranberries, light cherries and a hint of black pepper to the palate.
Cabernet Franc wines grown and produced in the Hudson Valley have aging potential. Lighter styles produced will age 3 to 5 years, while the more serious, oak-aged will age up to 10 years.
Let's meet the faces of Hudson Valley Cabernet Franc along with the past, current and future vintages.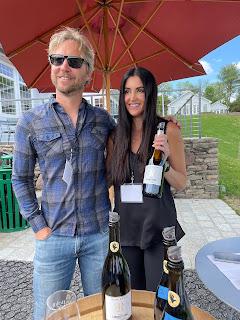 Kristof Brown & Tiffany Robibero - Robibero Winery
Kristof said "the 2020 is the best vintage of Cabernet Franc ever." So if there was anything positive about the year in Covid it was it produced a fantastic 2020 Cabernet Franc vintage in the Hudson Valley. Robibero's 2020 will be released in three years. It's aging in 2-year-old oak. Silky tannins, deep nose, cherry, raspberry and red currant.
2019 Robibero Winery Cabernet Franc produced from a small amount of fruit due to the rains at the end of 2018. The vines sucked up that water and there was an early deep freeze and the trunks exploded. All you did was hear the vines pop in the vineyard. Kristof had to cut off the trunks and grow them back. You might want to look at this being a reserve. The fruit was really ripe at 25 brix and put it in new oak. Notes of Coffee, toasty oak, nice structure and acid, very tannic. The acid just pops. This wine will be released in 2023. A very limited quantity wine with just 2 barrels being produced.
2018 Robibero Winery Cabernet Franc - grown in clay soil. Intense deep Cabernet Franc. Silky and smooth.
2021 Robibero Winery Cabernet Franc - Nice fruit, aged in neutral oak and fermented in native yeast. This wine had a nice hint of pepper on the finish.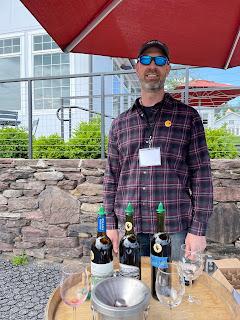 Brad Martz - Whitecliff Vineyard
2016 Whitecliff Vineyard Estate (Home Vineyard) 20-year-old vines. Notes of sour cherry, raspberry, vanilla and baking spices on the finish.
2020 Whitecliff Vineyard - current release vines planted at the Olana Vineyard in 2015 & 2016. First leaf was 2017. 16 months in 1-3 yr oak Hungarian. Nice spice on it with a nice acid profile, notes of plum and cherry.
2021 Whitecliff Vineyard - bottle sample Clone 327 from the Olana vineyard. Aged in new French 500 liter puncheon. Young. Softer, nice aromas.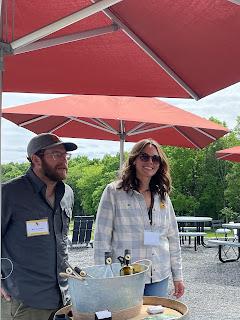 Matt Spaccarelli & Casey Erdmann - Fjord Vineyard
Total acreage manage 40 acres.
2021 Fjord Vineyard Rose of Cabernet Franc Clone 332 big cluster big berry clone and the entire vineyard is Rose production. Less skin-to-juice ratio
2020 Fjord Vineyard Cabernet Franc Clone 327 and it's on a steep terrace. Spontanious fermentation. High fruit notes to it
2021 Fjord Vineyard Cabernet Franc- Matt said this was a wierd vintage, wet and hot. Pressed everything into tank. bottled late March. Notes of white pepper, fresh tobacco, savory notes and maraschino cherry that pops on finish.. Serve slightly chilled.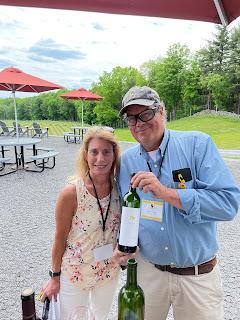 Bruce Tripp - Milea Estate Vineyard
2021 Milea Estate Cabernet Franc(barrel sample) - Estate fruit. Beautiful, soft nice nuances of balanced red and black fruit.
2020 Milea Estate Cabernet Franc - hints of black plum, raspberries, nice acidity and a short pepper spice on the finish.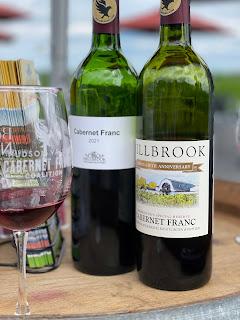 Millbrook Vineyard & Winery
2020 Millbrook Vineyard & Winery Cabernet Franc spent 15 months in French oak 2-3 time use. The wine is nice, soft, red and black berry fruit, soft black pepper spice and nice tannins.
2021 Millbrook Vineyard & Winery Cabernet Franc (barrel sample), soft and tannic only 18 barrels produced. Will taste good when released.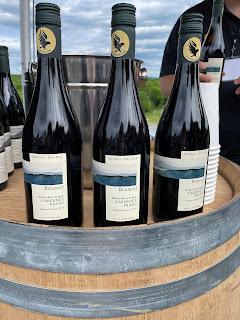 Matt Spaccarelli & Laura - Benmarl Winery
2019 Benmarl Cabernet Franc aged 11 months I 1 - 2 year oak puncheons. The oak puncheons allow slower integration of oak and oxygen. Notes of cherry, cassis, tobacco leaf, hint of cedar and black pepper on finish. My notes say awesome.
2020 Benmarl Cabernet Franc - This vintage faced some deer pressure and a late frost in May. They only got 3/4 ton of fruit and made 55 cases. It was aged for 17 months and will be released early summer or fall. Notes of raspberry, cranberry and a hint of spice.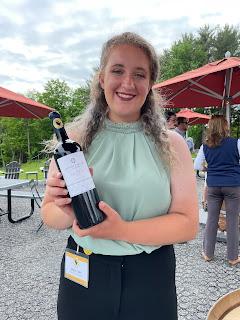 Megan Lamb - Quartz Rock Vineyard
2019 Cabernet Franc is made under the Glorie Farm Winery label. It was drinking very nicely. Full bodied, smooth, nice red fruit with a kiss of black pepper on the finish.
2020 Quartz Rock Vineyard Cabernet Franc is Megan's first Cabernet Franc vintage. A tad light in color, with notes of cranberry, black currant, hint of fig and black cherry.