FATHER GEORGE WILLIAM RUTLER
As we enter the liturgical season of Ordinary Time, there is a temptation to think that the Church means "Ordinary" in the dull and uninspired sense commonly implied by ordinariness;  however, "Ordinary" means a lot more than that.
In heraldry, the geometric figure on a shield is called an Ordinary.  The penny-farthing bicycle such as my grandfather rode in the late nineteenth century was, for some reason, also called an Ordinary bicycle.  And a diocesan bishop is called a Local Ordinary, certainly not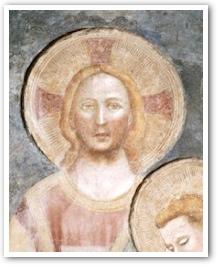 because he is commonplace, but because his authority is according to canon law, ordered intrinsically to his office, and not delegated.
The Church calls the time outside Advent, Christmas, Lent, and Easter "Ordinary" because its weeks are numbered in an ordered series, the Latin word for which is ordinalis.  Next to the very existence of the world itself, a most spectacular fact about this world is that it is orderly.  That is why we complain when its order is disrupted — whether it is the winds and the tides, or our own bodies that become disorderly.  Thus, we speak of disasters and sickness, and of the moral disorder called sin.  The less one appreciates order, the more one becomes cynical about the workings of the world and takes on a tragic view of life, eventually making no distinction between tragedy and comedy.
G.K. Chesterton mastered the art of celebrating the ordinary things of life.  He said that it took him a long time to walk along the street, because he kept stopping to admire each lamppost.  In his book called The Thing, he wrote:  "I am ordinary in the correct sense of the term, which means the acceptance of an order;  a Creator and the Creation, the common sense of gratitude for Creation, life and love as gifts permanently good, marriage and chivalry as laws rightly controlling them, and the rest of the normal traditions of our race and religion."
It is hardly a tribute to the glory of God's creative power to be bored with what he has made and to be a bore to others.  Christ excited many different reactions in those who encountered him.  He attracted crowds and delighted them, for he was not like the pedantic scribes.  He frightened many, including his closest followers who, on at least two occasions, thought he must be a ghost.  He confused his own neighbors who could not reconcile his domesticity with his transcendent speech.  When he passed by, some cheered and others bowed before him.  He scandalized those who had a miniature sense of life, and angered those who resented the way he threatened their moral myopia.  There were those who were willing to die for him, and there were those who made him die.  But there is no record of anyone saying that he bored them.  He showed how extraordinary it is to be ordinary, and he sanctified Ordinary Time so that the days between feasts are feasts themselves.

---
ACKNOWLEDGEMENT
Father George William Rutler. "The Extraordinary Ordinary."  From the Pastor(January 19, 2014).
Reprinted with permission of Father George W. Rutler.

THE AUTHOR
Father Rutler received priestly ordination in 1981. Born in 1945 and reared in the Episcopal tradition, Father Rutler was an Episcopal priest for nine years. He was received into the Catholic Church in 1979 and was sent to the North American College in Rome for seminary

studies. Father Rutler graduated from Dartmouth, where he was a Rufus Choate Scholar, and took advanced degrees at the Johns Hopkins University and the General Theological Seminary. He holds several degrees from the Gregorian and Angelicum Universities in Rome, including the Pontifical Doctorate in Sacred Theology, and studied at the Institut Catholique in Paris. In England, in 1988, the University of Oxford awarded him the degree Master of Studies. From 1987 to 1989 he was regular preacher to the students, faculty, and townspeople of Oxford. Cardinal Egan appointed him Pastor of the Church of Our Saviour, effective September 17, 2001.
Since 1988 his weekly television program has been broadcast worldwide on EWTN. Father Rutler has published 17 books, including: Cloud of Witnesses — Dead People I Knew When They Were Alive, Coincidentally: Unserious Reflections on Trivial Connections, A Crisis of Saints: Essays on People and Principles, Brightest and Best, Saint John Vianney: The Cure D'Ars Today, Crisis in Culture, and Adam Danced: The Cross and the Seven Deadly Sins.
Copyright © 2014 Father George W. Rutler