There are few things as exciting to a gardener than a new plant, not just a new plant but a new type of plant you have not grown before.  A new plant has real promise and also a bit of tension. Depending on what the plant is there is that wonder if will it look like I expect, will it thrive, will I kill it by accident?  Will the weather kill it?  If it does die will I replace it? (Three goes an you're out rule!). So many things to consider.
All the best tv and magazine gardeners tell you not to impulse buy, don't just buy what you fancy but plan your purchases to fit in with your garden.  What great advice.......
.....that I am unable to follow.  I would say I am better than I was, I do usually know now where I am going to plant things when I buy them.  In reality I think it is very dull advice, think of all those wonderful plants that you would pass by because you are sticking to your list, no, that is not for me.
For a long time I used to buy and the plants would live in their pot, sometimes for months, before I realised where they could be planted.  Some plants were bought in previous gardens but always lived in pots until they arrived here as I knew I could not plant them where I was living at the time.  Even now my garden has a holding pen where new purchases wait before they get finally some roots into the soil.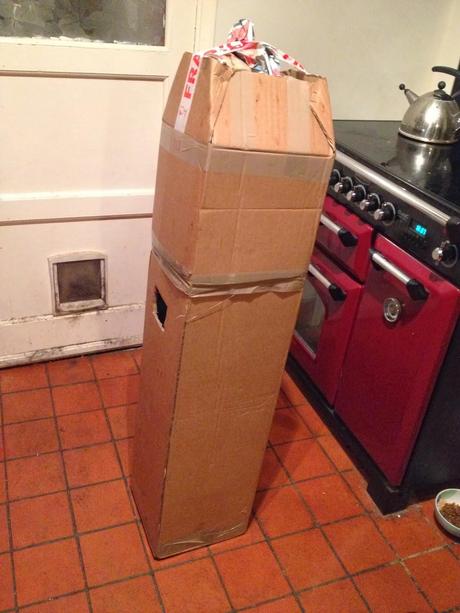 Yesterday I took delivery of a new plant.  A total impulse buy, a moment of desire prompted by a photograph taken by a friend uploaded onto twitter.  'Oh that's nice I said', 'yes' came the reply 'it has nice scent too, but not hardy' by the time I had read the response I was already mid-google of this plant, yes it is not hardy, but it could go in a pot, it could live in the courtyard during the summer and the conservatory in the winter (though I might need a bigger conservatory if I keep doing this).  Before I knew what had happened I had tracked down a supplier, not quite the same variety but close enough. The nursery had four left, within minutes it was down to three.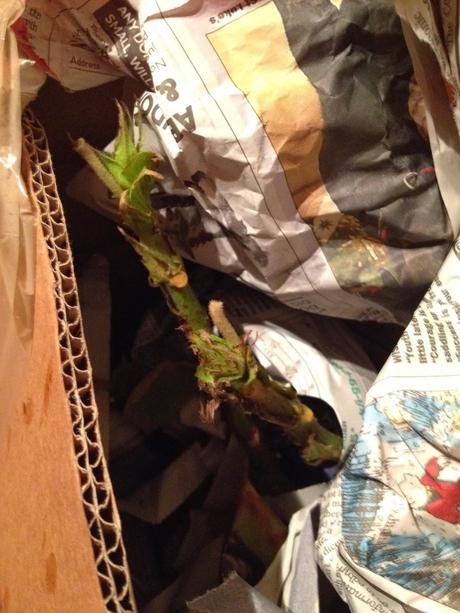 It was exciting from the moment it arrived.  Firstly it was much larger than I expected, I am famously useless at checking size and confusing centimetres for inches, leading to some much larger and much smaller purchases than intended.  I opened the top and it peeked out at me.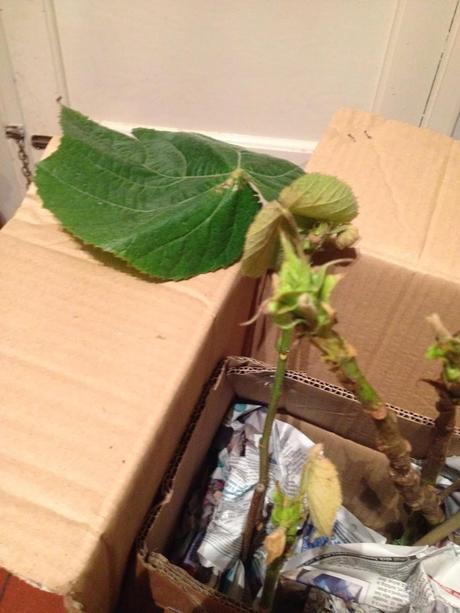 A moment later and I had found a large leaf........oh the anticipation.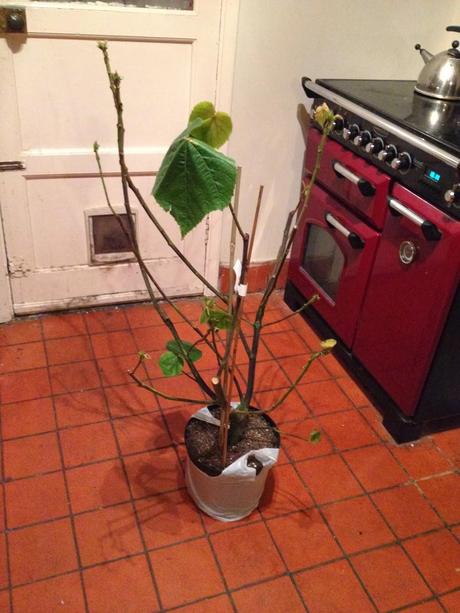 Then it was fully unpacked, what a beauty - seriously, what a beauty!
This led to two songs being sung, one cool, one not:
Song 1: Wild thing, I think I love you.....
Song 2: A new plant has come (sung to the tune of A new flame has come)
You can decide for yourselves which song is cool.  I haven't forgotten to tell you anything have I?
Maybe what it actually is?  Its a Dombeya wallichii - the plant that started the conversation was a Dombeya rotundifolia - if you know where one is for sale, actually preferably two as I know of at least one other searcher, let me know)