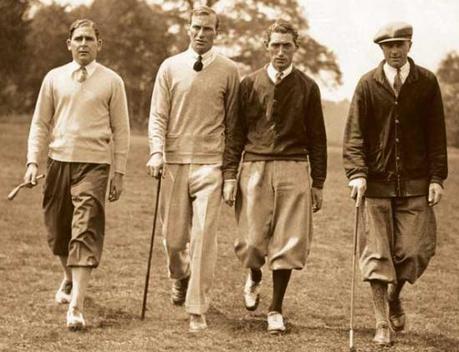 As I'm sure we can all agree, there have been some significant changes in golf fashion since it's conception until today.  As Sean Hotchkiss from GQ says "This ain't your dad's plaid-clad and baggy-panted game anymore."
For all its parodies, men's golf clothing has always run pretty parallel with what guys are wearing off the course at that particular time, from the plus-fours of the founding fathers, to the polyester and bell-bottomed peacocking of the '70s, up through pleated business casual in the '90s. However, all of that changed when Mr. Woods entered the fray, and golf became (drum roll...) a sport. Guys started spending their mornings in the fitness trailer, hitting the ball 350 yards on the fly, and changing equipment like it was underwear. Apparel companies, meanwhile, entered a similar arms race, chasing that ever-elusive technology that kept you from sweating over a six-footer in triple-degree temperatures. 
Many labels became focused on functionality, and forgot that golf, at its core, is a sport that has always valued style. Walter Hagen? Dandy. Ben Hogan? Stoic. Arnold Palmer? Legendary. All those guys wore classic sportswear on the course, and you should do the same. Sure, the general appreciation of clothing by men who play the game (like guys everywhere else) has increased tenfold, but like mainstream fashion, there's a lot of ugly crap out there. If you're going to tee it up, you needn't look like you're running a marathon or going to space, you simply need to read this first.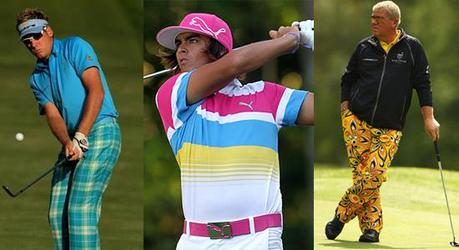 Back when guys like Arnold Palmer and Ben Hogan teed it up, they didn't have designated "golf clothing"—they just wore what they had on hand: summer-weight wool trousers, chino shorts, cotton polo shirts in classic patterns. This is all stuff you should have already. Don't go blowing a wad on the latest polyester-blend shirts, and moisture-wicking materials unless you're playing regularly in extreme conditions. Natural materials breathe just as well. They're, er, natural.
Here are a few things to keep in mind when you're putting together your golf wardrobe...
1. Keep it Street Legal
If you wouldn't wear it off the course, you can't wear it on. That cuts out those all-over, loud patterned prints and semi-flammable fabrics. If you have to ask, "Is this too Del Boca Vista?" it probably is.
2. Buckle Down...
Golf is played by (gasp) a bunch of folks with questionable taste. Don't be one of them. Big buckles are not cool, and if you're dragging around ten extra pounds, it's going to draw attention to your midsection and make you look even bigger. Ditch the oversized buckles for good.
3. A Self Collar Polo Shirt
A self collar (meaning the fabric is the same as in the shirt) polo shirt is a must this golfing season. It's a little more elegant and Southern alternative. Get one with a bold stripe in a classic colorway. Hugo Boss Polo Shirts are a great place to start.
4. A Tipped Peak Polo Shirt
Show some bicep. A classic tipped pique polo with banded sleeves is iconic a golf piece as any. With a logo or without, your choice. But we dig these Galvin Green from Scottsdale Golf.
5. A Pair of Slim ChinosIt's golf—you're going to need khakis, and by now you know they should be trim. Get a pair that blends cotton with just a touch of stretch, so nothing rips when you're reading for those putts.
6. A V-Neck Merino Wool Sweater
Everyone who's anyone in this game has worn one. So shalt you
7. Avoid Post-Round Blisters
Those old clunky golf spikes? They're dinosaurs. Nearly every brand now makes golf shoes that have all the traction and stability of a traditional on-course shoe, with the comfort and styling of a sneaker. Meet your foot's new best friend. My favorite are made by True Linkswear.
8. Do Brights Right
Color is great, but pick your spots. A bright pair of chinos means you're going to have to ground the look with a subtler polo shirt, like white, black, or navy. And try to avoid pattern-on-pattern mixing—if  Ian Poulter wore it last week, consider making a swap.
9. Five Pockets? No Problem 
Brit player Justin Rose took heat for wearing 5-pocket pants at Augusta National back in 2008, but that silhouette is pretty common these days. Don't shy away from cotton trousers with sewed on back pockets, but don't dance with anything that could ever be called denim.
10. Dress to Impress
Don't be afraid to go for it. Ryan Moore caused ripples of glee when he channeled Bobby Jones, and sported skinny ties, oxfords, and cardigans at the Masters a couple years back. Unless you're playing in Florida in May, you can actually pull this off. Just make sure you're a single-digit handicapper. There's no whiffing allowed when you're wearing a bow tie.
And When in Doubt... Keep it simple. All the greats did.
-  -  -  -  -  -  -  -  -  -  -  -  -  -  -  -  -  -  -  -  -  -  -  -  -  -  -  -  -  -  -  -  -  -  -  -  -  -  -  -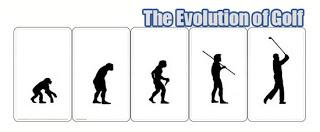 This post is part of our "Evolution of Golf" series which takes a look at various components of the golf industry and evaluates the changes they've experienced over the years.