Currently, US air power of both the navy and the air force stand at crossroads. That is due to the following reasons. First, American fighter and attacker inventories are in transition to the next generation because their service life is expiring. Second, new air wings must lay weight on latest technology and changes of aerial combat concepts such as stealth, information fuse, situation awareness, rather than speed and maneuverability for traditional dog fight capability. Third, global security environment has returned to modern or even pre-modern rivalries. Pax Americana in the air face multiple threats, as Russia and China upgrade their air power, and other challengers like Iran and terrorists are increasingly defiant. Fourth, since the and of the Cold War, defense spending has been severely constrained, which hinders modernization of US air power both in terms of quality and quantity. How will the US Navy overcome these problems?
For an overview of America's naval air wings, the Center for Strategic and International Studies held a panel discussion entitled "Naval Aviation" on August 12, which was featured by Lieutenant General Jon Davis and Vice Admiral Mike Shoemaker, and moderated by Retired Admiral Joseph Prueher. Naval aviation consists of various kinds of aircrafts for numerous purposes, from fighters and attackers to those of supportive roles and of command and control duties. Not all of them are based on warships, and some are based on the land. In view of this, the CSIS event summarized the state and the strategy of the naval air force very lucidly. However, the discussion focused so much on multirole capability of aircrafts and power projection to the land that I would question why they talked so little about fleet air defense from enemy fighters and carrier killers. Carrier squadrons can fulfill their various missions only when they are shielded by firmly founded air superiority. In other words, complete flee air defense is a Monroe Doctrine to the enemy that the carrier strike group is attacking.
Now, let me talk about the panel discussion. Rather than about fighter squadrons, the panelists talked more about multimission helicopters for logistics, electromagnetic and cyber warfare, close air support, reconnaissance, anti-surface and submarine operations, and so forth. Also, they emphasized the importance of information fuse and sharing with friendly aircrafts and vessels for the war in the new era. Among those helicopters, V-22 Osprey of the Marine Corps was the primary focus. The tiltrotor system enables Osprey to fly farther and faster than other ones, which is a huge advantage for power projection to the land. Also, it is capable of doing precision bombing and long range communication, in addition to amphibious landing. As the US Navy is introducing Osprey, they are learning how to use it from the Marines. Due to flexible and multimission use, V-22 draws attention from some American allies. For example, the Royal Navy's Queen Elizabeth class aircraft carrier is so large to make room for V-22 and CH-47 Chinook in its hangars ("Queen Elizabeth class aircraft carrier: A Guide"; UK Defence Journal; April 2, 2014).


Unmanned aircraft is also a key focus. Lieutenant General Davis talked about the optional use of future helicopter for manned and unmanned operation, depending on the mission. Actually, Sikorsky has already admitted that the Army would use an unmanned version of their UH-60 Black Hawk for dull and dangerous operations ("Sikorsky develops unmanned UH-60 Black Hawk"; May 3, 2014). But complete UAS (Unmanned Aircraft Sysytes) such as MQ-4C Triton and UCLASS are already in use for ISR missions, as Admiral Shoemaker mentioned. Their initial reconnaissance provides integrated pictures for targeting to strike squadrons.
Despite new war concepts and technology, strike and air defense capability of the fighter squadron is the core of naval aviation. The Navy and the Marine are replacing FA-18 Hornets and Super Hornets with F-35B and C, to meet new era requirements such as stealth penetration, and more importantly, information fuse and sharing. However, the F-35 project delays so much, and particularly, carrier based F-35C will not be deployed until the 2020s. Therefore, the Navy and the Marines are extending the lifespan of both Classic and Super Hornets from 6,000 flight hours to 9,000. Still, some of them are so over-aged that Boeing proposes to make new Super Hornets in addition to SLEP (service-life extension program) of currently in service ones, in order to make up for the sharp decline of fighter numbers ("Boeing Offers New, Rebuilt, Upgraded Super Hornets To U.S. Navy" Aviation Week; October 13, 2015). But the number is not the real problem. Both panelists hardly talked about air superiority of the Navy. Without that, any multimission operations that the Navy and the Marine Corps envision cannot be carried out, as I mention above. Whether FA-18 E/F Super Hornet or F-35C Lightening, they don't specialize in air defense.
Ever since the retire of F-14 Tomcat in 2006, the US Navy has no fighters for air superiority and interception. Due to post Cold War budget constraints, American defense planners have been obsessed with cost performance of fighter jets. That has made US Navy carrier strike groups vulnerable to growing enemy A2AD capability after the return to great power rivalries. Defense commentators criticize that America assumed "the end of history" so prematurely. Dave Majumdar, Defense Editor of The National Interest, comments this more harshly, "In the 25 years since the collapse of the Soviet Union, the Pentagon has more or less taken air superiority for granted. Neither Donald Rumsfeld nor Robert Gates took air power seriously" ("The U.S. Military's 'Top Guns' in the Air Have a Big Weakness"; National Interest; October 13,2015). He argues furthermore, that neither FA-18E/F nor F-35C is reliable enough to ward off current enemy fighters such as Su-30SM and Su-35S of Russia, and J-11D and J-15 of China, in terms of combat range, acceleration, flight altitude, and large missile capacity. In addition, new generation fighters like Rusia's PAK-FA and China's J-20 have stealth and super cruise capability. Particularly, enemy air power is a critical threat in the Western Pacific. The Navy is exploring an F-14 type fleet air defense fighter for FA-XX to replace the Super Hornet in the future, with large sensors, fast cruising speed, and a large space for missiles, HPM (high-powered microwaves), and lasers ("Does the U.S. Navy Need a 21st Century F-14 Tomcat?"; National Interest; October 13,2015). But fleet air defense is a current problem, not that of such a distant future.
Retired Captain Jerry Hendrix, Senior Fellow at the Center for New American Security, criticizes more harshly about the state of naval aviation today. He points out that current US carrier squadrons are forced to move out of the reach of China's DF-21D since the range of naval fighters is too short. While DF-21 covers 1,000 nautical miles, Super Hornet can operate only within 496 nautical miles from the carrier without aerial refueling. That is less than half of the range carrier based fighter/attackers in 1956, like F-8 Crusader and A-4 Skyhawk, as shown below. Even F-35C, which is expected to serve for long range missions, has just a 550 nautical mile actual combat range, only 50 longer than Super Hornet. That is far shorter than that of F-14 and A-6 ("Retired US Navy captain: The centerpiece of the Navy's future doubles down on a 20-year-old strategic mistake" Business Insider; October 20, 2015). His analysis presents a vital point. Strategic focus may shift from air to air combat to ground attack, and even to electromagnetic and cyber warfare, but fundamental capability must be satisfied. Otherwise, an aircraft carrier does not work as a frontal air base where land based air power is unavailable.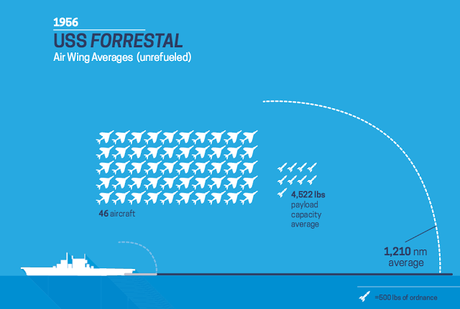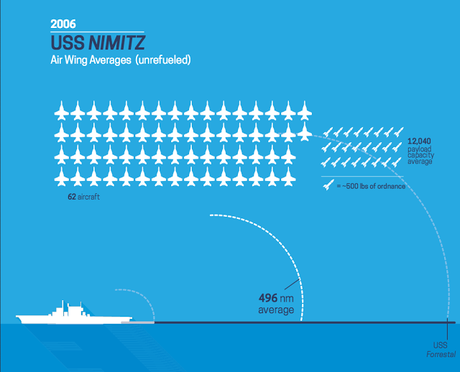 Though Super Hornets have been updated with latter day technology in avionics, sensors, and loaded weapons, they are just larger variants of Legacy Hornets. Inherent defects like slow speed and acceleration, and shorter flight range, are not resolved easily. The performance of a machine is highly dependent on the original design, while that of a man can be improved through efforts. Neither Super Hornet nor F-35 is designed for air superiority, and they are completely different vehicle from F-14 and F-15. Some enemy A2AD can reach farther than land based missiles. China's H-6K strategic bomber is capable of long range precision strike against the US carrier strike group ("China's Strategic Bombers Capable Of Long-Range Precision Strikes"; Value Walk; October 18, 2015). As the US Navy tried to counter saturation attack of Soviet Tu-22 Backfire during the Cold War, naval air superiority has become increasingly important today. Fleet air defense with the Aegis Combat System is complete, only when aerial combat fighter squadrons are associated with such surface combatants. Moreover, laser weapons and rail guns are still future technology at this stage.
The US Navy invents so many war concepts as Vice Admiral Shoemaker and Lieutenant General Davis told at the CSIS event. However, fundamental aspects should not be dismissed regardless of changes in strategy and technology. For example, the Navy's idea of safety is contradictory. While they deploy unmanned aircraft for dangerous IRS and low altitude strike missions, the fleet as a whole will be in danger without solid air superiority. Current state of naval air power is the consequence of policy failure, as it was the case in the past. To begin with, American defense planners made easy compromises with tax payers' demand shortly after the collapse of the Soviet Union, and cut a huge inventory of Cold War arsenals to replace some of them with "cost effective" ones. F-35 is a typical case of cost performance obsession, as the Pentagon gave priority to the merit of scale. Like F-111, the Joint Strike Fighter adopts a common design for different services. But a joint project works well when all stakeholders share common objectives. While the US Marine Corps, the Royal Navy, and the Royal Air Force needed harrier replacement, the US Air Force and the US Navy did not need STOVL. There is no wonder that this project delays so much, and the cost rises sharply, in view of such discrepancies. A staunch naval air power is the key to resolidify Pax Americana.