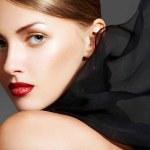 How do you put on makeup correctly? The internet seems to have answered that question with its seemingly endless array of tutorials and articles touting the best tips. If you are savvy, you skip the amateur tips or those that are all about promoting a single product. Instead, you ask experts, actual makeup experts how they apply their makeup each day, and they'll be your best bet in learning how to do simple to complex applications.
As an example, one of the most detailed tutorials comes from a beauty editor over at SELF magazine, who has been involved in the world of fashion and beauty for decades. Working with and taking to makeup experts on a regular basis has ensured that she knows the very best "insider" techniques and tips. And what does she recommend? The following routine wins her approval, along with that of the many experts she has consulted over the years:
1- Moisturize
2- Apply a primer
3- Fill the brows
4- Do the foundation
5- Use a concealer
6- Apply your eyeshadow
7- Apply eyeliner
8- Blush
9- Highlight
10- Contour
11- Apply lip products (including lipstick, liner and gloss)
12- Use a spray or powder product to finish or set the application
13- Mascara to finish
That seems like a lot, and the good news is that you don't have to follow every single step each day of the week. In fact, some of the hottest looks for the spring and summer season of 2020 indicate that makeup application doesn't have to be so comprehensive. Just consider that many magazines and beauty websites indicate that pale blush applications or pale foundation applications are more appropriate than multiple layers of foundation, blush, contouring and so on. There are trends that emphasize your use of heavy or smoky eyeliner rather than classic eye makeup. Some point to hints of color, such as a unique eyeliner in bold hues rather than traditional colors. Some say that a very defined brow may be what you need to create a strong and stylish look, or a messy brow might set the style. You can use a colored mascara rather than eye color or opt for saturated color on the lip.
There are also trendsetters saying that minimalist makeup, bold red lip color, or overly dramatic looks work well.
And what all of that tells us is simple: You need to identify your personal style and then structure your makeup applications around it. If you have dry skin, for example, why not purchase makeup formulations meant to moisturize? If you have frequently dry and chapped lips, why not purchase products with richer formulas that can help?
Yet, no matter what you do, the "order of events" has to mirror the one listed above. And it does take quite a bit of practice to get it right.
Of course, all of that layering can end up a disaster if you fail to keep your skin in good condition. That is one reason that your first step in any makeup application is to apply a moisturizer or primer. This helps make up go on evenly rather than caking or clumping.
So, to ensure that you get the best looks every day, why not also incorporate the ideal daily (and nightly) skin care routine. This is something that many also become confused around because they are unsure of the steps to follow. Ideally, you must:
1- Exfoliate
2- Cleanse
3- Tone
4- Use serums
5- Moisturize
6- Apply Sunblock
7- Weekly or bi-weekly: Peel or use a mask
Are all of these steps required? In a word: Yes.
As we have looked at in other articles, there is an ideal morning skin care regimen and an ideal nighttime routine. They are similar, but not identical. For example, exfoliation is good in the morning OR the evening, but not both hours. And remember that exfoliating the lips is as important as the rest of the face! You, naturally, do not require sunblock at night and the serums you use during the day will usually vary from those at night.
Serums, if you are unaware, are formulas chosen for your specific skin concerns. You might use a hyaluronic acid serum to help plump and moisturize or you might use an anti-acne serum to help with sebum production. That is a very personalized part of the routine, but essential for healthy skin.

You must also always remove all traces of makeup at night. This ensures your skin kept as clean and balanced and that no bacterial issues occur. Leaving mascara and eyeliner in place, for example, can allow a lot of material to build up around the eye. This can lead to irritation and even infection!
Change with the Seasons
Remember, too, that your skin actually changes with the season – as well as with your age. That means you'll need to do seasonal re-evaluations of your skin to determine its current type and its current needs.
If you suddenly start to see fine lines and wrinkles, it is time to update to an anti-aging routine or a dry skin regimen. Then, once you cleanse, tone, serum and moisturize, you'll be ready to layer your makeup products most effectively. Don't forge that you also need to take care of the hands, nails, and skin of the body to remain comfortable and healthy at all times. If you are short for time, there are many in-shower moisturizing creams that you slather on and then rinse away, saving you time and letting you hop out of the shower and be ready for the day.
Don't forget that your hair should be part of your daily beauty regimen. It also changes with the seasons, so as we make our way into the winter months, think about some leave-in conditioner products to help with static and dryness!
There's a lot to your personal beauty regimen and it involves a lot more than makeup application techniques. Hopefully, we've shown you how to get the best results through good skin and hair care and layering techniques used by the pros!