Chutney Week: Part 5 , 'The Essentials' Chutneys
Grouping these under 'the essentials' as various versions of these are found in almost every household…
Mona Malik: Hari Chutney or Green Chutney or Mint Coriander Chutney or Coriander chutney or Mint Chutney…or dip!!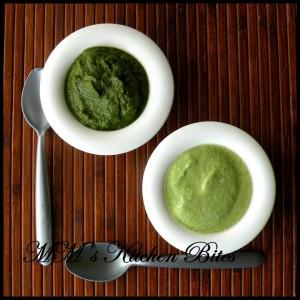 Ingredients:
1 cup Fresh Green Coriander, 1 cup
½ Fresh Green Mint, ½ cup
6-7 Fresh Green chilies, coarsely chopped (or to taste)
1 medium Onion, coarsely chopped,
1" Fresh Ginger
4-5 Garlic cloves (or to taste)
2-3 tbsp Lemon juice(or to taste)
Salt, to taste (start with ½ tsp and then add more if reqd.)
Method:
Remove the thick stems from Coriander – use the top thin tender ones. For Mint, only leaves to be used.
Wash well, drain and keep aside.
Whizz everything else in the blender except the coriander and mint. Once done add them in batches to make a smooth paste.
Taste, adjust seasonings and done!!
You can keep the consistency a little thick (like pesto) or blend into a fine paste.
The dark green one is the base chutney.
The light green one has about equal amount of yogurt added into it.
Hundreds of options, some of them mentioned below…the only thing that is common in all, is to avoid adding water when blending. If you absolutely must, don't add more than a couple of tablespoons.
One thing to remember though…the chutney color will go darker with time…if you want to retain the bright green colour, add a tablespoon or two of any flavorless white oil while blending.
Options:
=> Make with only coriander or only mint or reverse the ratio of coriander: mint ( i.e. switch to 1:2 instead of 2:1 as above)
=> Substitute lemon juice with sour raw mango or aamchur/dried mango powder or dried pomegranate seeds or tamarind pulp
=> Add cumin seeds or roasted cumin powder
=> Use kala namak/Black salt instead of regular salt
=> Use ginger and garlic to taste or use only ginger or only garlic
=> Add a little water to thin it out and add some sugar
=> Add fresh grated coconut
=> Add a handful of peanuts or pistachio nuts or almonds
=> Add a small piece or two of green capsicum and blend along with rest of the ingredients or add green apple or grated cucumber with yogurt
=> Replace lemon juice with tamarind paste, remove garlic and add in fresh grated coconut or roasted peanuts. Cook all ingredients for 3-4 minutes in a pan with a little oil and a pinch of turmeric added. Blend well and then temper with mustard seeds, curry leaves and dried red chilies
=> Add oil and vinegar to make into a dressing
=> Use as is for sandwich spread (typical Indian filling of cooked potato etc) or mix with a little mayo or cream cheese or tahini and yogurt
Ruchira Ramanujam: The Queen of chutneys!! My Meethi Chutney with dates, tamarind and raisins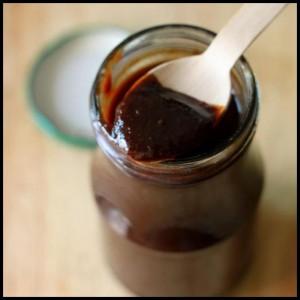 Ingredients:
1 cup Water
½  cup finely Chopped Dates
½  cup Jaggery
2 tbsp Tamarind concentrate
Salt to taste
½  tsp Red Chili powder
½ tsp Roasted Cumin seeds powder
½ tsp Saunf/Fennel seeds powder
½ tsp Dry Ginger powder/Sonth
a few raisins (optional)
Method:
Boil water and add finely chopped dates. Simmer for 10 minutes until really soft. Add jaggery and tamarind concentrate. Simmer for 5 minutes. Add salt, red chili powder, roasted cumin seeds powder, sonf powder and dry ginger powder.
Cool, grind till smooth, then pour it back to the pot and give it one more boil. Add a few raisins at this stage if you like. Cool completely and store in a glass bottle in the fridge. Perfect for chaats and dahi bhallas.
Namita Tickare: Garlic Chutney (Maharashtrain lehsun thecha )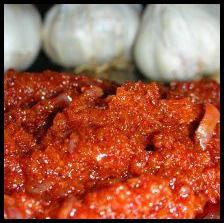 Ingredients:
10 – 12 cloves of Garlic
3 tsp of Red Chili Powder
Salt to taste
2 tsp Oil
Method :
Grind the garlic, salt and red chili powder in a motor and pestle to make a fine paste without adding water.
Once u get the paste consistency keep oil for heating in a vessel. When the oil is warm enough remove it from flame. While the oil is still warm add the garlic paste with continue stirring for 1-2 mins.
Keep aside to cool to room temperature.
This chutney can be stored outside for 1 week as there is no water in it.
Namita Tickare: Hirvi Mirchi cha Thecha (Green chili chutney)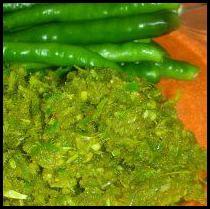 Ingredients:
12 Green chilies (take it as per your taste, if u want u can take the mild hot one's also)
15 Garlic cloves
1 tbsp of Roasted groundnut powder (coarsely grounded)
Salt to taste
2 tsp of Oil
1 tsp of Turmeric Powder
½ tsp of Asafoetida/Hing
Method:
Wash the green chilies and remove the stem. Pat them dry.
In a mixer grinder coarsely grind the green chilies and garlic.
Heat oil in a kadhai. When the oil is warm add the turmeric powder and hing and then add the chili paste, salt and stir continuously for 2-3 mins till the chilies fry nicely and you get the garlic smell. Add the groundnut powder and stir for 1 min and remove from gas flame. And keep aside to cool.
This chutney can be stored for 8-10 days outside the refrigerator.
Mala Ray Chatterjee: Tamarind Chutney, this recipe is close to my heart because of emotional reasons. I learnt to make this from the lady who gave new meaning to the word "dignity" and "integrity". Mrs Ghosh, our neighbor when we lived in Lucknow, made this when we visited them last year.

Ingredients:
250 gms Tamarind, washed and dried in the sun for a day
150-200 gms Jaggery
1 tsp Salt
12-14 Red Chilies, depending how hot you want this
6-8 tbsp of Vinegar
1 tiny cup Mustard oil
½ tsp Cumin seeds
½ tsp Paanch Phoron
Method :
Pour half mustard oil in wok, let it get hot, add the red chilies, take out before they get dark.
Grind tamarind, jaggery and red chillies in a mixer and slowly add vinegar to the mix while grinding. Make a coarse paste.(It is not supposed to be smooth as you can see here 2-3 red chilies remained whole) Taste and see if you need more jaggery.
In the same wok, pour the rest of the oil, bring to a near smoking point. Add cumin and  paanch phoron. Turn off the gas. Add the tamarind-jaggery semi paste. Mix well and bottle.
Namita Tickare: Onion and Garlic chutney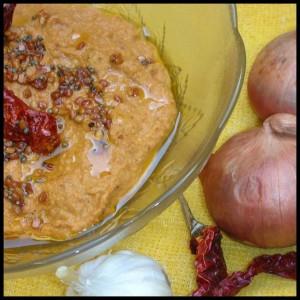 Ingredients:
1 Cup Onions, sliced
3 Dry Red Chilies
10-12 Garlic cloves
1 Tomato
2 tsp Chana dal/Bengal gram
1 tsp Peanuts
1 tsp Mustard seeds
1 tsp Black Pepper
1 tsp Fennel seeds/saunf
1 tsp Dried Mint
Salt to taste
Method :
Heat Oil in a kadhai. Roast Chana dal and peanuts well.Followed by red chillies, mustard, fennel seeds, pepper, onions and garlic. Saute till they are tender.Once done, add tomato and sauté till mushy. Add salt and dried mint. Once done allow it to cool down.
Grind it up finely and temper it with mustard, dal, red chillies and curry leaves.
Mala Ray Chatterjee: Allam Chutney/Ginger Chutney,The first time I had this was 20 years ago near Sec-bad station. I taught in a junior college and there used to be this "bandiwaala" selling dosas at some 3 rs ! I would ask the office boy to get me a dosa only so that i could have this.Btw, in Hyd restaurants, if you order dosas you don't get this,you get this ONLY if you order idlis.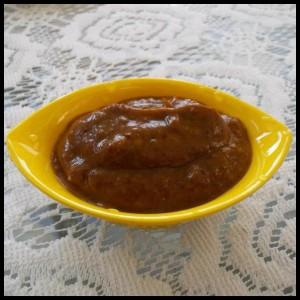 Ingredients:
2" of Ginger cut into small bits.
4-5 Red chilies(depends how hot you want it to be. I made it the Guntur way, really really HOT)
1 tbsp Oil
1 lemon size ball of Tamarind, washed
1 lemon sized ball of Jaggery
Salt to taste
Method:
Fry ginger and red chilies in oil for a minute. Cool and put in mixer/chutney attachment, add tamarind, jaggery and salt. Grind to a fine paste.
You may add tempering of curry leaves and mustard seeds, I don't.