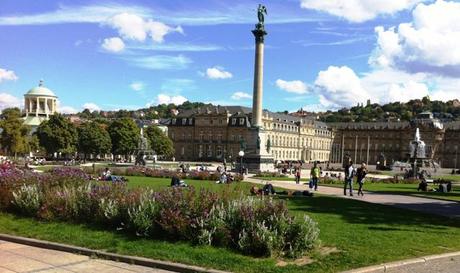 This is how I would capture the essence of Stuttgart in one photo. The new castle (Neus Schoss) and Palace Square (Schlossplatz) are in the center of the city, surrounded by cafes and shopping.  The art gallery is the dome shaped building on the left and the large statue in the middle was erected in 1863 dedicated to King Wilhelm and honoring some of Stuttgart's history.  The Schlossplatz is a popular picnic spot and THE place to people watch in Stuttgart.  I walk by here almost everyday and seeing it teeming with life always makes me smile.
Send me one photo that captures the essence of your city, or a city that you have traveled to, along with a couple of sentences of why you choose that photo to:  expatgermany [at]hotmail.ca by April 14th and I will feature it in an upcoming collective blog post.
This photo has been submitted as part of a weekly photography showcase organized by Nancie at Budget Travelers Sandbox where you can see more travel photos from around the world.