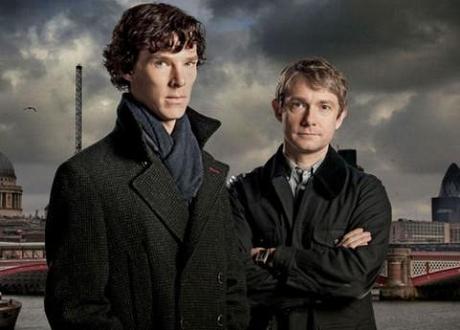 Sherlock Holmes: Popular appeal. Photocredit: publicity still
The BBC's adaptation of the Sherlock Holmes stories, Sherlock, written by Mark Gatiss and Steven Moffat, ended its second season with the faked death of the famous detective. Having confronted his nemesis, Jim Moriarty, on the roof of St Bart's hospital, Sherlock (played by Benedict Cumberbatch) jumped – apparently to his death – but was then seen later gazing wistfully at his own grave.
He had thrown himself off the building in order to prevent the deaths of his friends; but he could not prevent the story propagated by Moriarty – that he was a fake. The internet is ablaze with rumours as to how he did it. You can see how one chap thought it was done here. The show's been commissioned for a third series. Moffat has revealed he has long-range plans for the series – with the characters even developing into their forties and fifties. "So we're actually at the beginning," he said, quoted on Craveonline.
Enduring appeal. An editorial in The Guardian said that when Sir Arthur Conan Doyle first killed off his hero at the Reichenbach Falls all Sherlock had to do was climb back up the cliff. This time it's much more mysterious. But what isn't so is "the continued appeal that brings him back." Even Guy Ritchie's "less than convincing" version does not diminish the detective's appeal.
Keeping the classics alive. The Sherlock Holmes of Conan Doyle, said Den of Geek, is "often detached and unemotional", but there is "a certain tenderness" about him. Sherlock in the BBC's version, however, can often seem "genuinely nasty." You could say that the Victorian Holmes was a product of his time – whereas the 21st century one is "more openly egotistical and selfish." But the Moriarty character is more like Heath Ledger's Joker than the one in the books. Jim Moriarty is "a chaotic, anarchic presence", whereas Doyle's is "a seemingly respectable mastermind." The Moffat / Gatiss Sherlock is faithful to the original, in that it deals with "the same themes and ideas." We should celebrate how these versions have "put the classic stories back at the center of the mainstream spotlight."
How and why did he do it? So how did Holmes do it? Matthew Holehouse in The Daily Telegraph said that viewers had pointed out that the body might have been a dummy; the falling man could have been Moriarty, who had just committed suicide. Popstar said that he'd faked his death because he'd gone "too public, gone viral, a name on everyone's lips."
Look out for subtle clues. The NME however said that Steven Moffat, the show's creator, thought that fans' theories were wide of the mark. "I've been online and looked at all the theories and there's one clue that everyone's missed. It's something that Sherlock did that was very out of character, but which nobody has picked up on."