GR:  This argument relates to last week's Stanford study that found the economic cost of CO2 emissions much higher than government estimates.  But, think about it.  So what if republicans and democrats get together.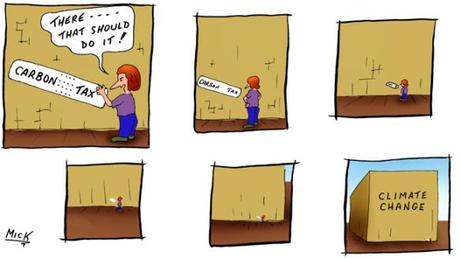 Tom Zeller Jr., Forbes.:  "The revelation late last week that global average temperatures set a new record in 2014 seemed to underscore a political and cultural shift on climate change that, by many accounts, was already well underway. From the stock markets and Wall Street to the boardrooms of Big Oil — and even the living rooms of Republican voters — the era of reflexive skepticism and denial of basic climate science appears to be coming to a close.
"That won't likely mean an end to partisan bickering, of course. But as the adage goes, the first step to solving a problem is admitting that you have one.
"That's precisely what the American Petroleum Institute did when it released its annual State of American Energy Report two weeks ago. Amid its bullish assessment of the nation's ongoing boom in shale oil and gas, the leading fossil fuel trade group clearly and unequivocally acknowledged the threat of global warming, and highlighted — at some length — the steady rise of solar power as an encouraging sign" (via The End of the Partisan Divide Over Climate Change).