The 67 th edition of the Annual Primetime Emmy Awards, which honored the best in US prime time television, was held on Sunday at the Microsoft Theater in Los Angeles, California. The show, which was hosted by Andy Samberg was broadcast in the United States by Fox.
The big winner of the evening established a new record by scoring 12 awards. HBO's Game of Thrones won 12 Emmys, including "Outstanding Drama Series".
As we know, every awards show brings a red carpet event with itself, which sometimes features interesting looks that can serve as inspiration for dressing up. However, even though the women who come at these awards ceremonies are usually dressed in fashion-forward dresses and outfits that make an impact and that are always interesting and colorful or have special cuts and textures, the men who come at these awards shows usually wear extremely conservative attire. And for those who like interesting and special clothes, that's a bummer.
But has it always been this way?
Many people in the media always comment that the way in which men dress for these awards shows cannot even be compared to the way women dress in terms of specialness: apparently, all you need is a well-fitting suit or tuxedo, maybe an accessory or two, and you are ready to go.
We have commented in the past a lot about these awards shows and have learned three important lessons:
1) You can never go wrong with classic attire, which is why you should have one.
2) A simple suit can always be dressed up with accessories that express your personality: this way, your interests and tastes will also come through, even though you wear a classic outfit
3) Wearing something very colorful or that is out of the ordinary is very cool, if you do it well.
This being said, let's take a look at some of the menswear looks we saw on the red carpet on Sunday:
John Stamos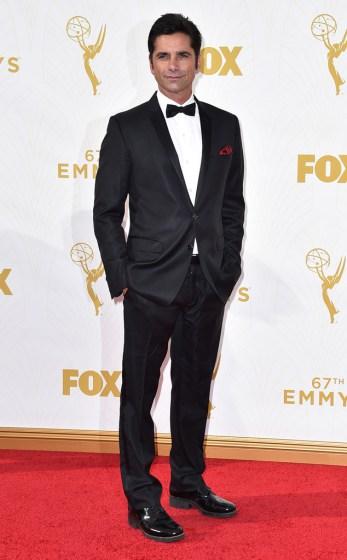 John Stamos wore Dolce and Gabbana for the 2015 and looked great! We loved his use of red pocket square, which went very well with the otherwise black and white suit. Again, one can learn from John that a well-tailored suit and the right attitude can make you look outstanding even in the most classic of classic attire. There's nothing like a guy who works out in a suit tailored for his body!
David Oyelowo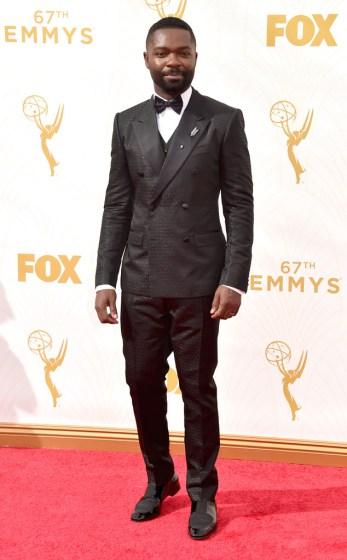 UK actor David Oyelowo rocked a classic suit with a twist. With an interesting texture here and there and by adding fine touches such as the vest or the lapel pin, David managed to make a classic look his own. And that's what updated classic style is all about!
Nolan Gould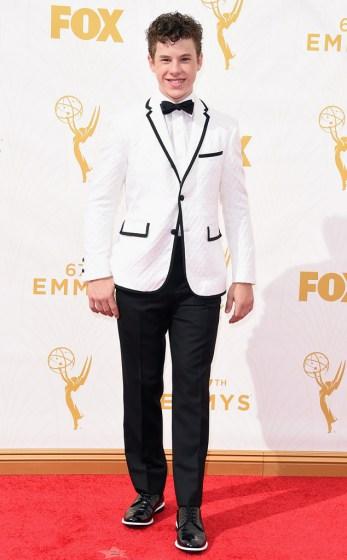 The alternative to the classic black suit is a white suit or just a white jacket, as 16 year old actor Nolan Gould shows. We loved the black details of his Brooks Brothers tux and the shiny shoes, which were small touches that completed the look. In a way, we prefer a white jacket with black lines such as this one, as it gives a more structured and cohesive vibe to the look, especially if you pair it with black pants.
With all this talk we mentioned earlier about the Emmys and other awards shows being too conservative from a sartorial point of view, we wanted to discover whether this has always been the case. So, we opened the vintage vault and took a good look at what was going on in the past - menswearwise.
What we discovered was that, even though awards shows were not so much a fashion show as they are today and they were more relaxed and with a stronger party atmosphere and more cookie (remember Celine Dion's backwards suit or the unforgettable swan dress worn by Björk, which, by the way, we love), in the past, the menswear looks were just as conservative, if not more conservative.
Here are some examples:
Art Carney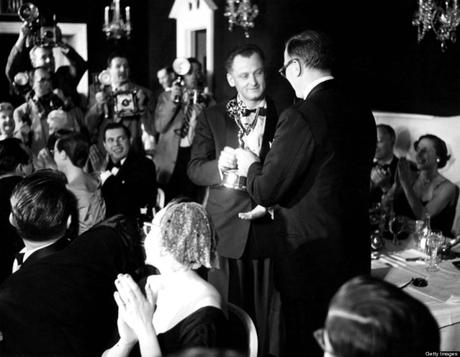 In this picture from 1954, Art Carney is wearing classic evening attire. Back in the day, the Oscars were quite formal not only sartorially, but also from an atmosphere point of view. It was only later that they became crazier, during the 1990s and 2000s and then. After 2010, all the awards shows became the equivalent of a high school party.
Sid Caesar and Carl Reiner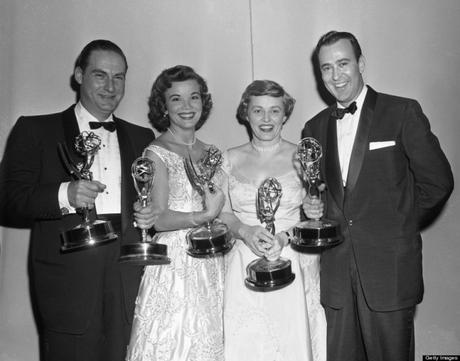 Sid Caesar, Nanette Fabray, Pat Carroll and Carl Reiner were all very stylish when attending awards shows. This picture from 1957, however, shows that not very much has changed over the years. Of course, the cut of the clothes the men wore was a bit different, today we wear sharper tailoring, but in big lines the outfits look similar to those worn by the men from 2015. As you can see, both guys are wearing classic items, even though they are not exactly the same.
To conclude, we can ask ourselves whether there is a need for men's classic attire to change. As Tom Ford said, you should only be fashion forward when you need to be fashion forward. Given this thought, we can say, why change something if it works? However, we would still love to see more color and more interesting designs worn by men on the red carpets of Hollywood...
Fraquoh and Franchomme
P.S. What did you think of the outfits from the 2015 Emmy Awards? What do you think of the vintage Emmy Awards looks? Share your feedback, questions or thoughts in the comments below! For more articles on style, fashion tips and cultural insights, don't forget to subscribe to Attire Club via e-mail or follow us on Facebook or Twitter!