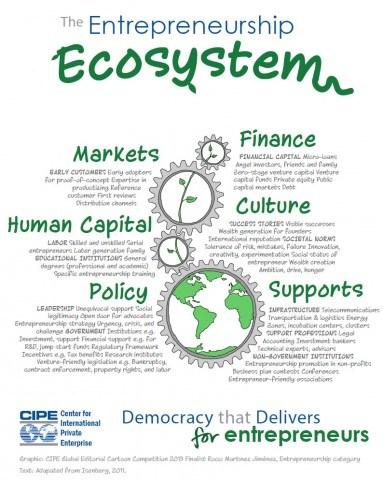 Where do entrepreneurship ecosystems come from? Are they historical accidents or does someone create them? During Democracy That Delivers for Entrepreneurs in Chicago, April 9-10, expert panelists shared their insights into the rise of these ecosystems…
Entrepreneurship springs from the grass roots. That's the beauty of the phenomenon. Entrepreneurs dream up solutions that no one else does and then take initiative to give them life. As SRAM co-founder F.K. Day remarked, entrepreneurs need an enabling infrastructure but also should be allowed to thrive. Give them some air. Build solutions from the ground up.
A market economy functions on the basis of clear rules. Aurelio Concheso explained how reasonable, predictable rules allow entrepreneurs to go about their business. We must watch that rules are not slanted toward those who are already in the system, or else small-scale entrepreneurs will drift into informality. The fascinating thing is that today's informal economies evolve into tomorrow's formal systems, so it is necessary to find mechanisms that provide access to modern markets.
An ecosystem feeds on knowledge. Entrepreneurship isn't really about business startups or new technologies. It's about making the connections across disciplines. Economists point to the knowledge spillover effects of entrepreneurship. These spillovers and connections may flourish in a democracy, where, as Linda Darragh noted, people can interact and learn from others who are different from them. Entrepreneurs benefit from the wisdom of others who have gone before and can avoid repeating the same mistakes.
Communities support entrepreneurship. Brad Feld has written about this in Startup Communities. We can look beyond entrepreneurs' networks, though, to the cultivation of active citizenship. Dr. Jesus Estanislao, recipient of the Hernando de Soto Award, stressed the importance of tapping community spirit and aligning citizen initiatives to build entrepreneurial cities. As a starting point, Darragh recommended building communities one issue at a time, bringing like-minded people together.