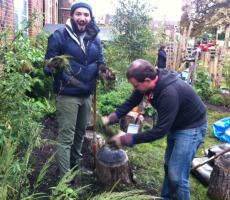 AT THE EcoExperts we like to do more than just talk about how to make the world a greener place, we like to get our hands grubby!
And so last week, a team from The EcoExperts swapped a day of working in the Kentish Town office for a day battling the elements in a local primary school's allotment.
The children at the school had a nice green area built for them so they could learn about the environment and healthy eating.
However, during the summer it had become overgrown and needed an urgent seeing to.
Nine members of staff wrapped up in their waterproofs and got weeding, planting and digging last week (September 19).
Digital Marketing Manager Ed Beardsell said: "It was an excellent day and I thought it was incredibly worthwhile, both for my personal perspective and beneficial for the business as well. It was nice to know that we are actively giving something back."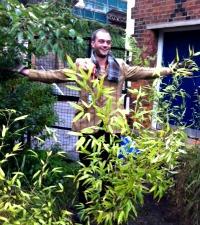 The charity Trees for Cities is an independent charity, which inspires people to plant and love trees worldwide. It aims to create social cohesion and beautify cities through tree planting, community-led design, education and training initiatives in urban areas that need it most.
A spokesperson from www.theecoexperts.co.uk said: "It is really important to us that we interact with our local community. It's so important that young people learn about the importance of looking after the environment and we were glad to be able to help."