Celebrating tonight at our favorite wine bar, with a magnum of 1999 Chateau Montelena cab (thanks Dad!) shared with good friends. In the meantime, I'll be obsessing over these picks: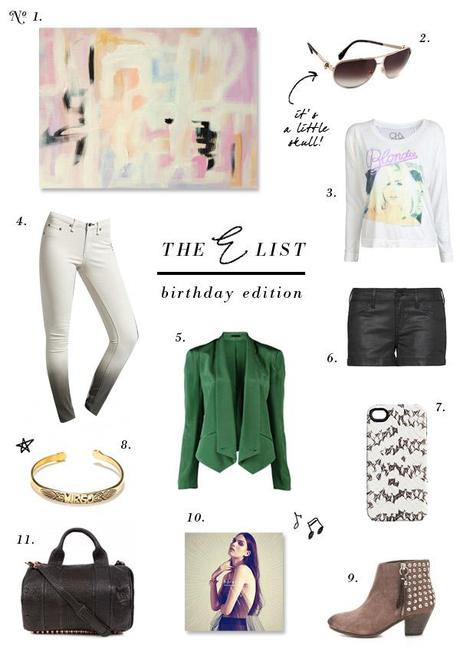 Just one piece left to finish my gallery wall! Loving everything from Wink of Pink. How does one decide?
"Jane" 12×16, $103.36
 Little skulls? I don't think a pair of sunglasses ever rocked this much.
Alexander McQueen aviators, $360
 An 80′s girl just wants to have fun.
Chaser "Blondie" tee, $64  (dig the Bowie one too)
 

 Who cares if ombre is trendy when you can step out in these all season?
Rag & Bone/JEAN ombre skinnies, $220
 Green? Black? White? Blush? I'll take any color.
Rebecca Minkoff "Becky" jacket, $368
 If I'm not bold enough to invest in leather shorts, a waxed version will be mighty fine.
Mango waxed shorts, $44.99
  Time for a new iPhone case, and this one will be mine.
J.Crew whipsnake iPhone cover, $29.50



  An "I.D." bracelet for this double Virgo (can you tell?).
Virgo bracelet, $48
 Be still my studded heart.
Ash "Nevada" studded booties, $295
 Hotel Côstes: the epitome of Parisian chic lounge music. I have the first 14 volumes, but seem to have missed this one (they're released every year in September).
Hotel Côstes vol. 15, $17.99
 A girl can dream…
Alexander Wang Rocco duffel, $875
/
Hope you have a great weekend!