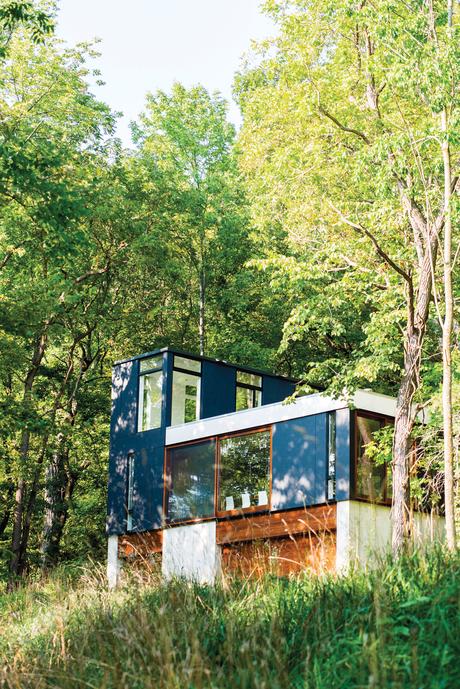 Johnsen oriented the building vertically to minimize the amount of grading and landscaping necessary for construction. Project  Stacked Cabin
"I picked the property the same way I picked my wedding dress: I went with the first one I saw," says Amanda Hollis of the 37-acre parcel she and her husband, Jeremy, bought in 2009. A weekend retreat for the Chicago couple, it was an ideal spot on which to pitch a tent for cross-country skiing and hiking. However, a year later, with a baby on the way, Amanda and Jeremy decided to build a more permanent structure.
After seeing Brian Johnsen and Sebastian Schmaling's work in the New York Times, the couple went to the Johnsen Schmaling Architects' office with a copy of Tom Kundig: Houses and a strict budget. "We liked how Kundig made simple, industrial structures feel cozy and intimate. After seeing Johnsen and Schmaling's projects, we felt they could achieve that same aesthetic—when we saw their ideas for our home we were totally hooked."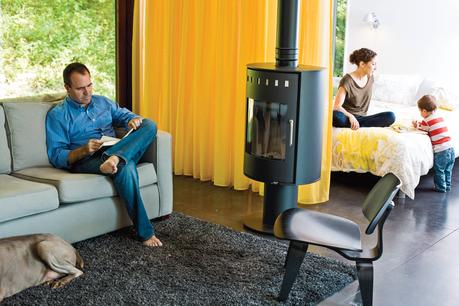 A Rais Pina wood-burning stove keeps things cozy on the West Elm Henry sofa and Eames lounge chairs.
To incorporate the home into its site, Johnsen examined the area's topography and then researched archetypal rural structures. He noticed a common pattern in most cabin compounds: a horizontal main structure with smaller buildings, such as toolsheds or outhouses, near it. To minimize the cabin's footprint, he stacked these components to create an L-shape. Thus, the middle of the home is a living hub, with ArchiSpec lift-slide glass doors to connect the space with its landscape. In the sleeping and den areas, slender windows frame intimate viewpoints of the surrounding environment. The third floor serves as an observatory, offering views of grassy trails, undisturbed forest, and soft hills.
The 880-square-foot home's reductive palette of concrete, anodized metal, cedar, and stucco was chosen not only for its cost-effectiveness, but also for durability and practicality.
The Hollises also considered the future budget and the potential growth of their young family. "We didn't want to compromise on major things that would be difficult to change; we went with Ikea kitchen cabinets over custom cabinets, for example, because we can easily upgrade them later if we want," explains Jeremy.
To keep the final cost down to $140 per square foot, Johnsen planned strategically in the building process. The bathroom was situated on the lower level to reduce the amount of plumbing infrastructure, and the mechanics were built into one wall. "We weren't trying to be grandiose in any way; we just wanted it to be very warm, simplistic, and inviting," says the architect.
Although the home cost more than the budget slated for the couple's original plan to have "a studio over a garage or something," it fulfilled a lifelong dream. "We've been flipping through the pages of design magazines and looking at modern architecture since we were just kids in college," Jeremy says. "We never envisioned anything like this and we absolutely love it."