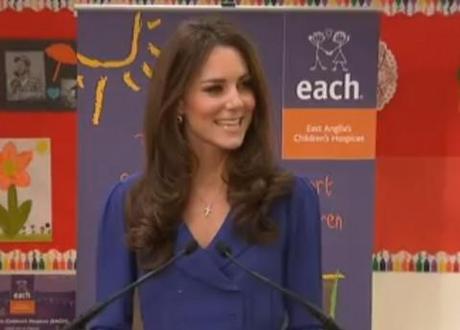 The Duchess of Cambridge delivers her first public speech
Shiny hair? Check. Gleaming white teeth? Check. Elegant outfit apparently nicked from the maternal wardrobe? Check, check and check. The Duchess of Cambridge has delivered her first public speech, and the general consensus is that she ticked all the right boxes.
Kate stepped up to the mic as she opened children's hospice The Treehouse in Ipswich. According to The Telegraph, the Duchess wrote her own speech, in which she referenced husband William, currently on a controversial deployment in the Falklands. "I am only sorry that William can't be here today. He would love it here. A view of his — that I share — is that through teamwork, so much can be achieved," said the Duchess.
See footage of the Duchess of Cambridge's maiden speech below.
Overcoming nerves. The Guardian reported that the Duchess of Cambridge confided to a guest that she finds speeches "nerve-wracking", but that she managed to deliver her address "calmly and with no ad-libs" and received "loud applause and cheers".
And now for the inevitable Diana comparison. "The Duchess's easy manner will prompt comparisons with Diana, Princess of Wales, who spoke hours before her death in 1997 of plans for a worldwide network of facilities called The Diana Hospices," said Gordon Rayner in The Telegraph. According to Rayner, Kate "proved a natural at the delicate task of chatting to terminally ill children and their families".
Keeping it in the family? The Duchess of Cambridge chose a blue dress from Reiss for her visit. But doesn't that outfit look strangely familiar? "Eagle-eyed Middleton fans will note that Kate's mother Carole was photographed wearing the same dress in 2010," pointed out Louis Peitzman at Gawker.
CopyKate? Whoever wore the dress first, High Street store Reiss can expect to sell out of the frock now that it has received the K-Mid seal of approval.  According to The Daily Mail, websites have sprung up to serve 'Repli-Kates' desperate to recreate the Duchess's look: "As a result, the recession-hit fashion industry has received a welcome boost. The wonder of Kate is that she seems to appeal to budgets across the spectrum."