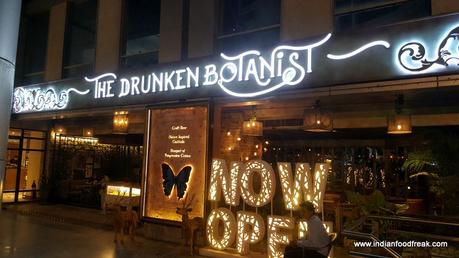 After serving up an ace like Molecule, the team (Manish Sharma and Sahil Sambhi) has come together again to present The Drunken Botanist.
What strikes you first is the unique name. I am told the inspiration came to Manish Sharma from a book of the same name by Amy Stewart. This book is all about how amazing cocktails can be made by using herbs and plants. The interiors are inspired by the working laboratory of a botanist who eventually got drunk.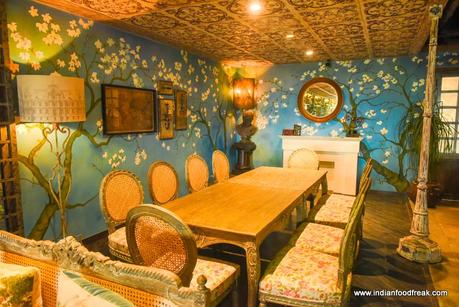 Even though most of the greenery inside is artificial, the place has a very welcoming feel to it and is definitely not cramped for space. With a seating capacity of almost 220 people it may be one of the biggest places in the Cyberhub and with one of the longest bars at 60 feet.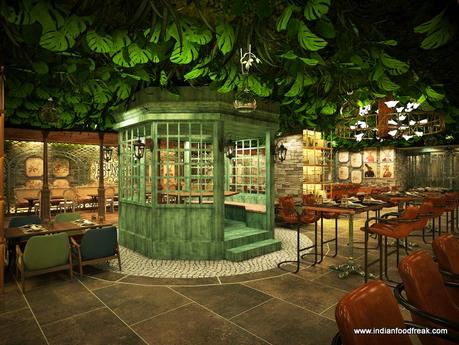 It feels as if there are a lot of different seating areas inside as the boredom of seeing the same furniture all through the restaurant is something you will not find here. The seating itself is quite comfortable, there is Victorian tiled ceiling, corbelled stone wall and a Van Gogh inspired painted blue wall in one corner not to mention the worn off/aged wood finish furniture, pillars, British vintage décor, lamps, chandeliers, oil paintings and a fire place all of which show the minute detailing gone into doing up the place.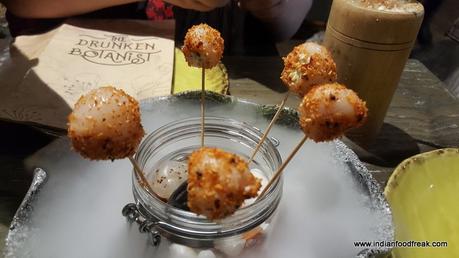 Now coming to the food, we started our tasting journey with Lychee Lollypops. They arrived on the table with full drama with smoke coming out from a flat dish from under the mason jar it was served in. The lollypop look alike lychee stood vertically balanced on a satay stick waiting to be devoured. It was stuffed with wasabi feta mousse and coated with Japanese 7 spice, tempura flakes and sesame chili flakes. I felt all it needed was a little bit of tartness to cut the chili hit to make it wow.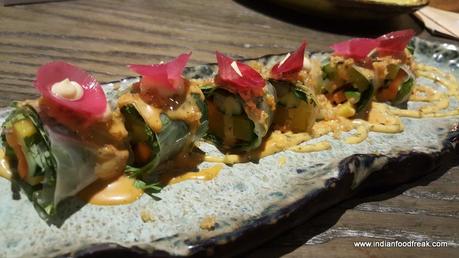 Vietnamese Summer Roll was different from any other roll where fresh vegetable sticks are used as these had in-house pickled vegetables rolled in thin rice paper sheets. Each roll had a mint leaf in it adding to the freshness and was served with spicy mango and sweet chili sauce. A perfect light and healthy, cold finger food one can have anytime.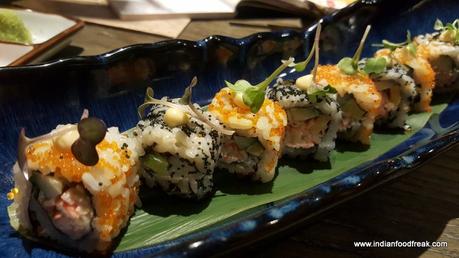 California Roll Sushi was a well made inside out (a sushi where the rice is the outermost layer covered around the nori sheet) sushi roll with crabmeat, cucumber and avocado. There was an abundance of crabmeat filling inside it to satiate anyone.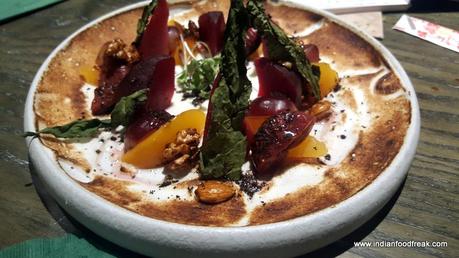 Who Burnt The Forest Salad was next which, true to its name, was reminiscent of a fire. A perfect burnt look, coming from a blow torched egg meringue surrounding the salad on a circular plate. The center of the plate had wine poached pear, peach, California grapes, beetroot and was sprinkled with roasted kale and olive dust and served with hung curd lassi. This salad may not appeal to all as the hung curd was sweet and the diet watchers may not approve of it. However, I enjoyed eating it.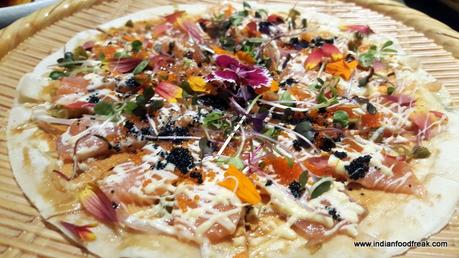 Japanese Cold Pizza was a sure winner as soon as it hit the table. Visually appealing as it looked like a summer garden in full colorful bloom with edible flowers. A crisp base topped with salmon truffle mayonnaise and jalapeno peppers thrown in to pack that much needed punch. I could go back again just to savor this heavenly treat.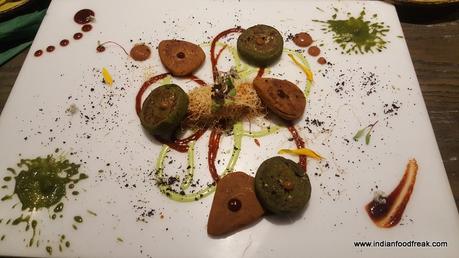 Botanist Mess Board was served on a big, square, white board. Centre stage was held by a kataifi wrapped spicy anjeer and paneer roll. Kalebro colli kebabs and pumpkin green mango kebabs were thrown around it with mint sauce, fig chutney, saunth, cilantro pesto and olive dust. It could have been a vegetarian's delight but other than the yummy fig chutney and paneer fig roll, it didn't do much for me.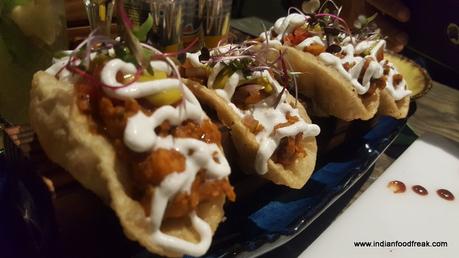 Chola Bhatura Taco – Yes! The chola bhatura has traveled to Mexico to be reborn as this new dish. A crisp bhatura taco shell filled with chole and topped with sour cream and guacamole. Only thing lacking in this innovative dish was a sour kick to the cholas which anardana or finely chopped green mango added to it could have accomplished. Nevertheless, a lovely innovative take on chola bhaturas.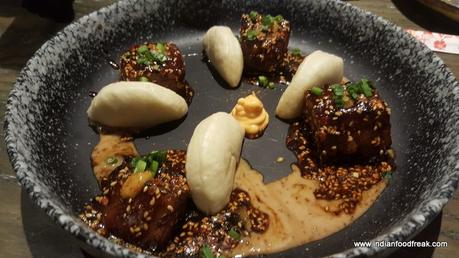 Braised Sesame Chili Pork Belly was an awesome dish. Imported pork braised for four hours in sake wine, soya sauce and served with mini baos. There was only one way to eat this – to dig in with your hands. A sticky sweet and sour sauce covering the piece of belly, dusted with roasted sesame seeds and some spicy mayonnaise squeezed around the belly to balance it out. I had to fight with my friends to get the last piece.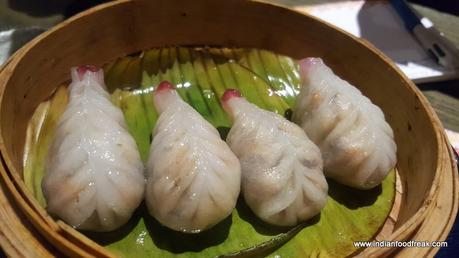 Mushroom Dimsum were finely chopped shitake mushrooms, baby corn, carrot and brocolli loaded crystal dim sums served with a burnt chili dip and a spicy chili sauce. A mushroom lover's delight no doubt.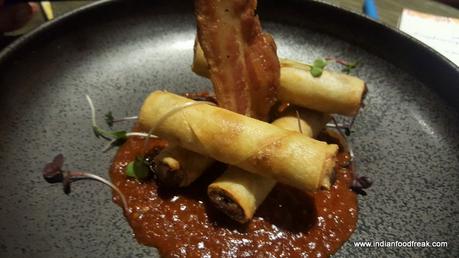 Pork Belly Rolls were Thai pulled pork spring rolls served on a bed of spicy Asian tomato sauce. Crisp rolls loaded with pork and the sauces it was simmered in along with the spicy and tangy tomato sauce were an absolute treat. A crisp bacon standing vertically supporting the rolls was the cherry on the cake so to say.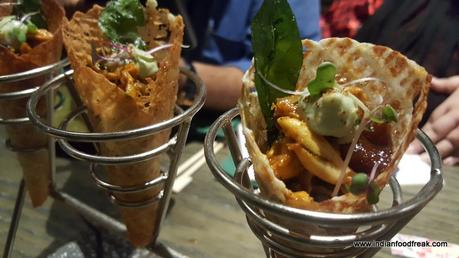 Dosai Cornetto was a lovely, innovative, easy to eat finger food. Fresh, crisp waffles made in a cone shape stuffed with a tamarind base chicken curry, yoghurt mousse and foam chutney. Absolutely enjoyed eating this savoury softy.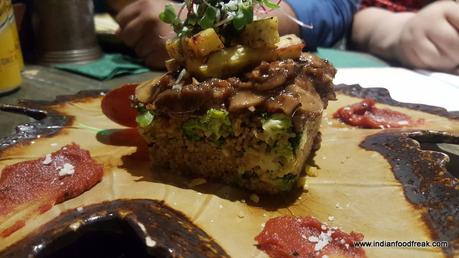 Quinoa and Couscous Pulao is a must try dish. Al dente quinoa and couscous pan tossed with some vegetables like bell peppers and broccoli  and topped with mushroom stroganoff and roasted sweet potato fingers. What it had going for it was different textures  (soft and creamy mushrooms with crunchy vegetables) and different flavors.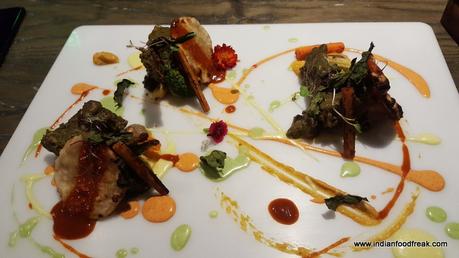 Laboratory Lamb Chops are served with full fanfare. The chef comes to your table to assemble together lots of different sauces like sweet potato puree, rogan white gravy, saffron gravy and laal maas gravy. Then the chef puts some sautéed vegetables and finally the pre cooked three huge lamb chops along with three mini garlic cheese naans in three different places on a huge white board. The chops were cooked well in a mild lagan and curd coriander base and are definitely value for money. However, the sauces on the board needed seasoning to bring the dish together.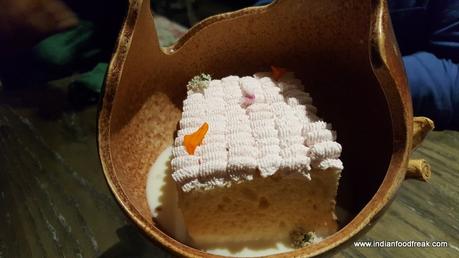 Tres Leches was the perfect end to the meal. A soft, airy sponge cake sitting on chilled vanilla flavored milk (without becoming soggy), topped with a gentle strawberry cream. This was like a gentle caress to the palate with a subtle sweetness. You cannot miss it.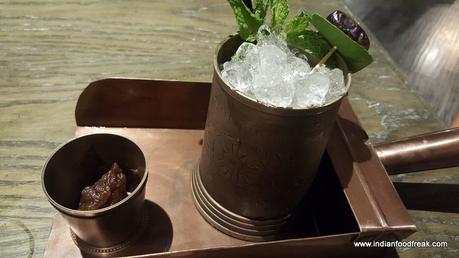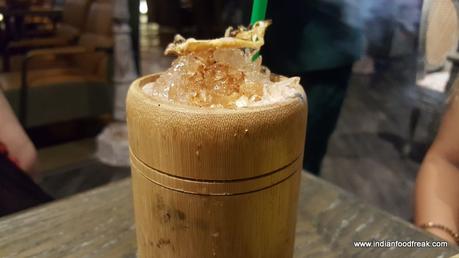 The cocktails are done by Yangdup Lama who has done a fabulous job of creating some innovative botanical, perfectly balanced cocktails. Not only are they unique in taste, the presentation is absolutely stunning. I love my Pina Coladas but seldom do I get a good one – either there's too much of coconut cream or pineapple. So it was with trepidation that I ordered the Mysore Colada. Not only was it a perfectly made Pina Colada but had a underlying flavor of Mysore coffee beans. Only somebody who knows his craft well could have managed that.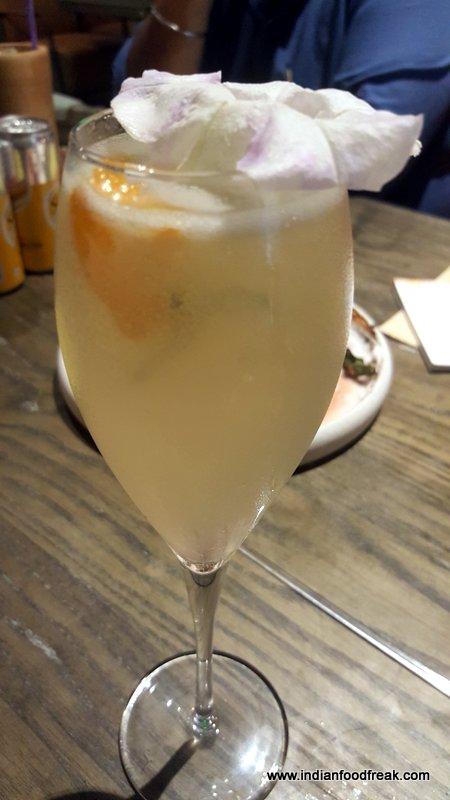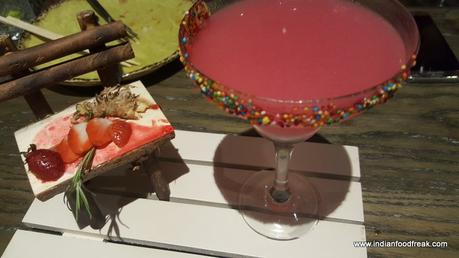 Another unique thing that I saw was a lot of cold foods on the menu, which is so ideal for summers when you want to stay away from fried foods.
With a sprawled out place like this, serving innovative dishes and some amazing cocktails and more importantly at such competitive rates, one can go and just hang out there for a couple of hours and feel totally pampered.
On the amazing pricing there is further 20% discount using The Big F Club. Become a member to enjoy dining privileges on The Drunken Botanist and many other places.
Ratings (Out of 5)
Food: 4.0 | Drinks: 4.5 | Ambience: 4.5  | Service: 4.0 | Overall: 4.25
Meal for Two: Rs 1500(with drinks) | Wheel Chair Friendly: Yes | Credit Card: Yes | Alcohol: Yes
Address: The Drunken Botanist,Unit 1B and 2C, Upper Ground Floor-C, Building 10 C, Cyberhub, DLF Cybercity, Gurgaon | Phone: 99588-30546
Disclaimer: This review was done on an invitation from the restaurant. Due judgment and care has been applied by the author to remain objective and unbiased in the review, but readers need to consider this review keeping this fact in mind