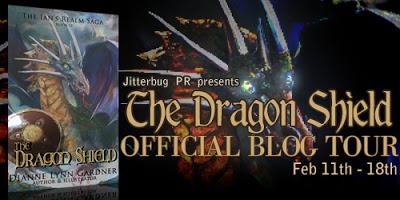 Today I have a great guest post for you from Dianne Lynn Gardner. She is currently touring the second book in
The Ian's Relm Saga
through Jitterbug PR. Make sure you visit the other stops on this tour for more insight into this story.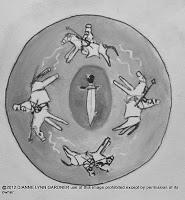 The Dragon Shield
has many of the same characters that we met in the first of the Ian's Realm Saga, Deception Peak. Of course, we've added a few new ones as well. Today I thought it would be fun to talk about one of my favorite fellows, as I've never really done a blog post about him.
Ian, as you'll find out, is very good in graphic design and he loves animation, which is one of the reasons he and his dad started making a game engine in the first place. Before they tapped into the portal, Ian had made the 'little man'. Magically, Xylon appears in the Realm and comes alive!
In the first book of the series
Deception Peak
, if you remember, Xylon was the person who first told Ian and Abbi about the dragon…
…protest resounded in his voice. "I've been wandering around for a year. It's not been easy, you know, not having a door to go into. The days get hot and the wind gets chilled, and goodness knows, it's been tough enough hiding from that dragon, big feet and fire and all: run, run, and run. It seems that's all I do these days. Look at my clothes." He dusted his shirt. "All I need is a house door, you know. It's about time you got here. Your button, sir, is the only thing that can make a door. – Deception Peak
He had a small but important part in that story but you didn't see him after his initial appearance because we left Alcove Forest and ventured to the mysterious mountain.
I didn't forget about him. Xylon makes another appearance in
The Dragon Shield
and his role is a little more significant in this book. He's not as happy as he once was because the evil in the Realm is taking a toll on all life forms, including the beautiful woods. Because of that, The Little Man makes a rather unusual request of Ian, triggering a whole round of mishaps for our hero.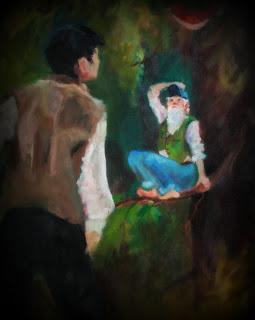 This forest dweller isn't very big- maybe three feet tall at the most. In
Deception Peak
he was known simply as The Little Man, but in
The Dragon Shield
, the little man actually gets a name. Xylon, or Keeper of the Forest. And that he is! A little more, sometimes, than what Ian would like!
But despite his mistakes, never fear, for he comes again in
Rubies and Robbers
to redeem himself, and a few other soldiers as well!
I did do some sketches of Xylon, though they aren't in the books. He was a fun and interesting little person to bring to life and I might just publish his portrait in the final installment of the trilogy,
Rubies and Robbers
.
I hope you enjoy him.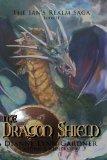 About the Book:
As a young man, Ian returns to the Realm to help his friends, and to fight against the tyranny that has befallen them. But the Realm is a different place, the forest is dying, the Kaemperns have lost the shield that protected them from the dragon, and Ian has a hard time proving his allegiance when trouble follows him through the portal. His struggle to do right buries him in confusion, and he must fight his own will to prove his integrity.
"
The Dragon Shield
is packed to the rafters with incident and peril. Ian's resolve is tested like never before, the camaraderie of his supporters and their combined efforts will keep the reader engrossed…There is a constant battle being waged between hope and despair and you are never quite sure how things will develop. By the novels end I felt that things were only just beginning for Ian and I wanted more – a mark of Gardner's skill as a storyteller." Review from the Independent Review UK Daniel Cann.
Buy
Deception Peak
on Amazon: eBook or Paperback
Buy
The Dragon Shield
on Amazon: eBook or Paperback Look for
Rubies and Robbers
later this year.
About the Author: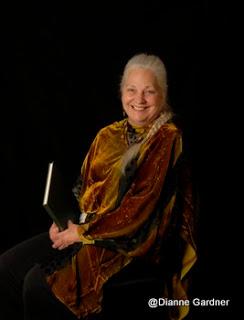 Dianne Gardner is both an author and illustrator living the Pacific Northwest, Olalla Washington. She's an active member of the Society of Children's Book Writers and Illustrators, and the National League of American Pen Women. She has written Young Adult Fantasy novels as well as articles for national maga¬zines and newspapers and she is an award-winning artist.
Dianne spent many years living out in the desert wilderness of the American Southwest, lived in a hogan made from adobe and cedar for thirteen years, co-owned 25 horses both pure bred and Native American ponies, traveled horseback and by wagon throughout the Navajo reservation, herded sheep and goat, worked in the forest planting trees and piling, farmed on barren soil and even lived in a teepee for a short while. She spent many long years using survival skills as a way of life. Later she studied pastoral counseling and was a Pastor's apprentice at a mainline church. She and her husband have been feeding the homeless for over twelve years. Today she shares both her survival experiences and her love for people, especially young people, into her writing as a way to not only to give her readers a firm understanding of her stories' characters, but a rich appreciation of nature.
Connect with Dianne: Blog * Twitter *  Ian's Relm Facebook * Hydra Publications
a Rafflecopter giveaway
Note:
All opinions presented in book and product reviews are my own. Opinions presented in posts authored by others reflect the view of the author only and not necessarily my view or opinion. If a product was given to me for review, the source of that product is noted in the post. Amazon and Book Depository links are affiliate links and I do earn a small amount for each purchase. Other affiliate links will be noted in the post.