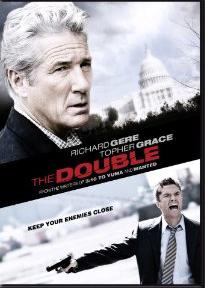 Stephen Moyer's film 'The Double' is due to have a limited release in theaters on October 28, 2011 (yes, another revision to the release date).
However, Amazon is already offering the film to be pre-ordered on DVD or Blu-Ray. 
The DVD and Blu-Ray will be available on January 31, 2012. Click on the Amazon link below to pre-order your copy.
Here's a synopsis as shown on Amazon:
The Double has plenty of action, switchbacks, and double-crossing drama to satisfy the most jaded action fan. Director Michael Brandt (making his directorial debut) cut his writing chops on such fast-paced fare as 2 Fast 2 Furious and the remake of 3:10 to Yuma, so he's right at home moving the plot along at a feverish clip. Richard Gere is enigmatic and just sympathetic enough as Paul Shepherdson, a retired CIA operative who's brought back into action after the assassination of a United States senator to help track down his long lost (and supposedly dead) Cold War nemesis. He's assigned by his boss, authoritatively played by Martin Sheen, to work with a rookie agent, Ben Geary (Topher Grace, who can hold his own against these film lions just fine, thank you). The Double has elements of the best buddy flicks, a little bit of the Bourne films, and more than a little homage played to The Usual Suspects. Stephen Moyer plays a very believable menace to the free world. But is he the dreaded Cassius? As the tension rises and the plot thickens, one wishes Gere had a bit of a harder edge–like, say, a mid-career Harrison Ford or Samuel L. Jackson. Yet in some ways the "soft" casting of Gere helps keep the plot aloft. The Double is a perfect popcorn spy caper that will have the viewer guessing until nearly the end of the film. But will that be too late? –A.T. Hurley