We've been talking this month all about Albarino from the Rias Baixas region of Spain. The grape has many different expressions and that comes from a variety of influences; weather, terrior, winemaking style and if it's 100% Albarino or blended with other grapes.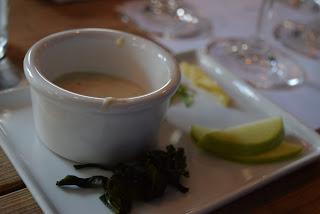 A  good example of the influences on a grape is the 2014 Castro Martin Albarino.  This Albarino is from the Salnes Valley region of Rias Baixas and it receives influence from the Atlantic Ocean. How apparent is that in the wine?  When I first smelled the wine, I thought I got an aroma of skunk. But when the plate of what you might smell and taste in the wine appeared (picture above) I realized after smelling the seaweed, that it was apparent that was the aroma I was getting. That is the Atlantic influence.  There was also aromas of lemon peel with lemon pith on the palate.  This is more of a food driven wine as when it was paired with aspargus it not only took out a lot of the seaweed, but brought out the saltiness of the ocean to the wine.  SRP $15
The 2015 Altos De ToronaAlbarino is actually a blend of 85% Albarino, 5% Loureiro, and 10% Caino Blanco.  This wine is from the O Rosal region of Rias Baixas and Caino Blanco is an indigenous grape to that region and blended into the wine.  This particular winery is located halfway up the mountain so the mist and the humidity of the valley doesn't affect the wine and it receives a lot of sunshine. This wine has a lot of complexity to it. Lot's of layers in both the aromas and on the palate. A bit of grass on the bouquet followed by citrus and tropical fruits. Bright acidity dances on your palate with nice minerality with apricot, peaches and a finsih of green apple. Once again when paired with asparagus it made it much softer on the mouth and less acidic. SRP $16
The affects of the weather and location show in both of these wines.  Where you have the ocean influence in one and the location of being halfway up a mountain on the other. Two wines, same grape although one was blended, two distinct different profiles.