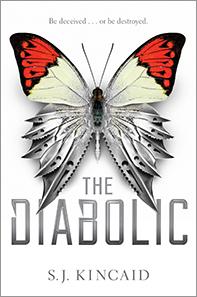 The Diabolic
By S.J. Kincaid
416 pages
Expected publication: November 1st 2016
Simon & Schuster Books for Young Readers





PRE-ORDER NOW






*Trigger Warning for Violence





The Diabolic is one of the best books I've read in 2016! That's saying a lot because I'm an avid reader. It's rare a story can break into my five-star list. It is extremely rare that I read a standalone book and think, I need more. Frankly, I NEED MORE.
The cover art was beautiful to start and the story followed through with the intrigue.
I do not understand the comparisons of this book to The Red Queen or the Hunger Games. I will say that the only similarity I've really found is the parallel with some gruesome deaths.
There's your warning. This story is not for the faint of heart. This kick-ass heroine does just that, kicks some serious ass. The protagonist Nemesis is a trained killer born and bred to kill. There is a lot of violence in the book and if you're not a fan of that it can be pretty gruesome. I would almost compare it to a Game of Thrones level, but for Young Adults.
This story was a unique blend of dystopia and science fiction. The world was painted beautifully and I could see the story coming to life around me right from the first page. It is addictive. Once you start, you won't want to put it down.
I love how it was gritty and included diversity without having to spell it out for you. This is how it should be done!
If you think you can hack it I absolutely recommend this book for fans of Dystopian and Sci-Fi. You won't regret it.
Thank you so much to Simon & Schuster Canada for this ARC.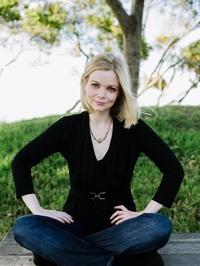 S.J. Kincaid was born in Alabama, grew up in California, and attended high school in New Hampshire, but it was while living beside a haunted graveyard in Scotland that she realized that she wanted to be a writer. Her debut, Insignia, came out in July of 2012. The second book in the series, Vortex was released in July of 2013. The final book in the trilogy, Catalyst, came out October 28, 2014. Her standalone novel The Diabolic will be released in fall 2016.
Website - Goodreads - Twitter - Facebook