Half an hour into writing this post I have managed the title. Time to stop reading news reports of the Skyfall press conference (the name for Bond 23 that they announced earlier today) and actually write it.
It's not particularly often that you get a phone call saying "I'm going to this winedemon app launch event tomorrow night, would you like to come?" so unsurprisingly when Mel called with the invitation I said that I'd love to. What else was I going to be doing on a Tuesday night?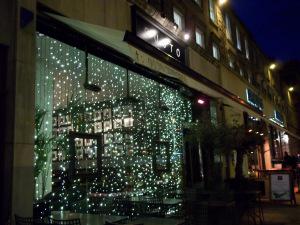 The event itself was held in Gusto (a restaurant on George Street, in Edinburgh) and prior to arriving I didn't really know a whole lot about it; and judging by what other people were saying Mel and I weren't the only ones troubled by our prior lack of info. We were greeted by two of the people from winedemon and a glass of (rather delicious) prosecco to sip whilst we were chatting to a few people before the event started in earnest. We chose to sit at the table with all the glasses on it (that's where the wine would soon be, we reasoned) and ended up chatting away to Nikki (a wine consultant) and Chris and Chris of the
Edinburgh Whisky Blog
. Cue immediate sense of being quite far out of my depth.
To begin with one of the co-founder of winedemon, Greg (I think), gave a bit of a talk 'by way of introduction' – aka the sales pitch – on the app, how it works and why everyone should get involved. Basically the app allows you to see what other users thought of the wines where you are, so you can make a more informed choice. They have three key areas they are trying to help in: 'the restaurant wine list' (when you have no clue what to choose); 'the supermarket' (which wine on offer is really what you want); and the 'what was that bottle I had the other week called' dilemma. So far so good. It then got into the more technical stuff, what they want their members to do and how they'll give you an iPhone to do it. To be perfectly honest, I don't drink 'at least four wines a week' (much as I'd like to) and so I sort of zoned out.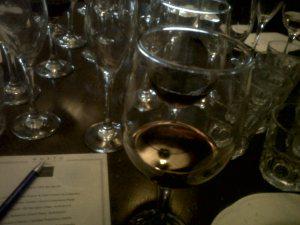 There then proceeded a very informal tasting of some of the restaurant's wines. It transpired that we had indeed been very wise in our choice of table and all those empty glasses were very useful. We tried five of the wines over the course of the next hour or so whilst helping ourselves to 'nibbles' and discussing wines, blogs and licensing laws. Whilst some of the wines were better than others – I would thoroughly recommend the Loredona Monterey County Pinot Noir, if you ever have the opportunity – there were none that I really didn't like (I wasn't a huge fan of the Ceppaino Alle Viole, but aside from that my notes are in some incomprehensible shorthand, so I can't really describe them further).
After this point people were starting to leave and the Chris' (of Edinburgh Whisky Blog) suggested that we went for a drink with them in Whigham's, just off Charlotte Square. Obviously this being a Tuesday evening and me having work in the morning we declined. Ahem… well maybe we went for one. Or several.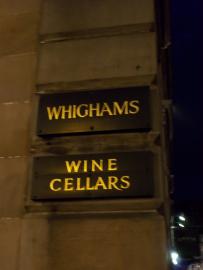 I have to confess that I'm not entirely sure I'd ever been in Whigham's before (part of me says I have, but I've no idea when it might have been), so it was (I think) a new experience for me. And one I'm pretty sure I'll repeat. Whigham's Wine Cellars, just off the south side of Charlotte Square, is a wine bar that's been operating for over 25 years, offering a great choice of food and wine. In our case, however, we had had our fill of wine for the evening and switched to G&Ts and a pint or two.
Taking advantage of one of their little 'snugs' (in the of the old arches at the edge of the cellar) we continued to talk about what we do with our various blogs for (arguably) longer than we should have. I was surprised by the seclusion we had (given that the bar can seat 150 people), but backed up with generous selections of beer, wine and spirits, Whigham's is a great place to spend an evening. I'm also intrigued by their Sunday night 'Jazz Club', so watch this space.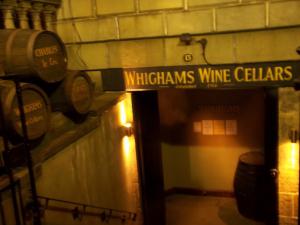 As with such impromptu trips out on 'school nights' there were good intentions of going home for an early(ish) night, but with phrases such as "I probably shouldn't" and "Just one more then" last orders and chucking-out-time came around surprisingly quickly. And a warm office the next morning very nearly ended up in a nap-related disaster. Overall I had a good evening out, but I'd say more for the people and the conversation, rather than the initial purpose. In principle Winedemon is a great idea, however, not having an iPhone (and I'm guessing a Blackberry version is unlikely after the Winedemon guy's scoffing when we mentioned our phones) I don't really see myself using it. They seemed disappointed by the turn out – with only about 15 people there, I'm not surprised – yet I didn't see it advertised anywhere. Edinburgh's not exactly devoid of Twitter and blog users, guys, so I think you missed a trick there for your (expensive, I'd presume) app launch. It does make me question their online abilities (rather useful in this field, one would think), so perhaps be a little more tuned in next time before you bemoan the poor attendance. The demon's in the details, but in this case I think the demon in question is probably that bad one that made me go to the pub!
Cr