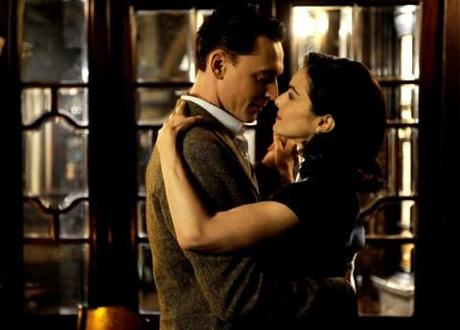 Tom Hiddleston and Rachel Weisz in The Deep Blue Sea
The Deep Blue Sea, directed by Terence Davies, is adapted from a play by another Terence – Terence Rattigan. Set in war-ravaged London in the 1950s, it concerns Hester Collyer (Rachel Weisz), who has an affair with a caddish, hard-drinking ex-RAF pilot called Freddie (Tom Hiddleston.) Freddie's looking for thrills; Hester just wants to be loved. The film begins with Hester attempting suicide, and then goes back into the past to examine her marriage with kindly but dull High Court Judge William (Simon Russell Beale). Critics are swooning over Weisz; the general consensus being that though the actors are excellent, the play doesn't necessarily stand up.
Yay for pub singalongs! Peter Bradshaw in The Guardian was very moved, saying that the film looks at the "painful, intractable mystery" of romantic love. Hester, having experienced both a "comfortable marriage" and a "passionate affair" still comes out feeling that life is "wrong." Bradshaw loved the pub singalongs, calling them "a vivid madeleine" and a forceful reminder of the "still unrepaired" London streets.
Down with pub singalongs! Tim Robey disagreed in The Daily Telegraph, thinking that Davies was being "indulgent" with "one too many plaintive pub singalongs." He also has "an over-fondness for Vaseline focus." But Weisz is brilliant, seeming to get "more beautiful" as her acting gets better. Hiddleston has a perfect combination of "petulance and tenderness", whilst Beale's "wounded gentility" hits the spot too. The film may be both "gorgeous and stifling", but then that's because it reflects Rattigan's "aching prison of a play."
Creaky plot? There's an air of "seedy melancholy", said Kate Muir in The Times, but Davies "relies on Samuel Barber's Concerto for Violin like a crutch", which isn't fun; also, the "plot creaks under modern feminist eyes."
Primal feelings. It is "highly stylised", said Geoffrey MacNab in The Independent, but it manages to get to "the primal feelings of the characters," in particular Hester's "erotic longing" and "suicidal shame."
"[T]he pair's mooching feels lugubrious enough to merit its own drinking game: a scotch whenever someone weeps by a window, a shandy if they light up on a settee, a Bovril if they touch on the true meaning of 'respectability,'" sniffed Catherine Shoard in The Guardian, though Periscope thinks this sounds quite fun.
Too stagey? Catherine Shoard in The Guardian was pretty much the only dissenting voice, calling the film "as flat as a duck pond." The story's lost its sting, and the dialog sounds like "French and Saunders." She thought Simon Russell Beale was "stagey", Hiddleston wasn't "magnetic", and Weisz's performance didn't "linger in the memory." Shoard feels bad about dissing the film – but blames it on the play. Ultimately it's just "too damn wet."
More on film

Martin Scorsese's Hugo is perfect Thanksgiving fareli>
My Week With Marilyn
Streep earns raves for Iron Lady
Snowtown is harsh but brilliant
More film »