The Canaan Downs
North of Motueka the road starts winding in endless curves up the Takaka Hill. Close to the top is a lookout spot with a wide view towards the Abel Tasman National Park. A first glimpse on the place where we planned to go Sea Kayaking very soon!
Right next to the lookout, the Ngarua Caves can be visited (but only with guided tours.)Just a bit further ahead, a small turnoff leads into the innards of the National Park. At the end of this gravel road lies Canaan Downs Scenic Reserve, a beautiful area filled with yellow grass, amazing blueish rocks sticking out of the plains, and the largest campsite we have ever seen. Entering the plains you see an insignificant sign next to the road, welcoming visitors to the Canaan Downs campsite. Further into the vast landscape, you can barely make out one of the wooden hovels that turn out to be eco toilets at closer view.
The whole huge grasslands are a camping area, you just have to claim the nicest piece of meadow you can find. In the middle of it all, the camp warden has his little hippie home – with a tent, a fireplace, an old car and loads of rubble that may one time be of use. The sign leading there says "Camp Info and Hugs". He is a very welcoming and helpful fellow with dreadlocks in his beard. All around the site are constructs of dead wood, forming artwork or the frames for future shelters. You get a night of hippie style camping for five dollars.
Harwoods Hole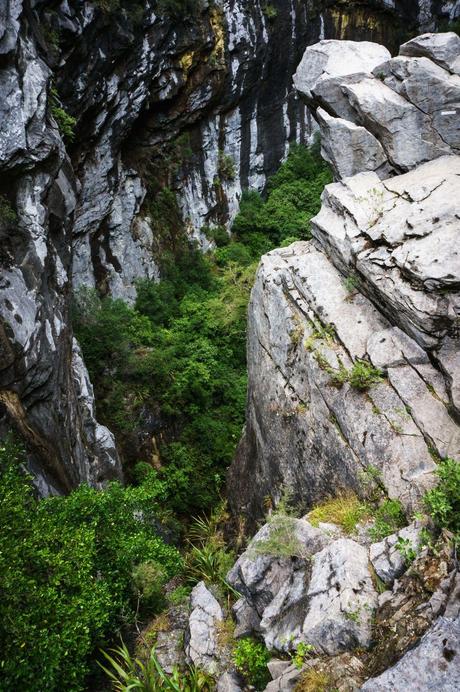 From the car park at the very end of the road, there are several long walkways leading into the Abel Tasman National Park. A mostly easy walk through the forest (including a bit of scrambling over rocks) leads to Harwoods Hole – probably the scariest place ever, especially if you are afraid of heights. The walkway ends in a confusing bunch of huge rocks. Climb them and you stand before the abyss. A 200m vertical drop into nothingness, framed by some bushes and rubble. There is no barrier whatsoever, so one step too far could let you slip and fall the 200m straight down. Appealing, isn't it?
It wasn't really possible to get the right angle to look directly down into it, so we could only marvel at the upper part of the hole. But that was enough vertigo already! They should build a viewing platform made of glass there to look down...
Harwoods Hole is used by cavers and me, the climber, immediately saw the safety bolts on the wall. But there are signs everywhere urging visitors to attempt climbing into this black hole only as experienced cavers. I definitely understand why...Very freaky place!