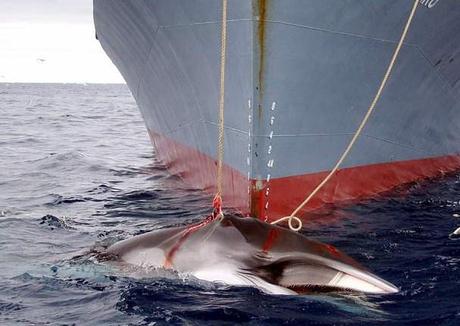 An Icelandic whaling association has recently stated that in a new kind of 'cultural tourism' they will be offering experience days aboard a whaling vessel. Attendees will travel to whale rich hunting destinations in order to view the majestic animals up close. They will set up and fire harpoons and whilst no whales will be slaughtered during the day trips, tourists will then be given the chance to dine on whale flesh with the captain.
The managing director of the association says that he sees this as "whale watching with whale hunters" an interesting turn of phrase at a time when recreational whale watching is documented to be attracting up to 13 million people a year, collectively paying around $2.1 billion for the experience. It has to be asked whether this may be a feeble attempt to generate funds in a dying industry.
In February of this year, Japanese Antarctic whaling fleets were forced by environmental activists to abandon their seasonal hunt almost 2 months early. Less than 10% of their quota was caught. This is one of two significant blows to the Japanese whaling industry with the tragic tsunami in March obliterating some vital parts of its infrastructure. Furthermore increasing international pressures, relentless activism and waning demand means that the future of whaling is clearly in peril, yet still debate over the rights continues.
In 1986 The International Whaling Committee (IWC) enforced a moratorium for the abolition of commercial whaling amongst its member countries. Further to this in 1994 an area of the southern ocean 50 million kilometres squared was declared a sanctuary for the ocean giants. This satisfied many but sparked great discontent in others and there have been continuous attempts to revoke the ban. As the IWC is a volunteer organisation where all decisions are subject to vote, there is much unrest due to serious allegations that certain pro-whaling countries are using financial pressures to influence outcomes.
The end of commercial whaling, along with the formation of the sanctuary has always been seen as a great victory for conservationists however it is not preventing the unregulated slaughter of these animals.
With this in mind it may be time to question the current ban.  A legitimisation of the practice with tight, specific, management plans and dedicated education strategies could circumvent many problems. Not to mention providing the option to remove any species considered to be at risk from the allowable catch lists.
Although an unnatural consideration for many of us to make, the fact remains that we are at serious risk of species loss if we don't act. The industry appears to be struggling but this does not mean that all will give up, therefore now could be an opportunity to reach some sort of realistic, sustainable compromise.
Japan generally leads the way in the propagation of whaling and with this there may be some hope. Despite many traditionalists wishing to return to the oceans later this year, government officials are beginning to recognize that their line between legal scientific whaling and illegal commercial whaling is blurry at best. After 20 years of research, thousands of tonnes of unsold whale meat, and a mounting deficit, the Japanese are finally considering the financial implications of perpetuating this industry, and with Iceland now apparently clutching at straws with their latest offer perhaps a hiatus is on the horizon.