Can take a chance on love and claim his debutante...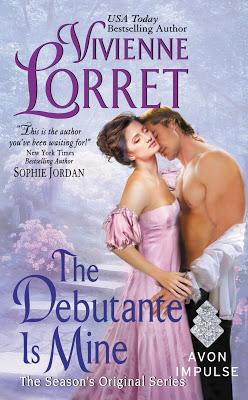 THE DEBUTANTE IS MINE
Season's Original #1
Vivienne Lorret
Released April 12th, 2016
Avon Impulse

USA Today bestselling author Vivienne Lorret launches a new historical romance series featuring the Season's Original—a coveted title awarded by the ton's elite to one lucky debutante...
From the Season Standard: "A true Season's Original embodies the class, grace, and style of the ton. Such an honor ensures the recipient their pick of eligible suitors…"
Lilah's Appleton's prospects are looking dim. With one last chance to find a titled husband before she's forced to wed her wretched cousin, she must make this Season count. Plain, forgettable Lilah must become the Season's Original. Desperate, she seeks help from the devilishly charming, untitled, and thoroughly unsuitable Jack Marlowe. All she must do now is resist the temptingrogue…
Bastard son and self-made man, Jack Marlowe loathes the aristocracy. When he meets Lilah, he expects her to be like all the other greedy husband-hunters. But she's far more dangerous. Her alluring smiles and sharp tongue intrigue him. Before he knows it, he agrees to help her find a husband, revealing tricks to ensnare any man. The only problem is, his plan works too well—on him.
When Lilah becomes the belle of the ball, Jack realizes he may lose her forever-unless he can take a chance on love and claim his debutante...

Feeling restless, she slipped out to the garden. She didn't even have a chance to draw in a soothing breath before she heard a strange noise coming from the back portion, just past the arbor. Strange but somewhat familiar. The sound was sharp and broken, like a shovel striking earth and gravel. This was odd because her aunt's gardener came once a week in the spring, and this was not his day.
"

Monsieur Bouton?" she called but received no answer.
Curious, she walked the path toward the arbor, passing the bench, and suddenly she stopped.
Those broad shoulders, dressed only in shirtsleeves and a green waistcoat, were not Monsieur Bouton's. The lean hips, firm backside, and thickly muscled thighs weren't his either. After all, the gardener was nearly sixty years old, short, and rather thin. And he typically wore trousers, not well-tailored buckskin breeches and fine leather boots.
Jack
. His name spilled through her mind in the same unbidden tremor that rushed beneath her skin. She did not like it, she told herself. And she refused to admit to having had a secret desire to see him again. The compulsion was as strange to her as her actions had been late last night, when she'd pressed a few primroses between sheets of velum.
"

Mr. Marlowe, I hate to repeat myself each time we meet, but

what

are you doing here?" She'd intended to sound forceful and displeased, but the airy quality of her voice lacked much force. Those were rather flattering breeches, after all.
He turned slowly to face her, smirking, as if he was not the least bit surprised by their encounter. Surely, he couldn't have expected her to come outside to the garden.
"

This was the place for our rendezvous, was it not?"
Bother
. Only now she remembered the challenge he'd issued last evening.
"

I am not

at home

to you. You did not leave your card. Therefore, I had no way of knowing that you would be here," she said, needing a clear understanding between them. "Aside from that, why are you using a shovel in my aunt's garden?"
It was only then that she looked down and noted a shrub in the ground near his boots. In fact, there were two of them, one on either side of the path.
"

You said you did not like the quick death of cut flowers, so I brought you these," he explained with a wave of his free hand. "Azaleas to bloom all spring."
She'd never blushed so much in her life as she had these past three days. Her hands came up to cool her cheeks. Had he listened to everything she'd said, every scold, every admission? This was unexpected and unfamiliar. She was used to being forgotten. How could she concentrate on her endeavors to transform if Jack Marlowe continued to keep her flabbergasted?
"

Do not thank me, Lilah. I forbid you," he said, his voice commanding even as amusement lit his eyes.
What an absurd thing to forbid. Lilah was torn between gritting her teeth and grinning. With effort, she managed the former. "Thank you, Mr. Marlowe. They will remind me of you, especially when our gardener piles horse manure around them."
ONLY .99 CENTS
Amazon
 | 
B & N
 | 
Google Play
 | 
iTunes
 | 
Kobo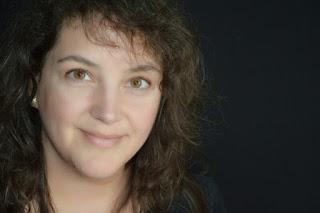 USA Today bestselling author, VIVIENNE LORRET loves romance novels, her pink laptop, her husband, and her two sons (not necessarily in that order … but there are days). Transforming copious amounts of tea into words, she is an Avon Impulse author of works including: Tempting Mr. Weatherstone, The Wallflower Wedding Series, The Rakes of Fallow Hall Series, The Duke's Christmas Wish, and the Season's Original Series.
Website
 | 
Facebook
 | 
Twitter
 | 
Goodreads
Don't miss any of the Season's Original Titles