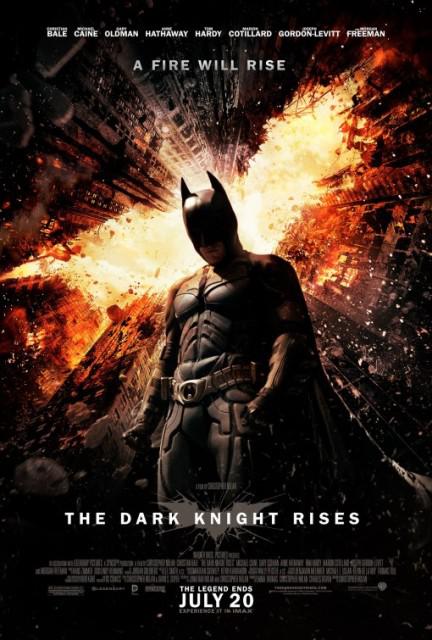 The epic conclusion to the Legend of Batman . . . The Dark Knight Rises
I went to the 5am showing put on by Cineworld!
Four years after the incredible 'The Dark Knight' when Heath Ledger's Joker caused havoc and mayhem in Gotham City we return eight years on when Harvey Dent lives on as his death continued the fight against crime. Batman branded a murderer for his death and Bruce Wayne is now a recluse.
This is all about to change when we find out a storm is coming. The complex nature of this storm is incredible to see unfold. Selina Kyle aka Catwoman is a theft and catches Bruce Wayne's attention when she manages to break into a safe which is supposed to be impossible to open. We just know that plenty more is to come from her as the film goes on and we are not disappointed at all. But the bad guy we have to watch out for in this film is Bane . . . He's strong and powerful and doesn't take no for an answer. We slowly learn his story and where he came from but is everything as it seems?
Bruce Wayne must battle his demons all over again but this time because he no longer has a fear of death. His relationship with Alfred is damaged because of this he does not want to bury another member of Wayne family. This is all massively important, we have to care about Bruce to care about Batman and Gotham City, something which Christian Bale does brilliantly as the tortured hero.
The film is epic from start to finish and the audience at the 5am screening didn't make any noise from start to finish. As soon as the lights went down it felt like everyone took a deep breath together knowing that this is it. That continued throughout as everyone sat engrossed in what was happening on the screen. As the film finished again everyone was still silent until a round of applause broke out as the credits began to roll. I found that to be a very special moment in showing how everyone felt about this incredible film. The performances from each member of the cast are simply breathtaking, Christopher Nolan really does know how to get the best out of his actors and it creates an incredible film.
I am not going to spoil anything about the film as it does have a few plot twist and turns throughout, some of which I really did not see coming at all. I felt all different emotions while watching this film which I think is always a massive compliment about how good a film is if it can get under your skin. I will be attending the cinema to watch this one again!
Batman has always been my favorite superhero and the Dark Knight really did Rise!