Welcome to my February review of my Cutting Garden. After the success of my Giveaway last month, I have decided to try to give something related to the Cutting Garden away with each monthly post as a thank you to all my readers who are so supportive. This month I am delighted that the lovely team at Sarah Raven have donated a Best Purple Dahlia collection for my Giveaway – more about that at the end of the post.
To begin, I promised last month to show you my notebook plans for the Kitchen Garden. It is hard to explain the layout of this area in words and photographs, so I hope that it will help to see it drawn out on paper. The Kitchen Garden is an old paddock divided into quarters and enclosed with a yew hedge. It encompasses my Cutting Garden, Fruit Garden, Vegetable Garden and Herb Garden. The quarter labeled Roses, Herbs and Perennials is as yet undeveloped and the fruit cage shown in the Fruit Garden is being installed next month.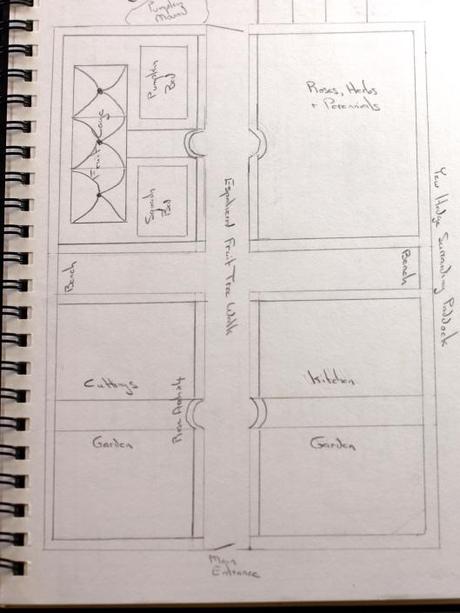 Within the Kitchen Garden you will find the Cutting Garden, which is divided into a series of square and rectangular beds. The beds are labeled, which helps me plan where my flowers will grow on a yearly basis. The large square beds contain some roses and perennials as well as plenty of bulbs and annuals and are color themed. I have marked the arches that join the beds over the grass paths. The smaller rectangular beds are used for intensively growing annuals in short rows.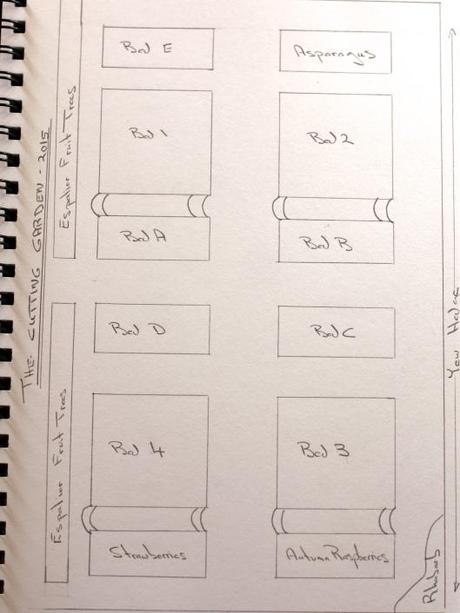 To keep my seeds organised I have a box divided by season and month and I sort my seeds into the relevant sowing month – that way I just work through sowing small batches of the seeds in the current months section so that I don't miss anything. This box is just for flowers – I keep my vegetable and salad seeds in a different box.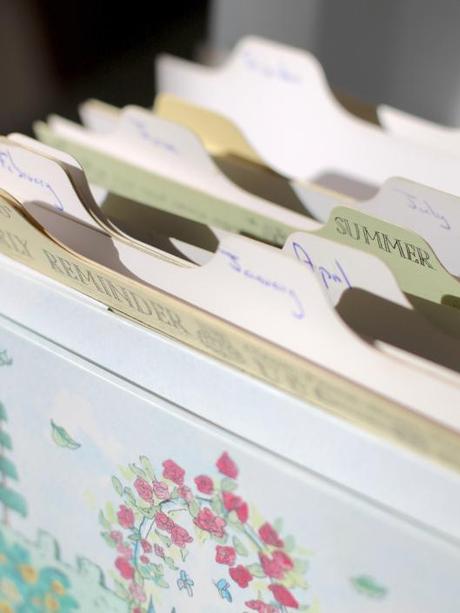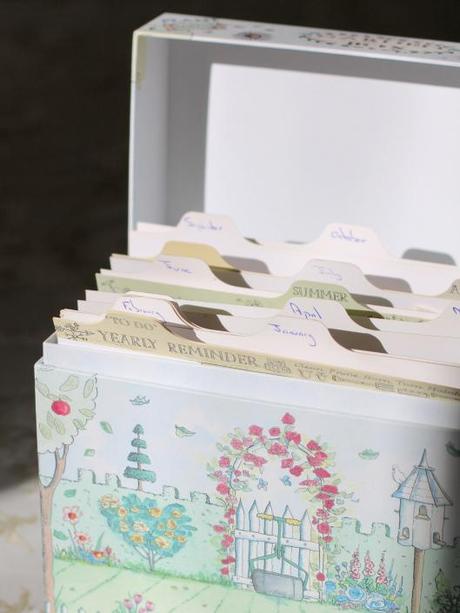 You will already know that I am a fan of Sarah Raven – whilst I do not order exclusively from her, I always love to browse through her inspirational catalogues and most of my seeds do come from this catalog.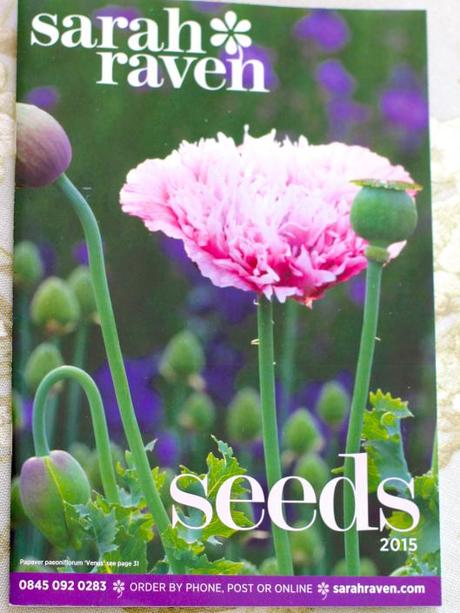 February is a quiet month in the Cutting Garden. The ground is still very wet and apart from a few tulip bulbs making an appearance not much has changed outside since January. I have started weeding the beds and cutting back the roses on nice days, but only when the ground is not too wet. As you can see below to much activity on the wet grass causes a lot of damage.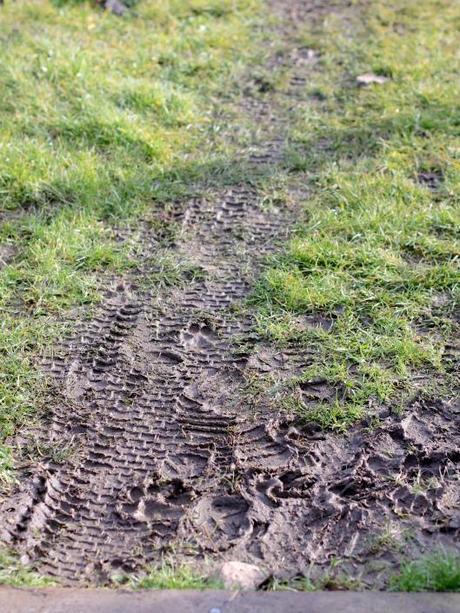 Seeds Sown In February:
By the end of February I like to make sure that I have sown all my sweet peas and most of my favorite hardy annuals. I have talked about sowing sweet peas into root trainers before. My hardy annuals are sown into half sized trays and left to germinate in the heated propagator. As soon as the seedlings appear I will move the trays onto the greenhouse staging where it is cooler and when I can see the first set of true leaves I will prick them out into plugs to grow on in the cold frames ready to be planted outside in April.
The hardy annuals that I sow every year include asters, ammi majus, orlaya, blue cornflowers, blue and white nigella, blue and white larkspur, white snapdragons, gypsophila, stocks and salvia blue clary. This year I am also trialing ammi visnaga to give me another form of white flowered foliage for summer bouquets.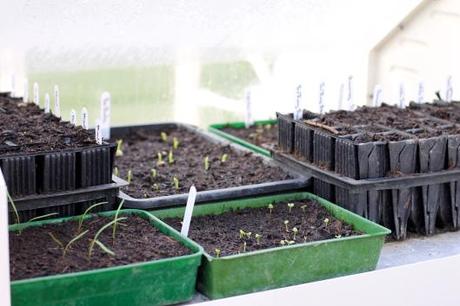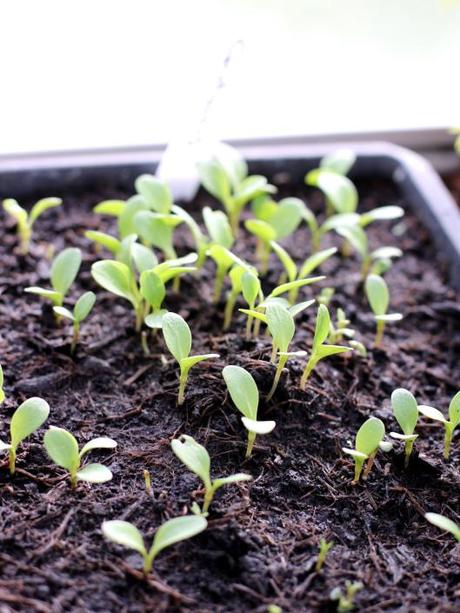 Hardy Annuals Ready To Plant Out In March:
I made my first sowing for this years plants last autumn, when I sowed trays of hardy annuals in the greenhouse (as well as direct sowing a few in the Cutting Garden). These seedlings were pricked out and overwintered in the greenhouse. I moved them into the cold frame in late January and after leaving the frames open in the day for a week I am now leaving them open all night as well to really harden these plants off. I will start planting them out during the first week in March, as long as the ground is not frozen. As their name says, these plants are hardy annuals so can cope with some frost as long as they have been hardened off thoroughly.
The plants at the back are healthy looking plugs of larkspur.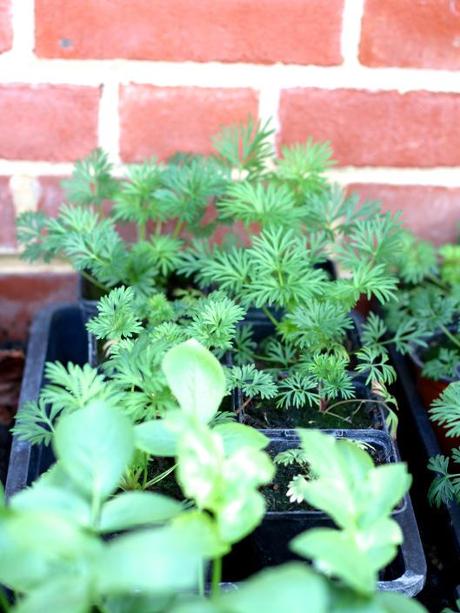 In the front you can see some very large ammi majus plants.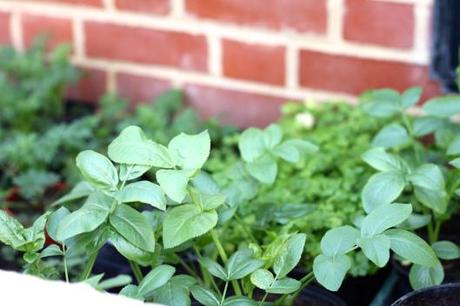 In the far left corner are cornflowers and next to them scabious with cerinthe major in the foreground.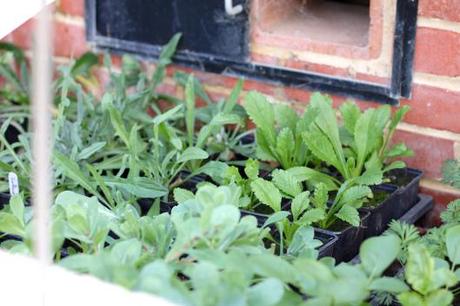 I am really pleased with how well these plants have overwintered – they are now big plugs which I hope will get away quickly when planted outside and provide the first flowers as early as May.
The Cutting Garden In February:
You can see from this view across the Cutting Garden that it looks much the same as it did in January!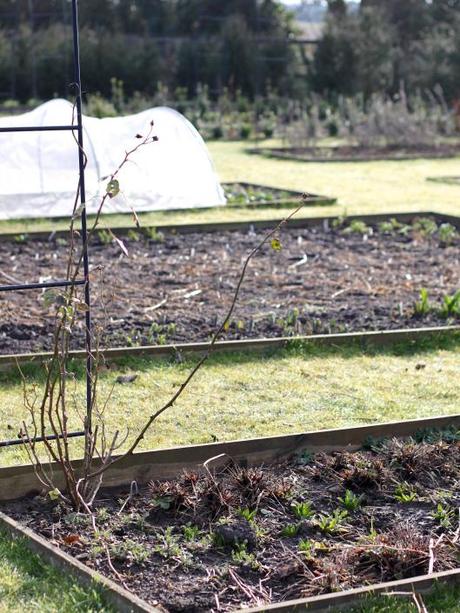 There are signs of life though – throughout the beds the tulips that are planted around the edges are starting to appear. I am hopeful that one or two might be in flower by the time I write my March review.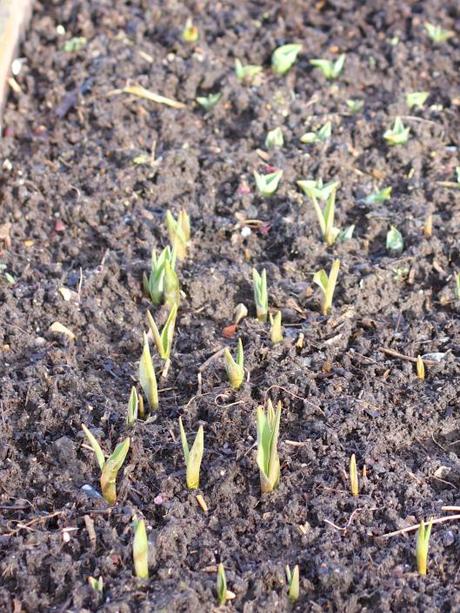 The biennials have come through the winter very well – below you can see Sweet Williams and Sweet Rocket – I am not sure when these will flower as I have not grown them before, but hopefully they will be in flower before the tulips are over. Last year I had a bare gap between the first hardy annuals and sweet peas starting to flower and the last of the tulips going over. I hope I have plugged that gap this year with the overwintered hardy annuals and biennials sown last June.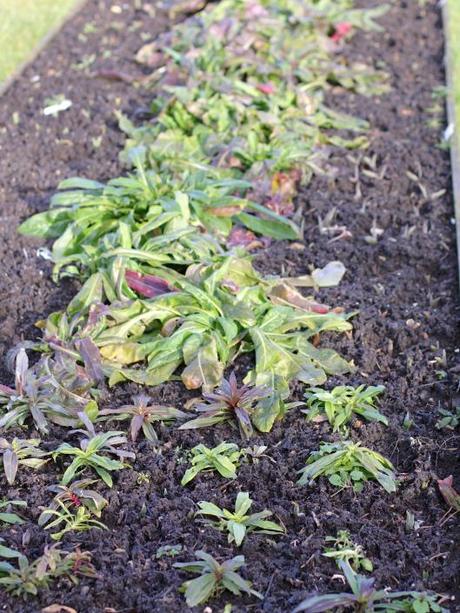 My experiment with direct sowing hardy annuals in the autumn and protecting the seedlings with a fleece tunnel seems to be working. Although I know that autumn sowing annuals is generally recommended for earlier larger blooms, my past experience has been that seeds that germinate in September or October do not survive the winter on my wet land.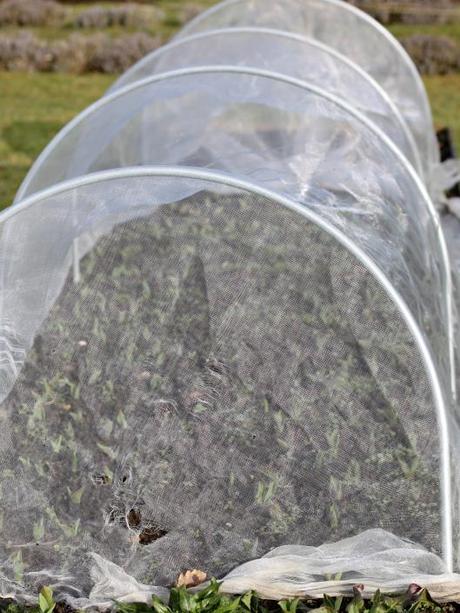 This year I sowed ammi majus, cornflowers, nigella and larkspur under this fleece tunnel and the little rows of seedlings are doing very well. I will prick out the rows in a week or two and hope that the plants will romp away with the longer days. There are also tulips coming up in this bed – I have a bit of a thing for tulips and fill every space I have with them.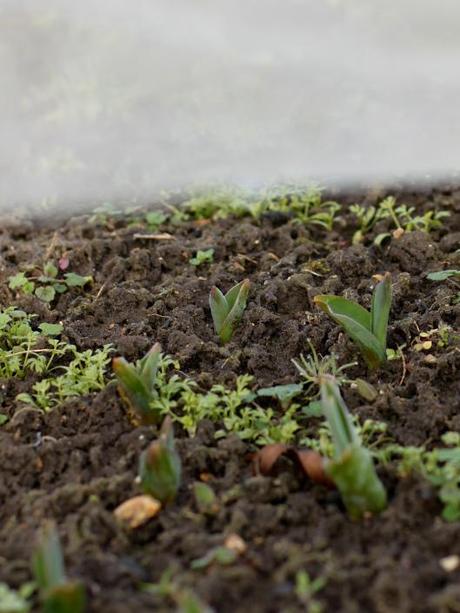 One of the big spring jobs is weeding along the edge of the yew hedges that are growing up to enclose the Kitchen Garden. It is tedious work, but the hedges grow better when they are not competing with the weeds. This is a section I have just completed.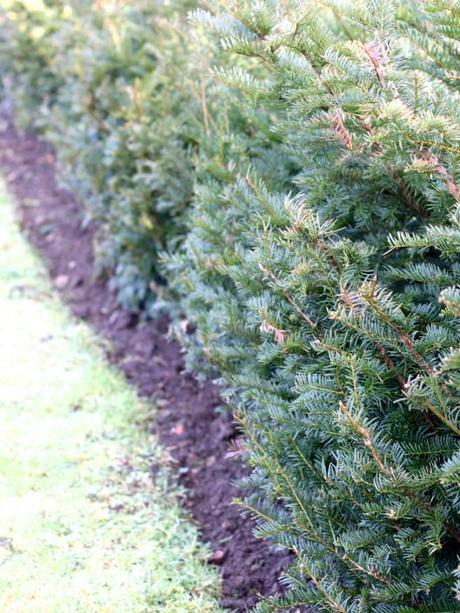 This is how it looked before with weeds and grass growing into the border.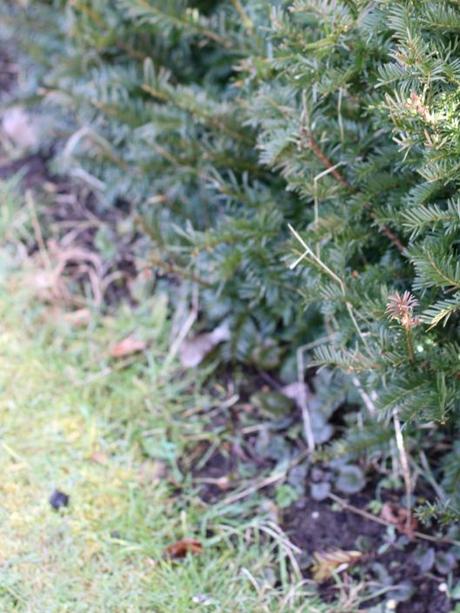 I grew five globe artichokes last spring (Violet de Provence from Sarah Raven) and they all flowered last autumn. The decaying heads have looked majestic throughout the winter, but it is time to cut them back now.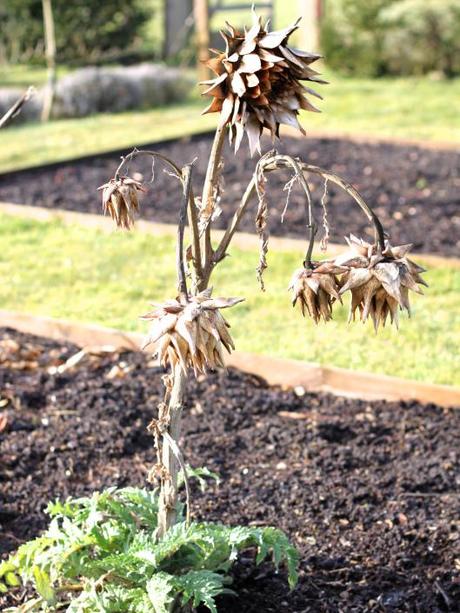 I mentioned this little greenhouse in my January Greenhouse Review. Progress has been slow due to the wet weather, but it is now installed on its base and is ready for the glass to be put in.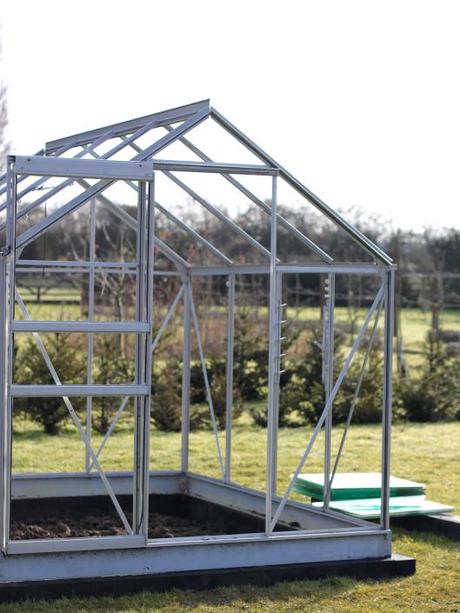 The floor has been dug out. There will be a row of concrete slabs down the center and a bed on either side to plant the tomatoes and cucumbers into.This extra space will allow me to use my main greenhouse for flowers throughout the summer in future.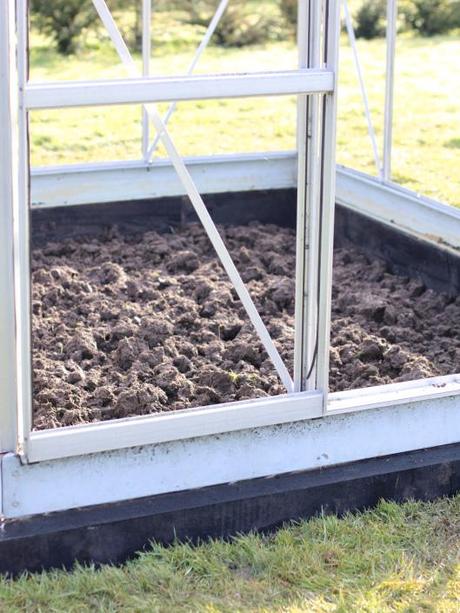 I have mentioned the Fruit Garden in previous posts and you can see it outlined in the plan above. There are at present four beds with redcurrants, blackcurrants, gooseberries, strawberries, raspberries and blackberry bushes. This area is about to undergo a major revamp as I am waiting for my new fruit cage from Harrod Horticultural to arrive. Once the cage is erected the fruit bushes will need to be rearranged to fit within the new space – I will be following the progress of my new fruit cage once it arrives. I am really looking forward to having all of my fruit protected from the birds this year!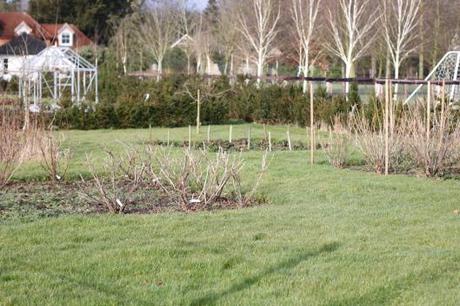 Looking out of the Fruit Garden over the developing yew hedge, you can see the silver birch trees that bring so much pleasure in the winter. I have added another 10 trees to the original 4 that were here when we arrived, so it should be quite a feature when the trunks mature.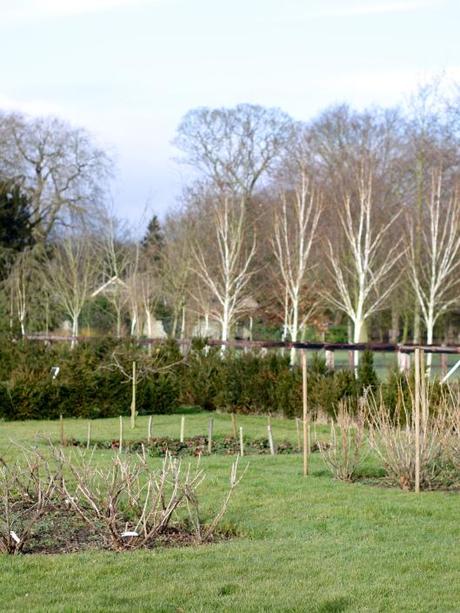 The final quarter in the Kitchen Garden is as yet unplanted. It will be an area devoted to roses, herbs and perennials with a selection of crab apple trees for height. I want to make sure the other three areas are working well however, before I make any more work for myself.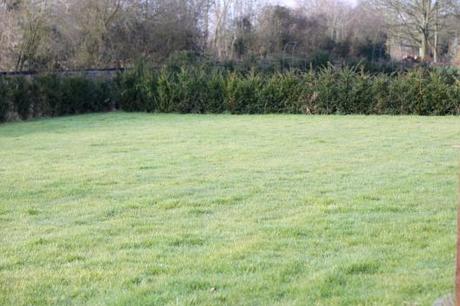 I am pleased that the lavenders that underplant the espaliered fruit trees are reaching maturity. This avenue should look lovely this year – first with the apple and pear blossom, followed by the lavender flowers and then hopefully branches laden with fruit.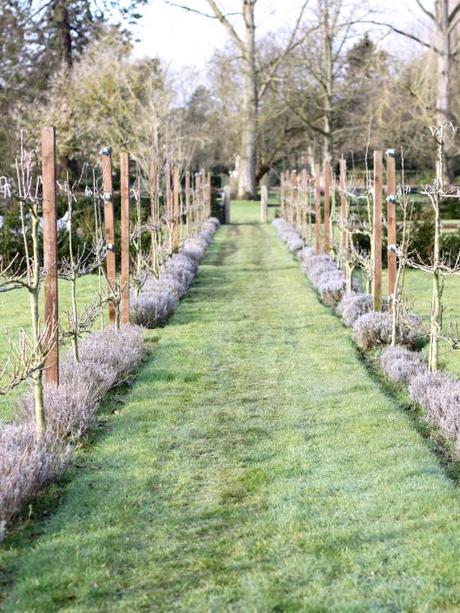 So that is all I have to report for February. I am looking forward to writing my March Review, when I will be planting new peonies and roses, planting out hardy annuals, sowing half hardy annuals in the greenhouse and hopefully picking a few tulips!
This Month's Giveaway:
Now onto that exciting giveaway! The Sarah Raven Best Purple Dahlia collection contains a tuber each of 4 of my favorite purple dahlias – Ambition, Thomas A. Edison, Downham Royal and Hillcrest Royal. I grow them all and love them equally. I am delighted that the team at Sarah Raven have offered such a generous Giveaway for my readers this month. Sadly I can only offer this item to UK readers due to shipping restrictions. Sarah Raven have also asked me to note that if for some reason the selected items are unavailable, a suitable alternative will be found. I will add all UK comments to a flower pot on Monday and my son will draw the winner, who will be announced in my 'In A Vase On Monday' post.
As I do not like to leave my non UK readers out of the fun, I will run a separate surprise draw on the same basis for any commenters who say that they are outside of the UK. I will send the winner a little surprise something that is related to growing flowers.
Finally, last month a few of you were kind enough to join in with my Cutting Garden Review, writing your own reviews and leaving a link in the comments below. I loved looking at your gardens and hope that you will join in again. If anyone else would like to share their cutting garden experiences, please do write a post for your blog and leave a link here or just add a comment about what you are growing. This really is a case of the more the merrier and I am looking forward to sharing and learning from all our different growing experiences!