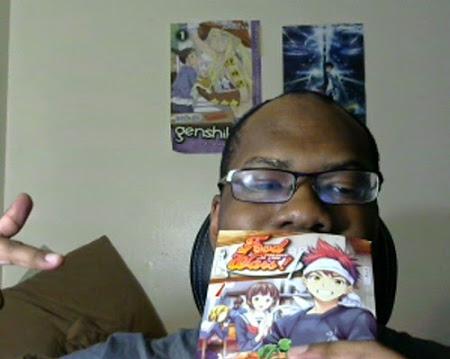 I own a lot of manga. Well, at least a decent amount that's been building since 2009. I have manga from pretty much every publisher: Vertical, Seven Seas, Viz, Kodansha USA, Gen Manga, Yen Press, and even own some from publishers that shut down (CMX, Tokyopop) or no longer publish manga (Del Rey).
So don't judge me when I say I laughed while looking at all the last pages of each manga series Wednesday night…and then proceeded to take pictures using my webcam!
Before I explain why I even thought about last pages, a short primer: most manga volumes in the US feature extra pages, mostly just translation notes, sometimes the people who worked on the volume and copyright information, a possible preview of the next volume, and advertisements of other manga series in their catalog. And then you get to the last page.
This is the last page of Yumi Hotta/Takeshi Obata's Hikaru no Go, Vol 1, printed in 2004: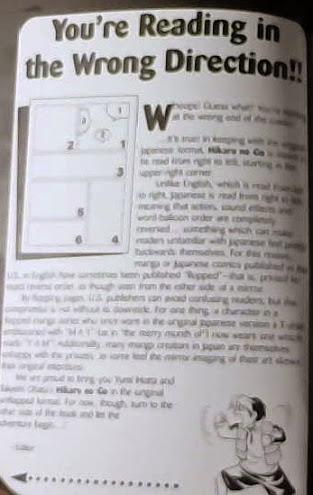 This is the last page of Yuto Tsukuda/Shun Saeki's Food Wars: Shokugeki no Soma, Vol 1,printed August 2014: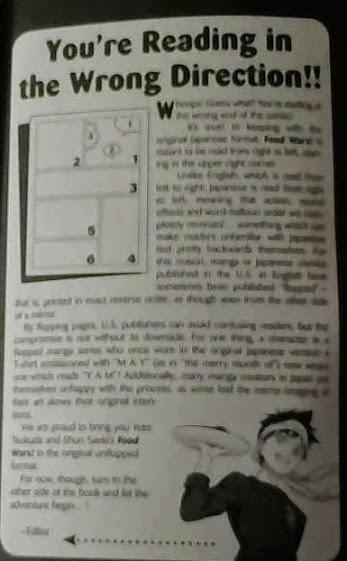 Shokugeki no Soma (which I brought and yeah, it's awesome physically as much as it is digitally) would be the one title that literally made think, "Er, wait a minute…it's 2014 and we're STILL having instructions on how to read manga?" This actually didn't make me laugh. When I saw the last page for Kazune Kawahara/Aruko's My Love Story Vol 1, July 2014 edition, I smiled: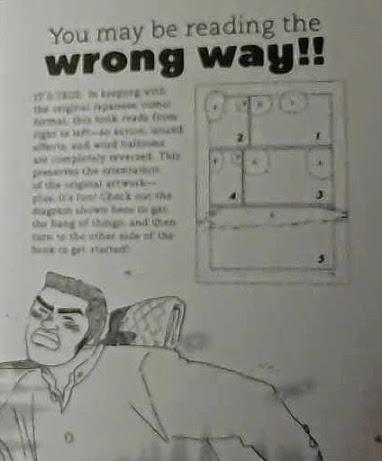 Little did I realize that as far as I can tell, all the Shojo Beat last pages are different.
Arina Tanemura's Phantom Thief Jeanne, Vol 1, March 2014: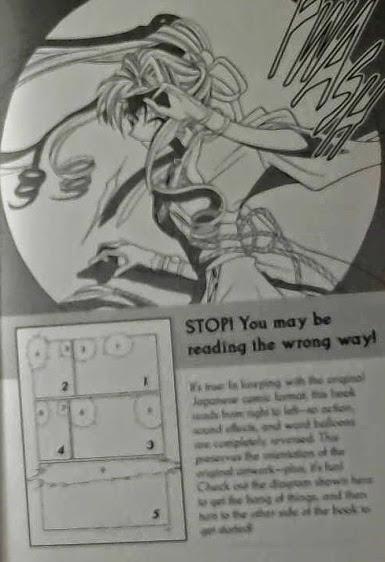 Maki Minami's Voice Over! Seiyu Academy, Vol 1, October 2013: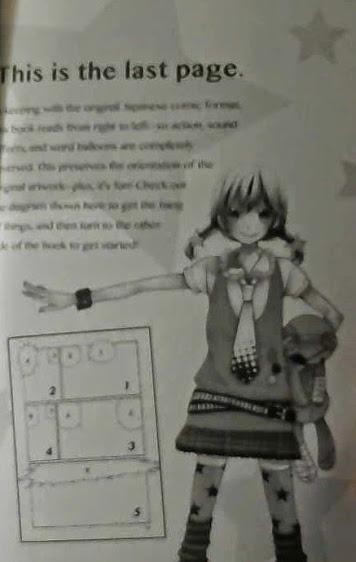 Rei Toma's Dawn of The Arcana, Vol 1, December 2011: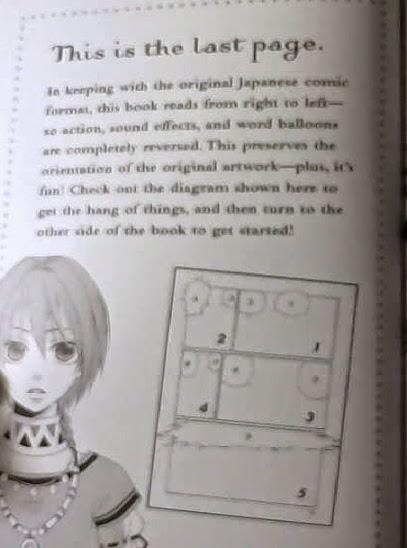 Izumi Tsubaki's Oresama Teacher, Vol 1, March 2011: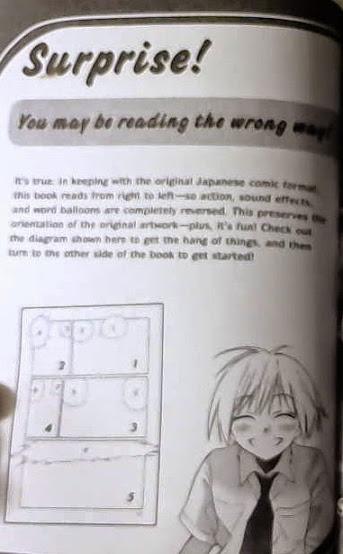 Ai Yazawa's NANA, Vol 1, November 2005: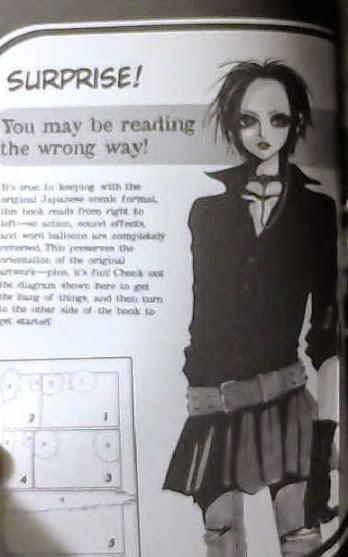 So as I noticed how the Shojo Beat last pages were different, I then ventured onto other Shonen Jump titles I had – Gintama, Rosario + Vampire, Strawberry 100% — and noticed how the last pages were the same, just with the author and title changed. I then looked at Mitsuru Adachi's Cross Game omnibus, Vol 1, October 2010: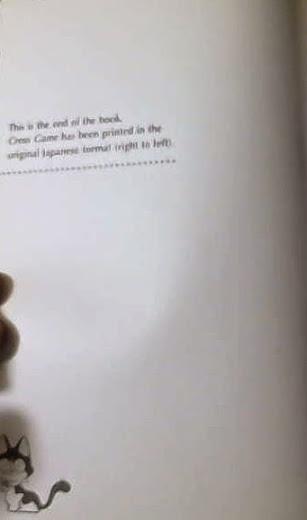 So a few Viz Media titles have different last pages, especially if they're imprints (like Shonen Sunday). Takehiko Inoue's REAL does not have a how to read manga section, so there are probably some exceptions due to format.
But my amusement turned to laughter when I checked out the last page of Hajime Isayama's Attack on Titan, Vol 12: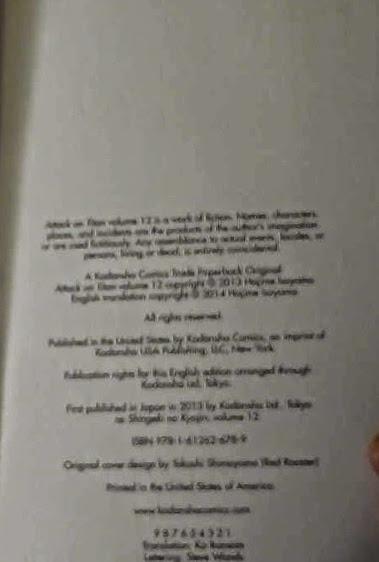 This is published by Kodansha USA, and yeah, no last page informing people on reading manga right to left here! So…when did that become the norm? Attack on Titan, Vol 11: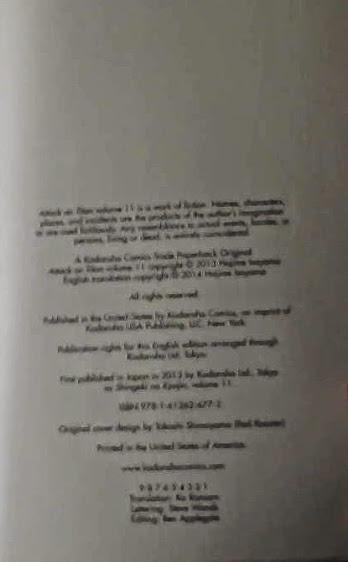 This was the last page from Vol 10 to Vol 1: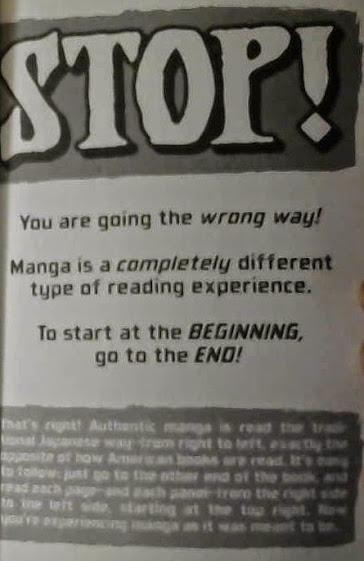 It seems Kodansha might have stopped doing that sometime in 2013: most of the dates listed past that have this change. For example, Mitsuru Hattori's Sankarea Vol 1, published in 2013, does not have the stop sign in the back.
Vertical apparently started doing the same thing, but in 2012. Here's Toru Fujisawa's GTO: 14 Days in Shonan, Vol 1, 2012: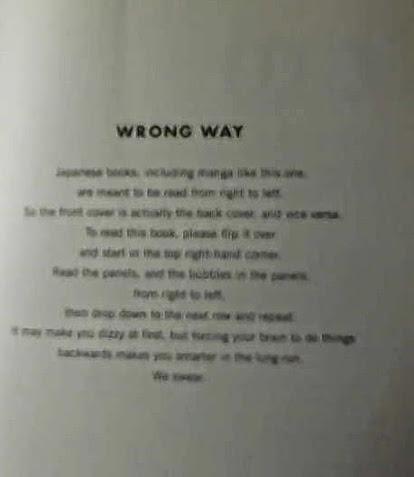 Here's Volume 3: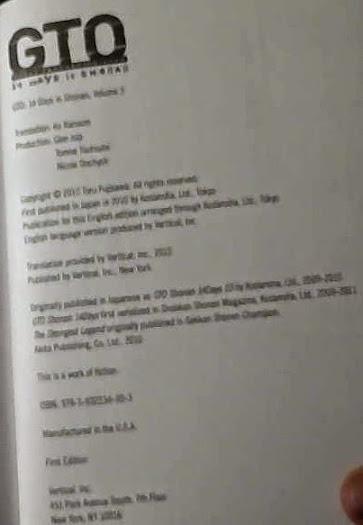 And that's how their manga has been since then…wait! Satoshi Kon's A Tropic in The Sea, published in 2013: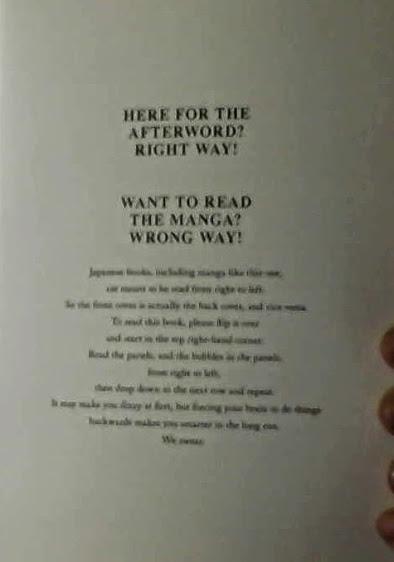 What gives? One manga series has the right to left, another series no longer has it…what throws more salt into the wound (if we want to call it that) is Felipe Smith's Peepo Choo, Volume 1, 2010: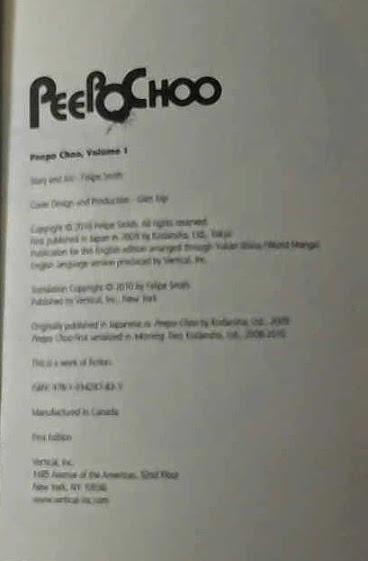 Maybe the GTO one was a quirk or something. Whatever the case, I couldn't help but smile at this point, amazed at the last pages I've seen and what has been done to them.
That's why I looked at Yen Press's last pages and went, "Well then…" They seem to not like having reading right to left as their last page: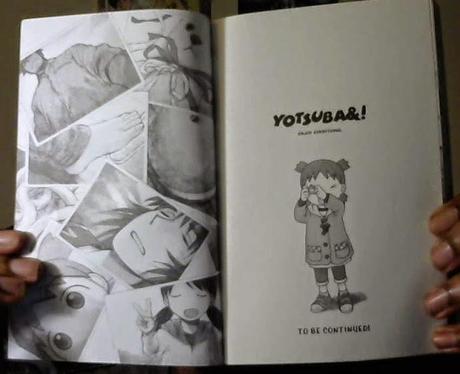 To be fair tho, I'd make an exception for Yotsuba too
This is the general last page for other Yen Press volumes, like Durarara!!, Watamote, and Dragon Girl: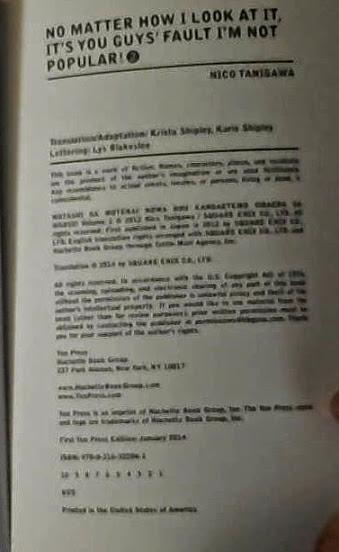 I'm going to guess that's been the case since they released manga, but that's just a guess. At this point I no longer have a recent Seven Seas title, so here's the one for Satoru Akahori/Yukimaru Katsura's Kashimashi: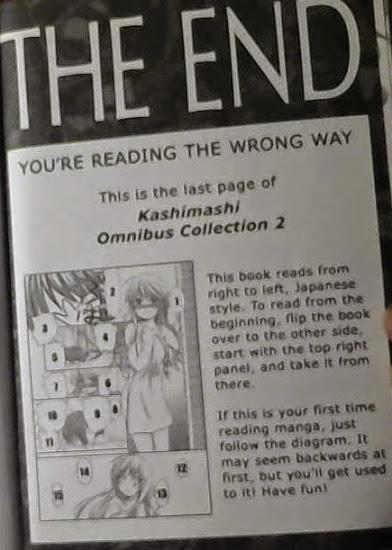 I think I've expanded on this more than enough. It seems to me that more and more, publishers are no longer including the right to left diagram or how to read manga page in their editions, aside from Viz Media/Seven Seas. This does make me wonder though: do we need that anymore? Is there a use for a how to read manga in the first place? Does this mean publishers are trying to cater to those who know manga already or is this seen as a sign of, "hey, we know what manga is, we're not nimwits!"
Well, whatever the case, I got entertained looking at the last pages of my manga series because I'm extremely shallow, so here's more last pages from completely old editions of manga!
Akimine Kamijyo's Code Breaker, Vol 1, Del Rey, 2008: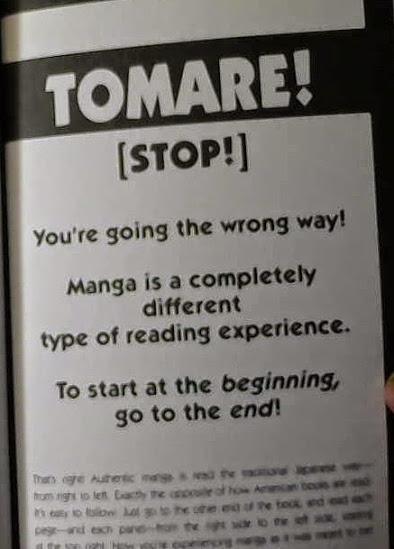 Ken Akamatsu's Love Hina, Vol 13, Tokyopop, 2003: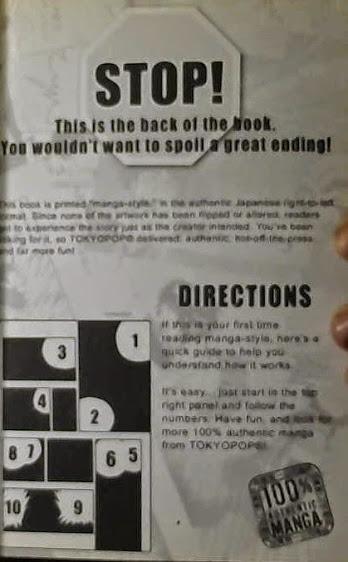 Eri Takenashi's Kannagi, Vol 1, Bandai Entertainment, sometime before Bandai shuttered its manga division: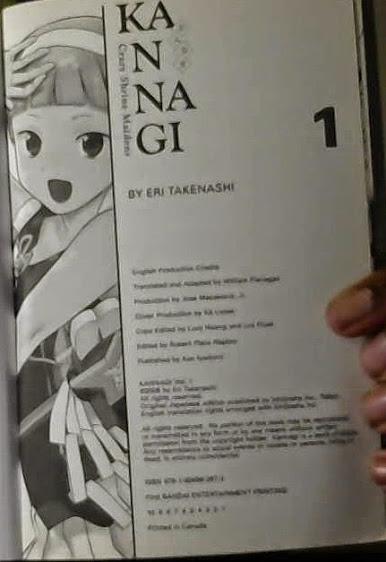 Gosho Aoyama's Case Closed, Vol 30, Viz Media, July 2009: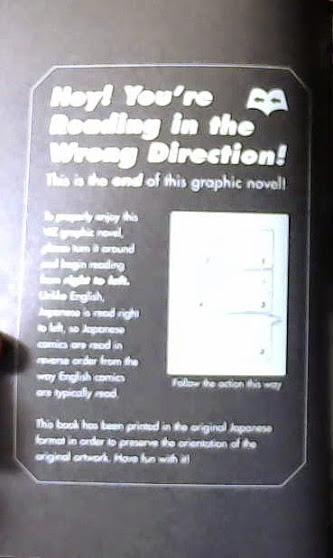 Yasuhiro Nightow's
Trigun
Vol 1, Dark Horse/Digital Manga, October 2003: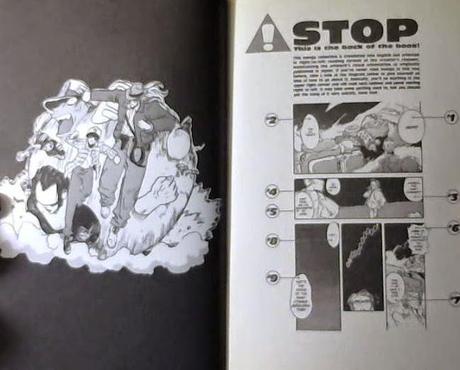 Takanori Yamazaki's Diamond Girl, Vol 1, CMX, 2010: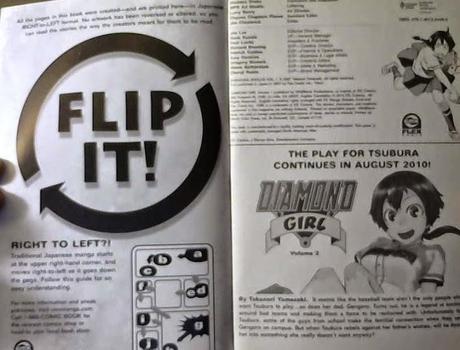 The following two tabs change content below.

Justin
Justin is the founder of Organization Anti-Social Geniuses. Anime & manga fan that likes to blog about anime and manga, is addicted to sports, and weak to crossovers. You can follow Justin on Twitter @Kami_nomi.

Latest posts by Justin
(see all)
The Curious Case of Last Pages For US Manga Editions

- August 8, 2014

My Love Story!! Vol 1 Review

- August 5, 2014

Reference Resource Mondays: Let's Not Drop Out Ok?

- August 4, 2014

Notes of Great Teacher Onizuka 2014 Episode 4

- August 2, 2014

Manga Worth Reading July 2014

- July 31, 2014