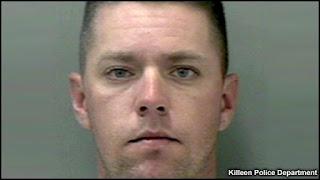 Local news reports
as well as
TTAG
where they can't make enough jokes about it.  You know, according to them, these irresponsible guys are so few we can just laugh them off.
A 22-year-old man is dead and a 27-year-old man is in jail in what police said was a fatal accident caused by one man trying to cure the other of the hiccups.
Fort Hood soldier Patrick Edward Myers was charged with manslaughter in connection with the deadly incident. Myers is in Bell County Jail with bail set at $1 million.

An arrest affidavit said Myers, the victim and another man were drinking alcohol and watching football Sunday night at a home when the victim got the hiccups. 
To make the victim's hiccups go away, Myers produced a handgun and pointed it at the man's head in order to scare him. Believing the gun to be loaded with dummy rounds, Myers then fired. A bullet struck the victim in his eye.
Far from being laughable,
like the clowns at The Truth About Guns find it
, this incident illustrates how lawful gun owners are often not fit to own guns in the first place.
 Of course, it also illustrates how guns and alcohol don't go together.  As our commenter Texas Colt carry recently put it,
this is never acceptable
.
What's your opinion?  Please leave a comment.