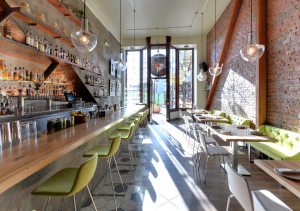 My sweetheart and I had the pleasure of experiencing Happy Hour at The County Bench in downtown Santa Rosa last week and I gotta tell ya, we were both really impressed and would highly recommend it to anyone and everyone! Here's why:
1. AMBIENCE – the overall vibe is industrial chic, with tall open ceilings, artistic, minimalist light fixtures, lime green and gray patterened booths, sleek tables and chairs and a long, modern-looking bar, juxtaposed with an exposed brick wall and well-worn hardwood floors. There is another dining area upstairs that can be reserved for private parties.
2. SERVICE – the service was perfect. Our server was attentive, but not hovering over us. All of our questions about the menu were answered and the food came out quickly.
3. FOOD – OMG! We tried quite a few items off the Happy Hour menu and everything was delicious! My personal favorite was the Short Rib Grilled Cheese – it had melt-in-your-mouth short ribs, white cheddar and a delicious horseradish sauce, lovingly sandwiched in perfectly grilled seeded bread. The Oysters on the Half Shell were only $1.50 each and were offered raw or grilled. We did some damage to the oysters! Raw and grilled were both great! The Fingerling Potatoes were perfectly done and served with a delicious garlic aoli. One of our favorite menu items was the dessert – we had the Meyer Lemon and Moscato Granita with Blood Orange Pearls. Talk about a flavor explosion! The flavors in this gorgeous dessert were complex, layered, intense and perfectly balanced. It was beautifully presented and really fun to eat!
4. COCKTAILS – Happy Hour prices are $5 for a few selected cocktails and they are fantastic! They squeeze their own fruit juices daily and the simple syrup is house-made as well. We tried a Moscow Mule and a Paloma (Tequila, lime and grapefruit). Both were off the hook. Other offerings include a Vodka or Gin Martini and Army and Navy (Gin, orgeat, lemon and bitters).
5. REASONABLE PRICES – Menu items run from $1.50 for Oysters on the Half Shell to $10.00 for an artisan cheese plate. Servings are generous. Cocktails are $5, wine prices range from $6.00 – $9.00 and draft beer prices range from $6.00 – $7.00.
To sum it all up, this place offers a fun, hip, delicious and totally affordable Happy Hour. Check it – you'll be glad you did!
The County Bench is located at 535 Fourth Street, Santa Rosa, CA. For reservations or more information, call 707-535-0700 or visit the website at www.thecountybench.com. Tell your server, "The Wine Wench® sent me!" You might even see us there!