The world today is dominated by internet. And on internet, content is King. All across the globe, people are engaged at all times in using the power of this net to meet their everyday needs and to find relevant information and solution. Internet today is the easiest and quickest way to find information and to gather knowledge. That is possible because millions of people across the globe are actively engaged in publishing relevant information and interesting content for the consumption of their readers.
Recently, Outbrain, world's largest content discovery platform, brought out their Content Consumption Trends Report – 2014. This report examines the trends in this content creation and consumption process. Outbrain is a service which brings personalized and relevant online, mobile and video content to audiences and it also helps the publisher (bloggers, website owners etc.) in understanding the needs and preferences of their readers.
Their latest report is one such attempt which can help bloggers and other content creators into publishing content that can get them maximum readership.
Here one must remember that it is no longer sufficient just to bring out relevant content. One must also remember that people are now using different devices to access the net. And so, the content published must be conveniently accessible on every device. A website that only renders well on a computer screen is bound to lose the love of those who visit it using a smartphone.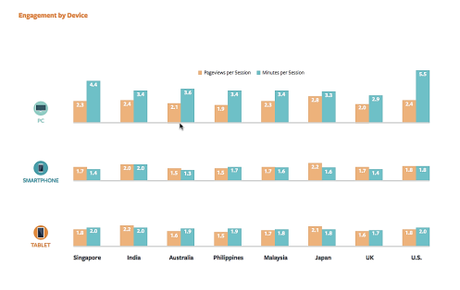 According to this report, In India, PC is still the dominant platform for content consumption while in countries like Singapore, Japan and UK, people consume more than half of their overall content consumption through smartphones and tablet. But that doesn't mean we Indians are not smartphone friendly. We are, in a huge way! First, the content consumption via smartphones increases during the time when people commute to and from office. And then, the reports have shown that India is indeed the most engaged market on tablet and is second only to Japan in smartphones.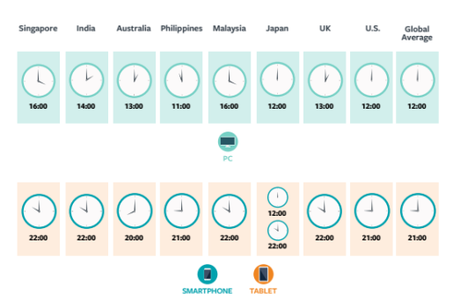 As per the report, the overall content consumption in India peaks at 2:pm on PC. I suppose that's when people are done with their lunch and are feeling too lazy to work and so simply whiling away the time net-surfing on their office computers. But that's only my guess. Don't take that as the confirmed finding of the report!
Anyway, people seem to switch of their PCs early and resort to net-surfing on their smartphones and gadgets at night and so the content consumption via these smart gadgets peaks up at around 10 pm. Or that maybe kids busy on their smartphone when their parents think they are studying or sleeping. Hmm.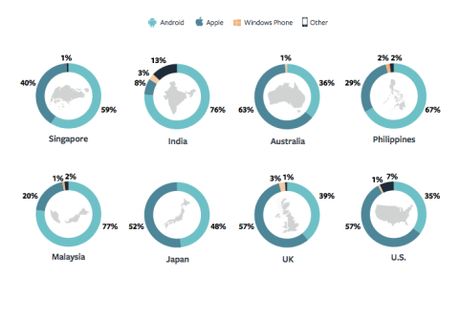 And when it comes to smartphone, Android is a clear winner. No matter what the Apple fanboys say, Android is winning the war in India. As per the report, 76% of Indian smartphone users are consuming content over an Android device and only 8% are using iPhones. However, in markets like Australia, Japan, UK and US, iPhone still is enjoying its lead.
And when it comes to content most consumed, that too has shown clear variation region by region. In India, content about investment, Gaming Systems, nutrition, Education and mobiles has shows to be most popular.