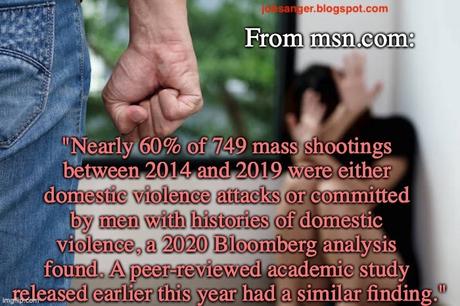 It seems that there is a connection between domestic abuse and mass violence. That's not something I had considered, but I'm not surprised. Those who hurt the people they love will find it easier to hurt people they don't know. If you remove the loners (those who have no domestic partner to abuse), I'll bet the percentage of mass murderers who were domestic abusers is much larger.
The following is part of a discussion of this is by Ashley Luthern and Mary Spicuzza in the Milwaukee Journal-Sentinel:
The violence starts at home.
Then it spills out to the public.
The 39-year-old Milwaukee man charged in the Waukesha Christmas Parade attack, which left six people dead and more than 60 injured, had a history of domestic violence and violence against women.
Experts and advocates who help survivors of domestic abuse say it's a troubling pattern they've seen repeatedly in mass casualty events.
"Domestic violence — family violence — predicts mass shootings," said Karin Tyler, the injury and violence prevention coordinator for the City of Milwaukee's Office of Violence Prevention.
Nearly 60% of 749 mass shootings between 2014 and 2019 were either domestic violence attacks or committed by men with histories of domestic violence, a 2020 Bloomberg analysis found. A peer-reviewed academic study released earlier this year had a similar finding: About 59% of the 110 mass shootings analyzed were related to domestic violence.
"Not all domestic abusers are this type of abuser, but in almost every mass shooting or mass killing, the person who committed it had a link to some sort of violence in their intimate partner relationships," said Carmen Pitre, president and chief executive of Sojourner Family Peace Center. 
Although studies have focused on domestic abuse and mass shootings — not vehicle attacks — the connection is still relevant, said Sara Krall, End Domestic Abuse Wisconsin's homicide prevention program director.
"It's the same dynamic," she said, "and clearly this perpetrator had shown previously that his vehicle was being used to perpetrate harm against his partner, still a weapon.". . .
Studies have found mass shootings typically come after an "explosive event," Krall said.
"Perpetrators of domestic abuse may be at a stage of heightened anger, maybe further emboldened by the situation that just unfolded and may, unfortunately, extend the violence to others who are just in the path of their destruction," she said. . . .
"Our attention is with all who are in shock, mourning, and grief — especially victims and survivors of domestic violence who are finding this time to be particularly challenging as details have emerged about the suspect having a history of domestic abuse," said Monique Minkens, director of End Domestic Abuse Wisconsin, in a statement this week. 
"We see time and time again that people who use violence against their current or former partners are more likely to go on to commit acts of violence on a larger scale," Minkens said.