When a man dresses up, we feel that he needs to pay attention to all the details of his outfit. We always like to say: do it right and do it big! Certain elements are sometimes overlooked though and can create an involuntarily inappropriate look. Lapels are at often times a feature of a suit that gets overlooked, but they are a very important part of the outfit. Lapels need to be worn right, with the right tie and for the right reason. And, you know that by right reason, we mean a personal affirmation of style.
The lapel represents the part of the suit which comes down from the collar bone and goes up to the top button found on the inside seam. Generally, lapels created by folding over the front edges of the jacket or coat and then sewing them to the collar, an extra piece of fabric around the back of jacket's neck.
There are three types of lapels: notch lapels, peak lapels and shawl lapels. Of course there are variations of these three, but these are the ones you are most likely to come across. They differ in cut and vibe and have several differences which we are going to explain in this article.
The notch lapel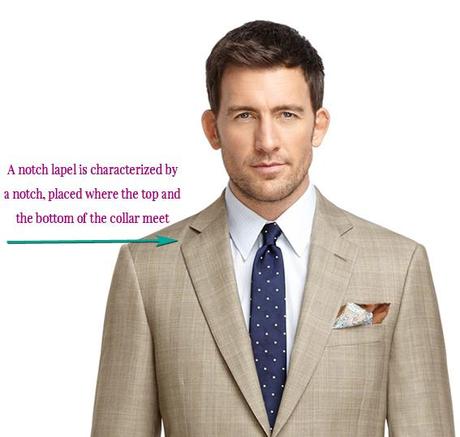 This type of lapel is very versatile and this is the reason why it is extremely common. A lot of jackets today have notch lapels, which make them appropriate for most occasions. Notch lapels can come in different sizes, but, if you are not very familiar with what works best with your body frame, we would recommend that you stick to a medium notch lapel. Make sure that if you wear a smaller lapel, which is also called a "fishmouth", you should make sure that all your accessories are small; otherwise you risk looking disproportionate.
The notch, or the opening formed by the meeting of the lower half and the upper half of the collar has a 75 to 90 degree opening and is generally found in single-breasted suit jackets, sport coats and blazers. If you are a man who only owns one suit, you should definitely keep it as classic and versatile as possible and go for a notch lapel.
Notch lapels are generally not recommended to be worn with double breasted jackets.
They are appropriate for most occasions and go well with any body type. Of course, the size of your lapel should be proportionate to your body size: bigger men should go for wider lapels, while thin men should opt for smaller lapels.
The peak lapel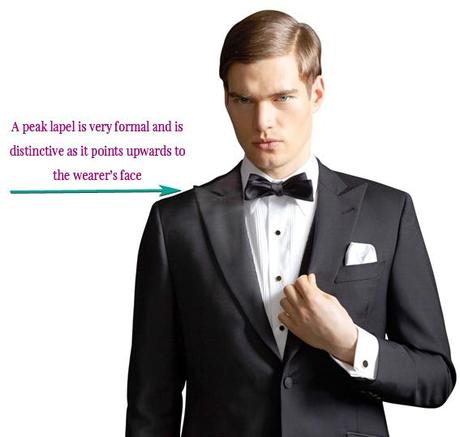 Peak lapels are commonly found on dinner jackets and double-breasted jackets. They are the most formal type out of the three main lapel types. Also called a pointed lapel, these lapels should be worn preferably on formal occasions, but some men can pull them off even in casual settings.
Peak lapels also come in different sizes (smaller lapels are called "slim peaks" and are generally 2.75 inches / 7 cm wide, which is about 0.5 inches / 1,3 cm thinner than a classic lapel, which are usually 3.25 inches / 8,2 cm wide).
Peak lapels go great with any body type, but they do have an elongating effect, due to the two "arrows" pointing skywards. If you want to look a little longer, you can wear pointed lapels to obtain this effect.
The shawl lapel
The third type of lapel is the shawl lapel. Shawl lapels are mostly found on tuxedos or dinner jackets, but as of recently, many designers have incorporated them into other types of jackets as well. Shawl lapels are considered by many the casual style for formal events, but that's up to you to decide.
Shawl lapels go great with most body types, but should generally be avoided by men who have very round features, as the collar might replicate your features and make you look like a cubist painting.
How to choose a lapel style and what to wear it with
The width
There are three major types of lapels according to their width, which is measured at the widest point. Therefore, you have:
Medium lapels, which vary between 3 inch / 7,6 cm and 3.5 / 8,9 cm
Narrow lapels are between 2.25 inch / 5,7 cm  and 2.75 inch / 7 cm wide
Generally, lapels are wider on double-breasted jackets and narrower on single-breasted jackets.
Matching your lapels to your body and accessories
As we stated before, lapels should be chosen according to your body frame. Generally, all types of lapels go with all types of frames, but your lapels should be proportionate to your accessories (bow tie, tie, pocket square, watch, etc.)
Lapels have at often times a buttonhole, which is placed on the left and created to hold a boutonnière, which is a decorative flower. Wearing a boutonnière is usually something more common at formal events. A loop is fixed to the back of the lapel to hold the flower properly. Double breasted suits have, for symmetry, two buttons, one on each lapel. Lapels are sometimes worn with lapel pins.
Vests with lapels
If you decide to wear a vest with your jacket, there are no fixed rules, but we can give you some tips you might use.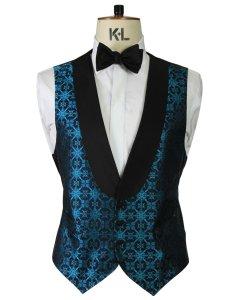 A vest with shawl lapels
First of all, the best way to go is to keep your vest simple and with no lapels. This way, you will make sure you are on the right path. However, simple vests should not be worn on very formal occasions.
Many designers on Savile Row do not recommend wearing vests with lapels, but there are no fixed rules in the world of style. Generally, double-breasted vests look better if they have lapels, as a double-breasted design can support more fabric in the upper part as well. This does not mean that having a double-breasted vest with no lapels is not correct.
Double-breasted vests should only be work with single-breasted jackets, as a vest paired with a double-breasted jacket should always be single-breasted and have no lapels.
As an additional tip, we can say that if a single-breasted jacket with a notch lapel is worn with a double-breasted vest, the vest's lapel should be a double-breasted shawl. In case the coat is single-breasted and has a peak lapel design, the double-breasted vest can be both peak or shawl.
Furthermore, if both the vest and the jacket are single-breasted, and in case the vest has lapels, the lapel styles of the vest and the jacket should always match.
Continuing, we need to mention that a single-breasted vest with peak lapels is not considered the best-looking thing in the world. A single-breasted vest with a shawl-lapel design is generally frowned upon.
Also, a single-breasted vest with no lapels goes with any type of jacket, of course, if we exclude formal clothes.
Lapels: fabrics and colors
Classic business or casual suits, regardless of the style of the lapels always have the same fabric and color as the jacket and pants.
When it comes to dinner jackets, the rule does not apply anymore. Formal jackets have lapels that are made from either silk or silk-mohair grosgrain.
When you want to go for a more extraordinary look, you can opt for lapels that are of another color than the jacket you are wearing. These will definitely draw the eye and will make you stand out. Red, plum, green or purple are great options, but you can go with whatever color you want. Just make sure that the color of the lapels goes with the colors of your outfit and with the occasion you are attending. Darker colors are more appropriate at formal events, while bright colors and even pastels are good choices when worn in a more casual setting. Don't forget that you can also choose the colors of your clothes according to your skin tone and make the best of your natural features.
To conclude, we need to say that you should always be careful not to look too bulky and to keep things proportionate one with the other and with your overall look. This means that you should always take into consideration everything from your hair to your eyebrows' width and length when you are looking in the mirror, dressing up in a very sharp way.
Paying attention to all these details will make you more confident, and, moreover, will make you look better and put together.
Fraquoh and Franchomme
P.S. What type of lapels do you prefer? Do you wear vests with lapels? Share your comments below and don't forget, you can subscribe to our website via e-mail or follow us on our social media pages!
Share on Tumblr
0