This is the second part of The Complete Guide To Facebook Contests and promotions
The Complete Guide To Facebook Contests and promotions II
Using Facebook ads to bust your contest
Facebook advertising is a powerful platform to target new users and give your contest a boost!
Which type of ads should I run?
if you have 500+ fans you can run  a promoted post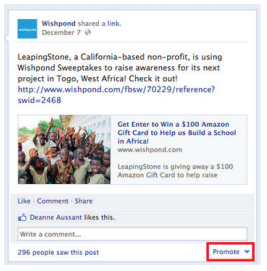 To use Promoted Page Posts to promote your contest follow these steps:
Make a post on your Facebook Page that includes a link to your contest
Go to that post on your Facebook Page and click "Promote Post" in the bottom-right corner of the post
Set your budget (see below for budget recommendations)
- promoted posts last around 3 days – so you need to make a new one every 3 days
If you have under 500 fans, Facebook does not allow you to run Promoted Posts, but you can run a Promoted Page Post (Yes – it is different than a Promoted Post).

These types of ads appear in the sidebar of  Facebook, as opposed to the News Feed in  the middle. While not as effective as Promoted  Posts, for Pages with less than 500 fans they  are your best option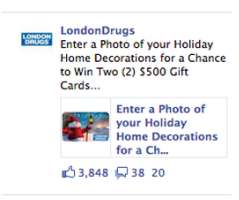 To use Promoted Page Posts to promote your contest follow these steps:
Make a post on your Facebook Page that includes a link to your contest
Go to http://www.facebook.com/ads
Select your Facebook Page
Select Promote Page Posts
Who should i target? (For promoted page posts only)
There are two groups to target your ads to:
You can target those users with the Precise Interests feature. In this field you can enter your competitors' names and  target their Facebook fans. You can also target based on Broad Categories, including Maritial Status, wider interests  like "Food & Drink" and "Jazz/Blues" music
Keep your audience to approximately 200,000 people – this is the optimal size of a group that you want to target.
If you're over 100,000: Limit the ages and geography to your most targeted groups and decrease the number of  Precise Interests you have selected
If you're under 100,000: Add more Precise Interests to target a larger number of users who have interests related to your business/industry
Cross-Channel Promotions
Use the Following Guidelines For promoting Your Contest Across Different Channels
Post to Twitter once per day (Tweets get lost extremely quickly, so you  very rarely need to worry about spamming your Twitter followers as only a  small percentage will see each tweet due to the site's constantly updating  nature.)
Post to Google+ once every 3 days
Send one email to your email list (getting multiple emails about the same thing will get you an unpleasant number of unsubscribes.)
Add a banner to the home page of your website for the duration of your contest (have it click-through to your contest on your Facebook Page in a new browser tab)
Promote in-store and on the street using posters that include QR codes, NFC chips and short links for users to enter on their mobile phones
Like-Gating Explained
The easiest way to increase likes for your Facebook page – within Facebook's promotions Guidelines is to "like-gate" your contest.
A like-gate is usually a simple image with a text telling users who have not yet liked your Facebook Page that they need to like it in order to access the current contest.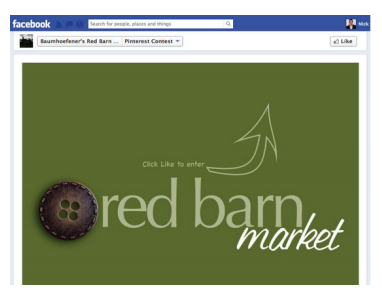 How does Like-Gating work?
Through the Facebook Open Graph, 3rd party apps can detect whether a Facebook user has liked your Page or not, so only nonfans will be shown this image.
Once a non-fan likes your Facebook Page, the app will automatically reload to show the default entry or voting page on which the user can enter the contest.
Most 3rd party Facebook apps, including all of Wishpond's, have like-gating as a built-in feature, so that they can easily be enabled for any of your contests.
Is like-Gating against Facebook's promotions guidelines?
No! As the act of liking the Facebook Page does not enter a user into a contest, it is within Facebook's Promotions Guidelines. On the flip side, if you run a contest that uses Facebook's functionality as an entry or voting mechanism, then you are in violation of Facebook's Promotions Guidelines.
Here are some examples of specific contest actions that are not allowed:
 Commenting on a picture on a Facebook Page to enter a contest
Posting a Facebook Page's Wall to enter a contest
Having a winner of a contest be determined by the number of likes their entry receives
Having users post something on their own Wall in order to be eligible to win a contest
What is the typical Drop-off rate For Like-Gated Contests?
Typically you can expect a very minimal (~10%) drop-off rate for your contest due to a like-gate. Using a like-gate is more than worth this drop-off, as the other 90%+ of non-fans who do like your Page will open a new avenue to market them again and again.
I suck at Photoshop! how can I get a professional Like-GAte image For my Contest?
Most 3rd party Facebook apps, including all of Wishpond's, have default like-gate images that look great and are tailored to the type of contest you're running.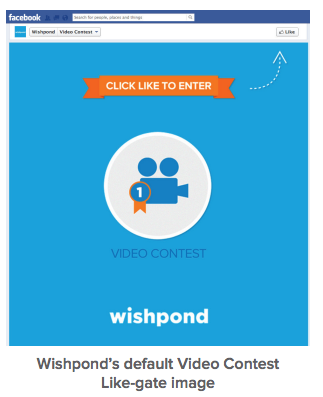 Collect contact info and social data via Facebook open graph
One important stipulation in Facebook's Promotions Guidelines is that you cannot contact a contest winner via Facebook. This means that you need to collect an entrant's' email address and/or phone number upon entry in order to contact them.
You can collect entrant's email addresses automatically via Facebook's Open Graph, but having entrants opt-in by entering their email address manually is the best way to go to avoid being marked as spam.
What is Facebook Open Graph?
The Open Graph is Facebook's database of user data that includes every Facebook user's personal information from their age, to who their friends over to which Pages they like. It is also the platform that 3rd party apps connect to in order to pull valuable user data to help businesses target their customers more effectively.
how do 3rd party Contest Apps use the open Graph?
When a user enters a contest, they will be asked to connect with the contest app in a pop-up window that appears. This pop-up will describe the app, which data will be transferred through the app to the business running the contest, and what the business has permission to do to their account.
These are the two Permissions that Wishpond apps (and most other Contest apps) ask for in this transaction:
Basic Information: This includes age, gender, location and Facebook Likes of a user. This information allows you to analyze who your users are – and send targeted emails by segmenting users based on these data points – directly within your Wishpond account
Ability to Post on the user's behalf (optional): This allows our application to make a post on the user's wall that invites each of their friends on Facebook to enter your contest
What is the typical drop off rate then occurs due to this transaction?
 
Businesses normally see a ~10% drop-off due to some users not wanting to complete this transaction. This is definitely worth the drop-off – not only do you get to see in-depth analytics about your users, but you also get reach to each entrant's entire Facebook network through the invitation that is posted on their wall. And this reach is much more effective than an ad.
Part 3 coming soon!