Thomas Rooney takes another look at the conflicting loyalties issue that bus many a player.
The age old club versus country row has taken a back seat of late. No managers have complained of the bum deal the club receive as their prize assets swan off around the world for a meaningless friendly. Instead the argument has been replaced by a new beast; governing body v countries.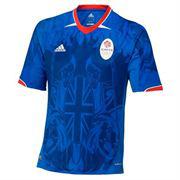 This summer promises to be a bumper year for live
sports betting
pundits, with the European Championship in Poland and Ukraine taking place just before
the Olympics
in London gets underway, with football taking a more prominent role than most years thanks to the inclusion of a Team GB squad.
Although not exactly united – the governing bodies of Wales, Scotland and Northern Ireland are still protesting at the team's existence – Team GB has been rubberstamped and is ready to roll, although it has already started to ruffle a few feathers among club managers as well as officials from football associations from all four corners of the British Isles.
Team GB boss Stuart Pearce has reportedly contacted over 200 players about represented Britain at the Olympics, while David Beckham, who has already thrown his hat into the ring for the skipper's job, is rumoured to have had a clause written into his new L.A Galaxy contract that allows his to leave mid M.L.S season to take part in the London games.
There was something telling about Gareth Bale's quoted when asked about Team GB and his potential participation.
When asked about playing for Britain at the Olympics, he simply responded: "As long as all parties are happy I don't see any reason why not".
The pressure being placed on players by the respective football associations of the countries outside of England is clear to see. Bale has been pictured in a Team GB shirt already but makes it clear there is a caveat to his participation – that the Welsh F.A are happy with it.