My Dad has been working on a temporary assignment in New York City for some time and I couldn't pass up the opportunity to see him, as well as one of my favorite cities, before his assignment was over. To top it all off, my Mom was game too, so we decided to all meet up in the city and do a bit of exploring.
The great thing is that my parents have both been there long enough that they were not as interested in the touristy side of things, so we did what I love, which is to wander around the neighborhoods exploring, eating and people watching. Also, they have both been doing a fair bit of walking and so they had built up a good stamina. In addition, they have figured out the subway system and enjoy utilizing the public transportation options. As you may know, my parents live in a very rural, mountainous area where there are only about 12 neighbors in a 50 mile radius, so it was fun and interesting to see them in a city setting. My Mom has discovered a new-found love for blogging, and was snapping photos of everything along the way.
I arrived very late on Friday, after taking an after work flight from San Francisco. I thought this (and the three hour time difference) would cause me to sleep in a bit, but we were up the next day around 6 and were ready for some action! We started by meeting in Central Park. Dad and I ran there and Mom walked. After meeting up, I went for an additional few miles while they headed down toward the breakfast place. Later, I met them in Hell's Kitchen at the
Galaxy Diner
, which was okay, but was nothing special.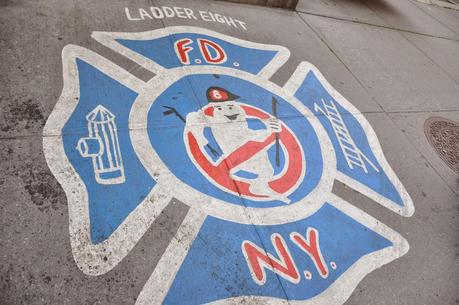 Who you gonna call?
Afterward, we headed down to the Staten Island ferry, them via subway and me via the East river. We took the ferry over to Staten Island, which is free, and affords a really nice view of the Statue of Liberty and the city skyline. After we got back to Manhattan, we wandered up toward SoHo. We wanted to get a nice pastrami sandwich at Katz' deli, which is where one of the scenes in When Harry Met Sally was filmed. However, it was overcrowded and overpriced, so we walked over to Chinatown and had a really great pho at
Pho Grand
.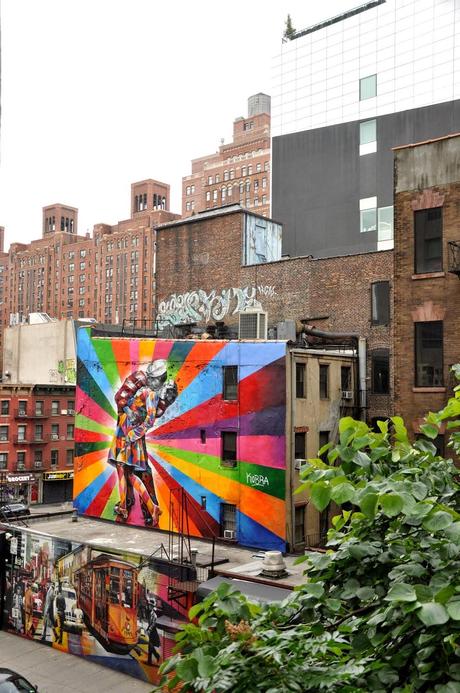 Mural along High Line
On Sunday, we got up and headed toward the High Line. Once again, I ran and my parents took the subway. The funny thing is that I beat them every time! We walked along the High Line to Chelsea and stopped for a bagel and coffee, before heading down through the meat packing district to Tribeca, where we were going to see the Ghostbusters firehouse. It looked just like it did in the movie! Next, we headed over to Brooklyn and took a really nice walk along the promenade and over to Dumbo, where we rode the merry go round and ate yummy pizza.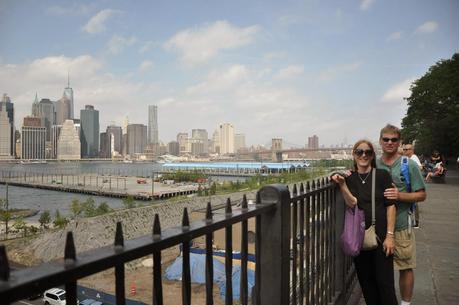 Brooklyn Promenade
After a shower and a small break for me, I headed back out to meet Mom and Dad in the upper East side, where we were planning on having dinner. However, it was pouring rain and it took me a long time to make my way up to see them. I even had to buy a $5 umbrella from the guy on the street! I finally got up to meet them, and we wandered around the upper East side to the
Heidelberg
, where we ate pig knuckles and sauerkraut and drank liters of beer. I think with this, I sufficiently tired the parents out, because as soon as we got home, everyone pretty much passed right out!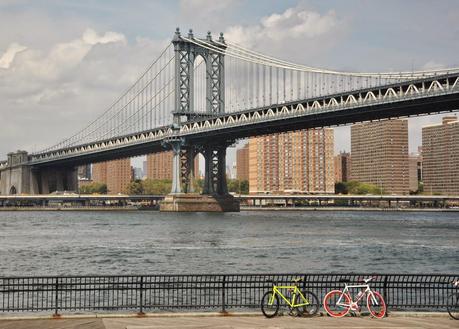 Manhattan Bridge
Monday was Labor Day, and we got up, went for a run, and then met up with a coworker of Dads (and a former coworker of mine) for breakfast at The Comfort Diner, where I had the most delicious lemon ricotta pancakes! To walk off the pancakes, we headed back over to the East River and then just sat in the shade and watched the boats on the river for a while.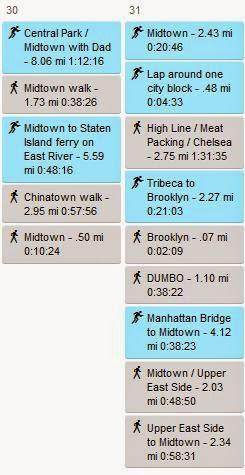 Run / Walk Schedule
That night I took a bus to the Newark airport where I flew to Germany, but that is a story for another day!
What is your favorite thing to do in a big city? What is your favorite city to visit? Do you ever split up your runs into smaller pieces?